Top Colorado Springs Attractions for Grown-Ups
Colorado Springs has plenty of family-friendly attractions, but it's also a place where grown-ups can make lasting memories on adventures geared just for them. This isn't to say that kids and family time aren't awesome. However, sometimes you just want to get out and enjoy the city without worrying about packing gear for three to five other tiny people or constantly policing your language and topics to avoid burning up the little ears of other people's children. If you've been longing for ideas for attractions that are just for grown-ups, you're about to be delighted. We've compiled a list of our favorite adult-friendly attractions, complete with recommendations for activities.
Echo Canyon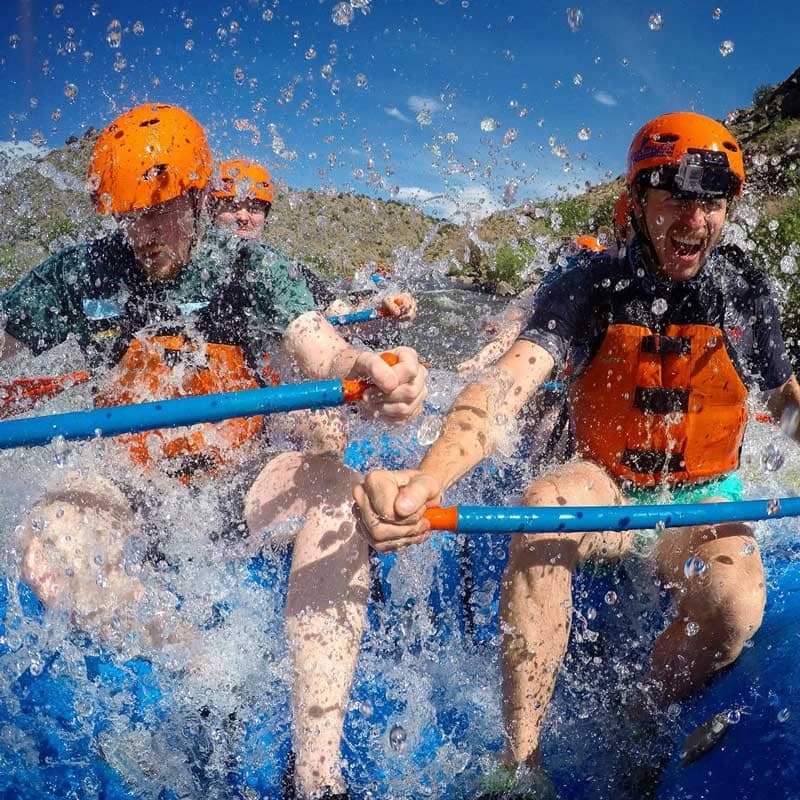 Echo Canyon has the adrenaline rush you crave with a variety of white-water rafting trips geared toward all experience levels. Gather up a crew of your favorite outdoorsy adults or go it alone and tag along on one of the outfitter's scheduled trips. The Arkansas River is pure fun in the sun, and you'll get to experience it in all its glory as you take to the water clad in a sturdy safety vest and led by your trusty guide. If a short trip doesn't seem like enough, Echo Canyon has overnight adventures and longer day trips. They also know that not everyone digs crashing white waters, so they also offer family floats on calmer waters. And family doesn't automatically mean adding on the kids (although you're certainly welcome to do so). Gather up all your favorite adults and book a relaxing family float day on the water — after all, what are friends if not the family you choose for yourself?
Historic Cripple Creek
While many people might only associate Cripple Creek with gaming, this amazing former mining town has way more to offer adults seeking a day or night of fun. Once a serious hot spot for optimistic miners seeking their fortune, today the town is bustling with visitors hoping to venture out on the surrounding hiking trails or stroll through historic landmarks (and maybe find a little fortune of their own). In addition to its outdoorsy activities, Cripple Creek also has several fun visitor attractions. You can hop on the open Cripple Creek and Victor Narrow Gauge Railroad and tour the back hills and old mining camps of the region from a comfortable seat with no obstruction to your view (you can even bring your leashed, well-behaved dog). Alternatively, you can take a deep dive into the Mollie Kathleen gold mine and check out how miners made a living back when the town was devoted to finding those money-making metals. The town has a great theater that houses an extremely talented troupe of actors performing awesome plays (hello date night). Cripple Creek hosts many year-round events like their February ice festival, Donkey Derby Days and the occasional motorcycle rally, so their annual calendar is always worth keeping an eye on. You never know what cool event might pop up next.
Adventures Out West Air Balloon Rides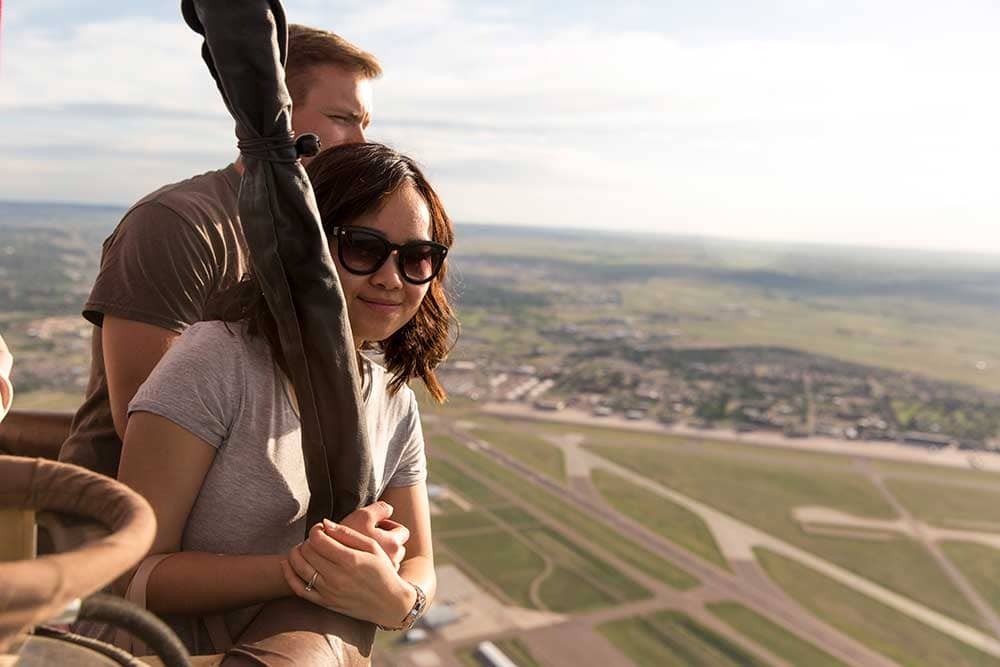 For an outing that is completely unexpected, book a hot air balloon ride with the premier outfitter of the Pikes Peak region, Adventures Out West. You'll soar above Colorado Springs in a bright balloon piloted by an experienced guide with the know-how to entertain and keep you safe. A hot air balloon ride can be a romantic excursion to celebrate an anniversary or plan out an elaborate proposal. It can also be a new adventure you share with your BFF — a little bit of gliding over Colorado's magnificent hills and plains, a little boozy brunch, who knows what kind of fun you'll find. Adventures Out West also offers private Jeep tours for adults who prefer to keep themselves a little closer to earth and other guided experiences throughout the Pikes Peak region. Their packages are typically geared toward smaller groups which means you can ensure you'll have an adults-only day out. 
Historic Manitou Springs
Historic Manitou Springs is a grown-up paradise packed with local restaurants, brews and spirits and unique shopping. Whether you're an avid outdoorsman or more like an indoor cat, you can find something to do that is sure to delight. Manitou Springs is home to some challenging trails above the city, many of which will lead you to even longer hikes in the Colorado Springs area. Alternatively, you can absolutely spend a day shopping for gifts, sipping local beer and exploring the many natural springs dotted across the city. Manitou Springs is also the home of the Heritage Brew Festival and a popular wine festival each year. Other signature events include the annual Emma Crawford Coffin Races, a Carnival parade and ball and an honest-to-goodness community ice cream social. The town even has a pretty rad arcade where you can play Skee-ball, racehorses, try out penny games or shoot some pool. No kids required. 
U.S. Olympic & Paralympic Museum
Touted as one of the most inclusive museums in the world, the United States Olympic and Paralympic Museum is the newest attraction in Colorado Springs and the only one dedicated solely to the popular, globally competitive Olympic Games. The museum offers interactive experiences, immersive technology and just about everything you could want to know about the Olympics. While it is a family-friendly space, the museum is absolutely an elevated space where adults can have a wonderful time, too. You and your crew can check out real artifacts like gold medals and gear from the top athletes in the world. As we noted above, it's incredibly inclusive. That means that if you or your friends use wheelchairs or have hearing or visual impairments, you can enjoy the museum without feeling like your participation is an afterthought. The accommodations are second to none, with options for audio-guided tours, descriptive text and other support tools to make the museum an immersive experience for everybody. 
Historic Old Colorado City 
Old Colorado City is a popular destination for history fans and foodies, not to mention savvy shoppers and art collectors. Old Colorado City has amazing galleries filled with art from local artists tucked in amongst locally owned restaurants, bars and breweries. The nightlife is great for people who enjoy live music, karaoke and pub quizzes, with multiple venues hosting different events throughout the week. Old Colorado City is also a participant in the First Friday Art Walk (as is Manitou Springs). Galleries stay open late on the first Friday of every month, welcoming patrons to peruse the works of the region's talented artists, plus enjoy special events, discounts and live performances. Not to be outdone by neighboring Manitou, OCC's event list is hopping, with the signature Territory Days street festival, plus beer and wine festivals. In short, it's a great place to be grown.
Broadmoor Outfitters
It would figure that Colorado Springs' highly rated resort would have some of the coolest activities in the Pikes Peak region. It's even better that many of them are geared for adults, allowing them to be a little more adrenaline pumping than more family-focused excursions. On of the best options for grown-ups is the Broadmoor's ziplining tour known as the Fins Course. Billed as a "more extreme option," Fins will take you along the cliffs with deep drops and heart-jolting heights. At the end of your zipline trip, you'll get to rappel down a 180-foot cliff as Seven Falls visitors look on in awe at your amazing feat. The best part is that you don't have to be a guest of the Broadmoor to enjoy this epic excursion. It's open to anyone, guests, visitors and locals. By the way, they also have a gentler journey known as The Woods. It's an easier route for those who like a little more chill than zip. Of course, you're more than welcome to do both. Broadmoor Outfitters offers a combo package just for that purpose. While you're looking over your plans, it's worth taking a look around at the Broadmoor's other activities, too. You're never too old for a bike ride or to finally take those falcon lessons you've been dreaming of since you read My Side of the Mountain in third grade. 
Broadmoor Seven Falls
You may have noted a mention of Seven Falls in the ziplining recommendation. It's yet another cool place for grownups in Colorado Springs. Seven Falls is a magnificent waterfall that crashes down into a towering box canyon. Visitors come from all over to check it out — it really is that pretty. It is known as the grandest mile, and you can get up close and personal when you pay a visit. There are two different trails that let you explore the area around the falls. One is a 1-hour, one-mile round trip that leads to breathtaking views of the Pikes Peak region. The other is a shorter hike that takes you to Midnight Falls. Frankly, both are more than worth your time, especially if you like a bit of cardio with your environmental eye candy. Rockhounds can pay a visit to an absolutely packed rock shop located near the falls and get another view from the attached Eagle's Nest. 
Royal Gorge Bridge & Park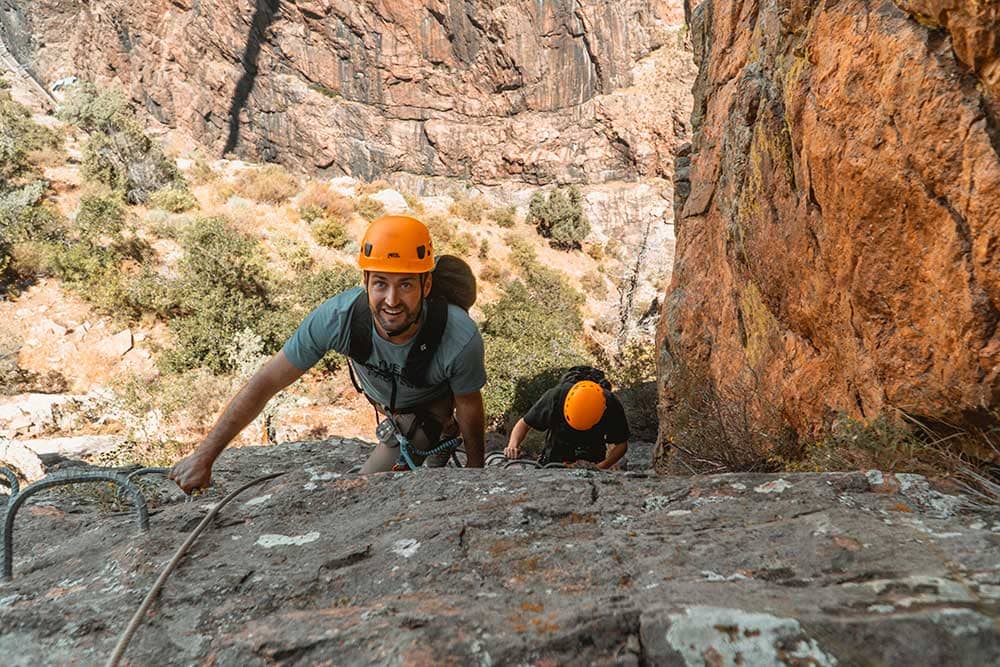 You might think it's enough to visit one of the world's highest suspension bridges, but the owners of the Royal Gorge Bridge and Park don't seem to think so. They've built (and rebuilt) a dynamic theme park complete with unique experiences and attractions to go right along with it. You can cruise across the canyon in a hanging gondola as you watch the Arkansas River crashing below you … or you could gawk at it while perched on the walls of that same canyon. The Royal Gorge Via Ferrata is an adrenalized, guided climb led by experienced mountaineers along the South Rim. The design of Via Ferrata makes it safe for novice climbers, although it is still a challenging climb. You can book private tours for you and your friends or join up in one of the all-day tours that leads you through the various routes. It's definitely a climb for adult endurance, making it an excellent grown-up attraction. We also recommend you enjoy an ice-cold beverage when you're done at the Mountain Man Beer Garden or Last Chance Tap Room.
Challenge Unlimited
Last, but certainly not least, we cannot forget Challenge Unlimited's Pikes Peak bike ride. It's one of the coolest activities in the Pikes Peak region and it's ideal for adults who want to get the endorphins pumping and try something completely different. You and your group will be outfitted with sturdy mountain bikes and driven to the tippity-top of Pikes Peak. After a chance to check out the peak's brand-new Summit House, the real fun begins. You get to ride your bike down Pike's Peak. It's 20 miles of downhill twists and turns, incredible scenery and non-stop adrenaline. Every cyclist dreams of that perfect downhill moment and the folks at Challenge Unlimited have made it so you can stretch that awesomeness out for miles. You don't have to be a super savvy rider to enjoy the descent. As long as you can stay upright and maintain control of your bike (and braking), you're in for an exciting time. At the end of your trip, you can drop an extra $18 and enjoy a hearty lunch to refuel from all the calories you'll burn grinning like an idiot with the wind in your (helmeted) hair. 
The Pikes Peak region is a place for everyone, including grown-ups. The next time you're hankering for an adults-only outing, give these popular attractions a whirl. You won't be disappointed.