Animal Encounters in Colorado Springs and the Pikes Peak Region
Colorado Springs is home to a lot of fascinating animal species both in the wilderness and at various locations around town. We spend a lot of time talking about the marmots of Pikes Peak or the bighorn sheep in Garden of the Gods, but there are other critters afoot that you definitely want to meet. And meet them you shall, up close and personal, if you follow our list of places for animal encounters in Colorado Springs and the greater Pikes Peak region. We've made a list of the attractions where animals abound, from obvious spots like our local mountainside zoo, to less obvious locations, like the hills of everyone's favorite mining town, Cripple Creek. Be prepared to feed, pet and even ride the animals in this creature feature. You're about to embark on a Southern Colorado safari.
Wildin' Colorado-Style at the Cheyenne Mountain Zoo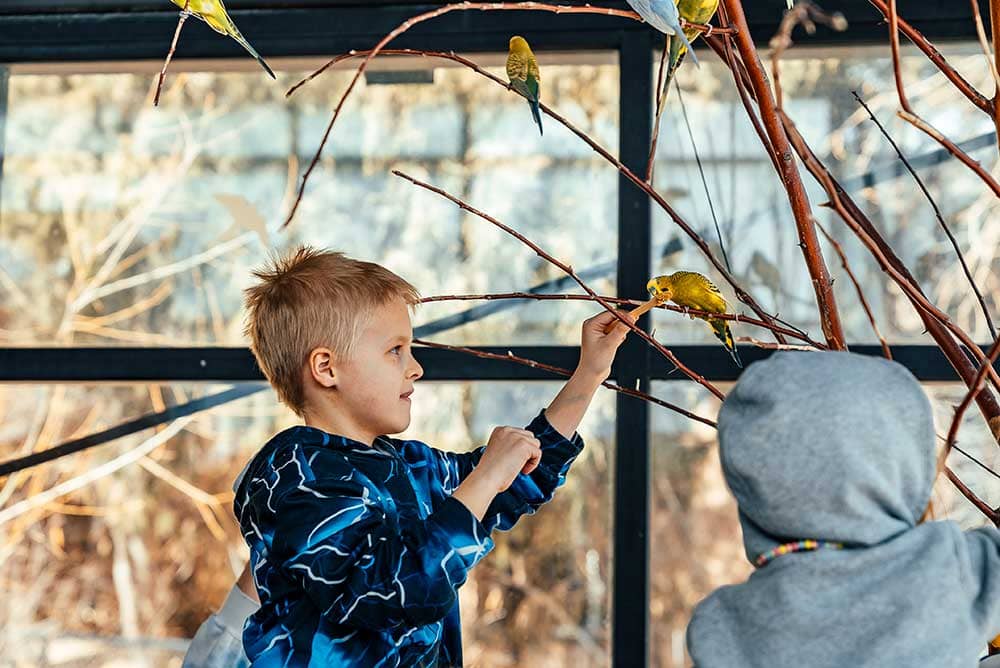 Every city has some form of zoo for visitors but only one zoo in North America has the distinction of being built into the side of a mountain. The Cheyenne Mountain Zoo was established by one of Colorado Springs' early founders (Spencer Penrose), to draw visitors to the Pikes Peak region in the early 1900s. It's fully funded by admission fees, memberships, donations and grants, which means you're a direct contributor to the care and feeding of all of those majestic beasts. Speaking of which, let's break down some of the cool cats (and elephants and apes) you can expect to meet on your visit.
The most popular animals in the zoo would probably be the giraffes. Guests can purchase lettuce leaves and hand-feed the towering mammals, gathering massive amounts of Insta-worthy photos to capture the moment. The zoo has many other equally cool experiences, like a petting zoo where you can meet chickens and goats, the Loft, which sometimes lets you interact with bugs and other small critters and scheduled feedings throughout the day to give you a better glimpse of the residents. Did we mention you could feed budgies and meet wallabies?
The zoo has enormous interactive exhibits where you can immerse yourself in the habitats of the Australian Outback or learn all about the animals that roam the Asian highlands. Watch elephants play in the giant pond, follow a peacock on his journey to find the love of his life, weave amongst the artistic reptile exhibits or park yourself by the meerkats and listen in on a family meeting. Buy your tickets online and use the zoo map to plan your visit so you don't miss your favorite wild creatures.
The Dashing Donkeys of Cripple Creek and Victor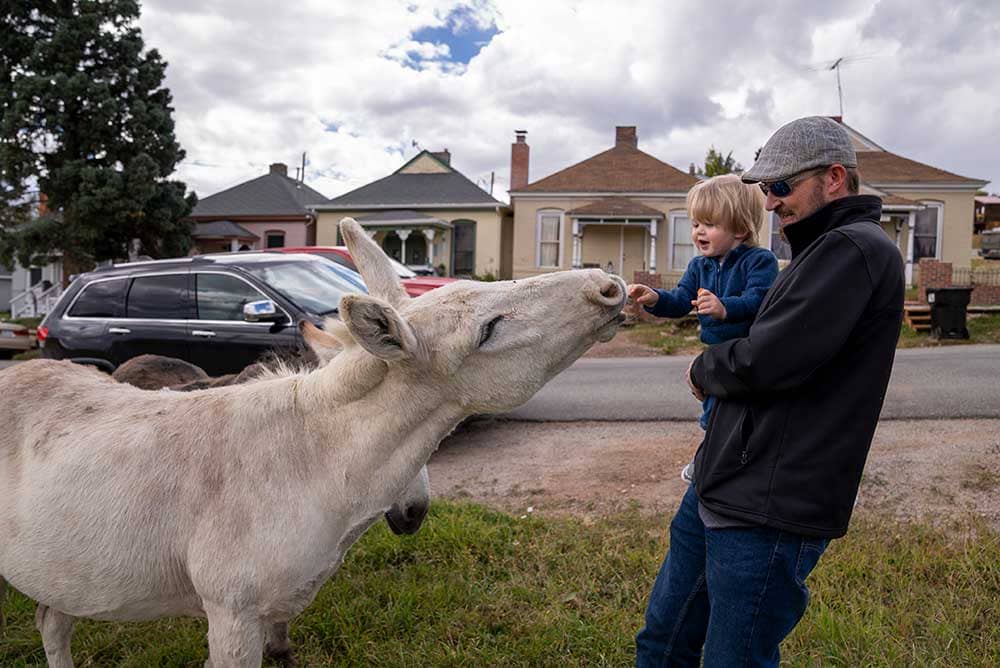 Wild? Domestic? The legacy of the donkeys of Cripple Creek is that they are both. Back in the days of gold prospecting and general mountain tomfoolery, donkeys were the heroes we needed to navigate tough mountain passes, carry gear and give miners someone to complain to when they dropped a pick on their foot. Donkeys could traverse the mines and carry gear to places far in the mountains along precarious trails deep in the woods. As beefy little cargo carriers, donkeys were everyone's BFF.
Over time, donkeys became less necessary for mining. Innovative technology eventually replaced the trusty helpers and gold prospecting became a distant memory. Many of the donkeys were turned loose to live around Cripple Creek and Victor, eventually turning wild. You might think a domestic animal might be lost in the wilderness, but these donkeys had the tenacity to make it. After all, we needed them to make it in the Rockies, not the other way around. The donkeys have endured for over a century. These days, the donkeys roam free for most of the warmer months. In the winter, the Two-Mile-High Club rounds up the donkeys to keep them from being harmed over the winter. They may have all the sass for surviving winter, but even sass won't protect donkeys from mistaken hunters or snowplows. You can meet the colorful and quirky herd in Cripple Creek during Donkey Derby Days in August, before the Donkey Release at the end of May/early June or spot them cruising the avenue on a whim.
Horsing Around in the Rockies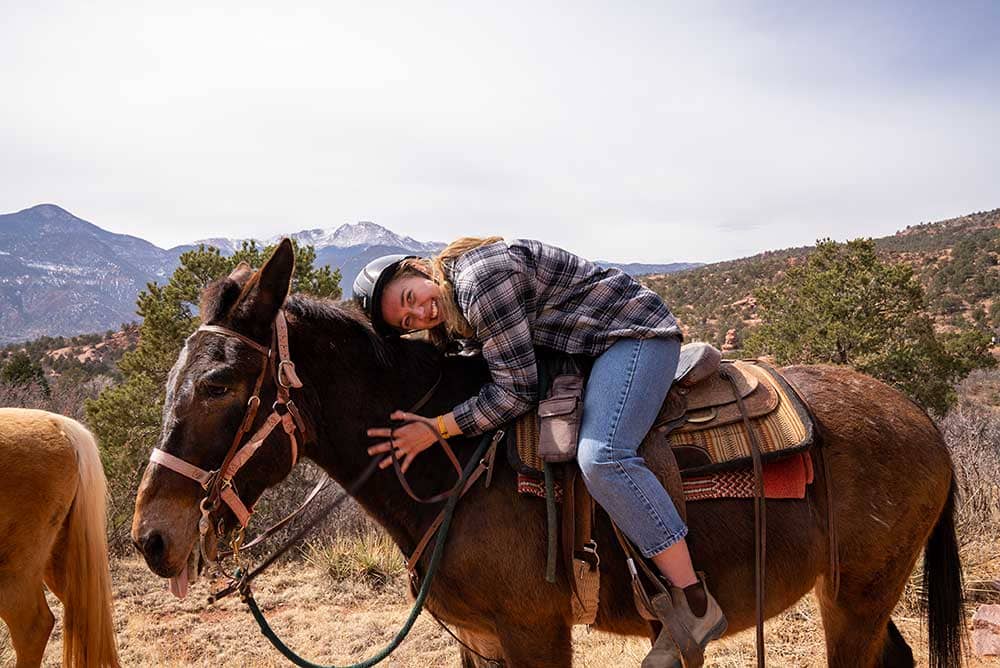 Donkeys weren't the only bestie pioneers relied on in the Pikes Peak region. Horses also played a significant role in helping humans make a home in the west. They made travel easier and faster, pulled plows and carts and also likely provided reasonable company for grousing ranchers and bored cowpokes. Colorado Springs isn't exactly a rolling cattle range anymore, but we do have plenty of cool places to meet even cooler horses. The best place to hang with the horsies is Academy Riding Stables in Garden of the Gods. They operate daily horseback rides around the world-famous formations, with an easy mode for beginners and a slightly longer ride for more seasoned horseback riders. The horses are super cool, and the stables really work to match you up with a horse that fits your experience level and your personality.
Some people prefer to view horses from a safe distance on the ground. We get it. Those beautiful beings are also enormous, which can be quite intimidating. To meet horses in the Pikes Peak region without going on a ride, you can head over to the Pro Rodeo Hall of Fame. Each summer they open of a Rodeo Livestock Exhibit complete with cool horses from around the rodeo circuit. Many of their residents are equine celebrities in their own right. One last location where you can find horses is the Flying W Ranch. The chuckwagon attraction was once a real cattle ranch that transitioned to a trail ride establishment. Today you can chill with horses via horse and carriage rides or pony rides. It's followed by an amazing supper, cowboy songs and lots of laughter, so you'll get a real Front Range experience (with an extra dash of range).
Oh Deer! Feed Fuzzy Friends at Santa's Workshop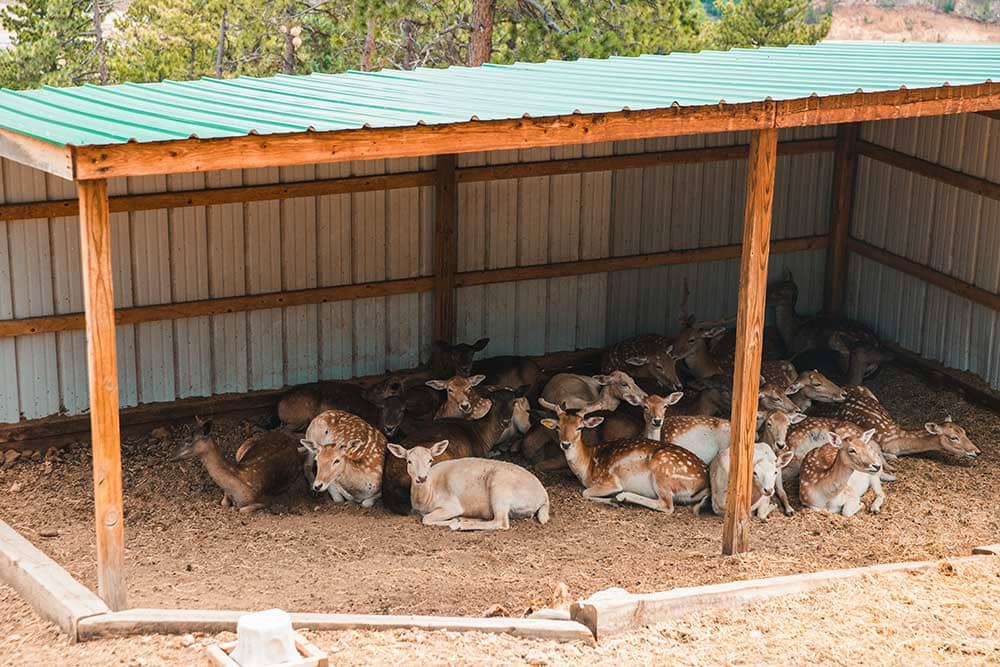 The last location for meeting epic animals is almost as unusual as the animal you'll get to meet. Head up the pass along Highway 24 where you'll discover a land of forever Christmas and get the chance to meet real deer and even a couple of alpacas. Despite its designation as the North Pole, you won't find reindeer. They chill (literally) in Santa's winter home where he preps for Christmas. Colorado is amazing, but not the best home for Santa's sleigh team. You will get to meet — and feed — some of their tiny deer buddies, though. The North Pole's European fallow deer are gentle and friendly and totally adorable. Kiddos can buy special food for a small fee and feed the little cuties through the fence.
Alpacas are also found at the North Pole (Colorado Springs), and they are equally down to nibble all the food a tiny hand can provide. Kids adore this section of the workshop, which is certainly a feat when surrounded by unlimited rides and a candy cane slide. Kids are always gonna kid and kids love feeding sweet little animals. They also love those aforementioned rides, meeting Santa and eating funnel cake (wash those grubby alpaca-feeding hands first). We think that makes the North Pole a W in the best mom-dad-aunt-uncle-grandpa category.
If you want to learn more about the wilder, uncontained animals of the Pikes Peak region, we've got a whole collection divided by their unique traits in our Wildlife of Colorado Series. In the meantime, we hope you'll enjoy your encounters with these fabulous furry friends.