Places to Find Christmas Lights in Colorado Springs
One of the most beloved holiday traditions is Piling into the car and taking a tour of all the awesome light displays you can find throughout Colorado Springs. It's a terrific way to boost your holiday spirit, spend time with people you love and jam out to those too holiday hits with zero self-consciousness. We've got a list of cool places to find holiday lights, including new attractions and old favorites. So, let's get holly. Let's get jolly. It's the best time of the year. All we want for Christmas is you … to have an excellent time visiting all the holiday light displays in the Pikes Peak region. It's ho-ho-ho-go time! 
Bridge of Lights Holiday Drive at the Royal Gorge
Dates: December 1-4, 8-11 and 15-31 (Closed Christmas Day) 
Time: 5:30pm – 9:30pm on Fridays, Saturdays, and Sundays; 5:30pm – 8:30pm on Mondays, Tuesdays, Wednesdays, and Thursdays
Cost: $30-$40 per vehicle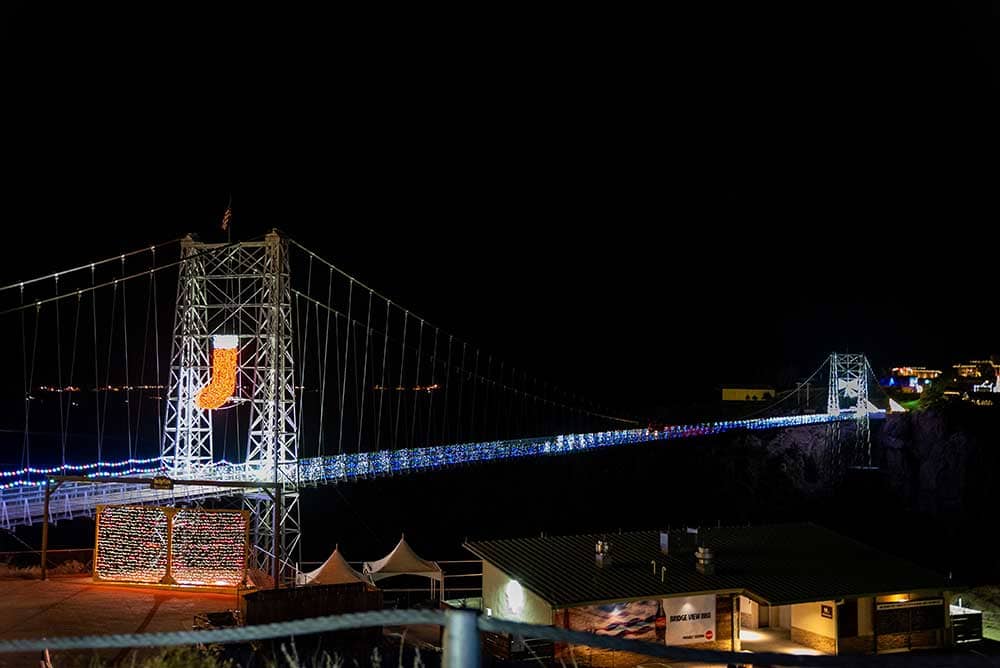 Take a holiday drive that is totally unique when you pay a visit to Canon City, home of one of the coolest bridges on earth. The Royal Gorge Bridge opens to drive-through traffic for select evenings throughout the Christmas season. Visitors are treated to a stunning light display on one of the world's highest suspension bridges — more than 150,000 lights stretched out over 1,000 feet above the wintry waters of the Arkansas River. It is a truly special holiday experience! The Royal Gorge crew knows that it simply isn't a holiday without festive treats. They have designed the event so you can pre-purchase holiday cookies and cocoa when you purchase your pass, including the option for a souvenir cup. Santa's helpers will bring you your order when you pull up and send you off to enjoy the lights. This is an exceedingly rare opportunity to drive across the bridge — it has not been open to daily traffic since a large fire partially destroyed the park in 2013. 
Tour the Pikes Peak Region's Awesome Holiday Homes
Dates: December
Time: Evenings (be respectful of neighborhoods when you visit)
Cost: Free
Southern Colorado businesses aren't the only ones who like to deck the halls. Colorado Springs residents are festive fans of holiday lights, and they dress their homes to the nines. You can find this handy map created by a local business that shares some of the top houses in the city, plus local coffee shops for warming up. They provide a music playlist packed with Christmas songs both classic and modern and there's also a super fun scavenger hunt that makes the trip extra fun. Some houses provide music you can tune into in your car. Check out N. Weber St. and E. Caramillo St. in Old North End to see how one neighborhood street teams up to create a little sparkly wonderland each year. If you're cutting through Pueblo from the Royal Gorge, you can find a few houses on the list there, too. If you want your holiday drive to have an extra boost of Christmas spirit, make sure you hit 4910 Nugent Drive and bring non-perishable foods. Homeowner Mark donates collected goods and cash donations to Care and Share in Colorado Springs. 
Magic of Lights at Pikes Peak International Raceway
Dates: Daily through January 1
Time: 5:30pm – 10pm
Cost: $35-$40 per car
We know that traveling outside of Colorado Springs for Christmas lights may sound unappealing, but places like the Royal Gorge really make the drive worthwhile. Speaking of the drive, if you cut back through Pueblo from visiting the Royal Gorge, you can try out a brand-new display at Pikes Peak International Raceway. Yes, we are telling you to double up on your light-stravaganza. You only get to do this one month of the year, why not live it up? The new display is creating a buzz around the Pikes Peak region, boasting a giant dinosaur, a monster truck, a Barbie and a tunnel of lights, in addition to many other light sculptures. You can save money by visiting during non-peak days or check their website for promo codes. 
Cheyenne Mountain Zoo Electric Safari
Dates: December 2-4, 9-23, 25 – January 1
Time: 5pm – 8:30pm Last entrance at 7:30pm (No walk-up tickets)
Cost: $18.75-$24.75 for adults | $15.75-$20.75 for children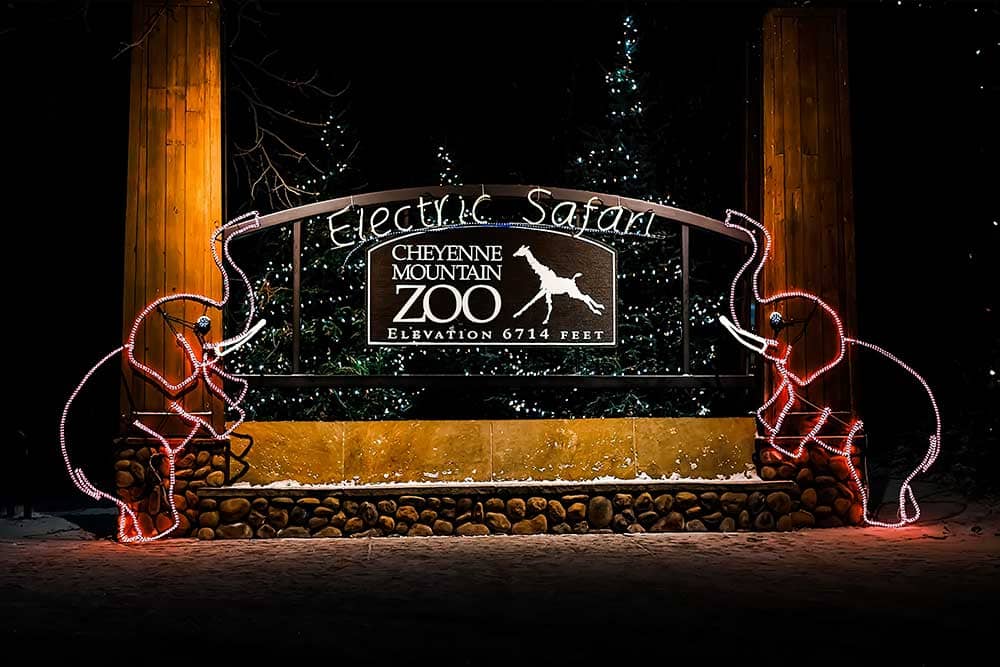 You won't be driving at this special holiday light display, but we don't think you'll mind. After all, it's not every day you get to feed adorable giraffes under the twinkling lights and starry skies. Electric Safari is a time-honored Christmas tradition in Colorado Springs that draws families from all over the Pikes Peak region. Guests are treated to 80+ sculptures scattered across the zoo, plus thousands upon thousands of lights outlining trees, buildings and other zoo structures. In addition to checking out all the twinkle lights, many of the animals are allowed to stay up late and hang with the humans (including the giraffes). You can pay a visit to any exhibit that is open (some animals simply must get their beauty sleep). Santa also drops in for a visit each evening, chatting with children about their Christmas lists and posing for Insta-fabulous shots you'll love to print on a Christmas card. 
Holiday Head Frames in Cripple Creek and Victor
Dates: Weekends November 26 – January 14 and nightly Christmas Eve through New Year's Day, weather permitting.
Times: Dusk
Cost: Free
If you've ever taken a drive through Cripple Creek and Victor, you've probably seen the mining head frames located around both towns and in the hills that surround them. These head frames were once part of the process used to mine the region when both towns were still booming as part of the gold rush. At Christmas, these head frames are decorated with bright lights in celebration of the holiday. You can tour the head frames and check them out from your car with a self-guided tour. Make it a date night and pop into Cripple Creek to press your luck or check out the holiday show running at the Butte Theater. They've got a rad take on The Wizard of Oz performed on weekends through December.
Hometown Holiday in Manitou Springs and Old Colorado City
Dates: December and January
Do you long to have a hometown holiday experience like the ones you see in all the Hallmark Channel Christmas movies? The festive décor, the twinkling, tree-lined streets, the adorable shops selling quirky, hard-to-find gifts? If you want a holiday light adventure that is more immersive, we suggest you pay a visit to the west side and make Manitou Springs and Old Colorado City your own special place to be this holiday season. The historic buildings and architecture and adorable shops and restaurants create that Hollywood holiday feel you crave whenever you settle in for a weekend of hot cocoa and Christmas romance gone wrong. Then right. Then wrong again. Anyway. Both towns work hard to create a festive and welcoming atmosphere, decorating the main streets with festive lights, bows, garland and more. Get some shopping done, peruse an art gallery or stop for an impromptu meal while you're there. 
Give yourself a classic Christmas experience by visiting some of the top holiday light displays in Colorado Springs. Whether you choose a unique experience like the Royal Gorge or stick to the basics with neighborhood tours, we know it will fill your heart with good tidings and good cheer.