Best Places to See Christmas Lights Around Colorado Springs
During the holiday, the city is awash with sparkling color as shops and homes (and even cars) deck their halls (or roof racks) with the bright lights of Christmas. It's truly spectacular, and a sight that shouldn't be missed. You may have noticed, after reading our recent Winter itinerary and our Santa blog, that we're just a little bit excited about celebrating the holidays. Okay, obsessed. We are obsessed with Christmas. But if you're scouring the internet for holiday events and activities, you probably are, too. Welcome to our world. (It's so jolly!) We've laid out a perfect plan for enjoying the holiday lights in Colorado Springs, tailored for the Christmas-enamored (and maybe even a few Grinchy folks).
Gather Supplies at Garden of the Gods Trading Post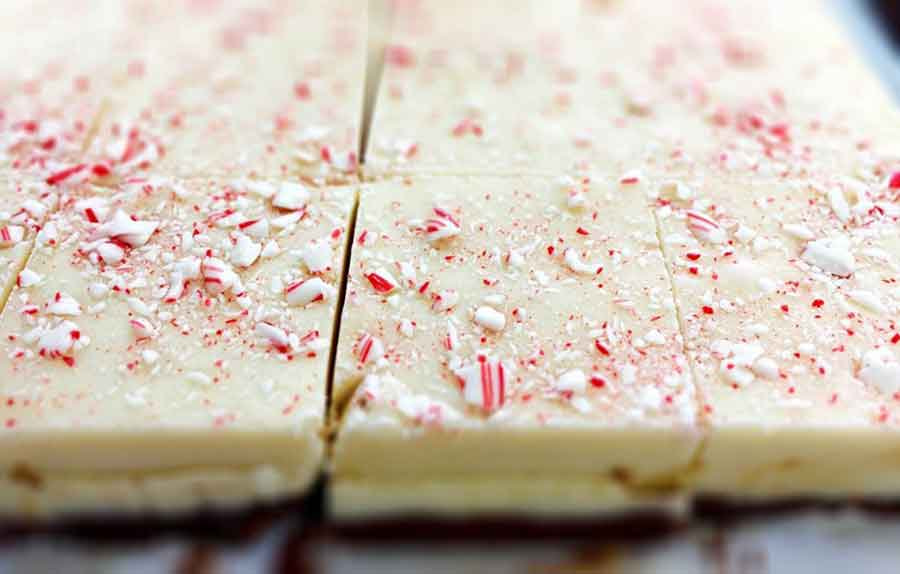 You're going to need fuel for your Yule adventure and we think there's no better place to gather supplies than a location called a "trading post". Its name harkens back to the days of the Oregon Trail, only better because we have wi-fi and electricity. At the Trading Post, pick up all the hot beverages your heart desires — we recommend peppermint mochas. If you have kids in your crew, maybe hot chocolate is a better option, otherwise you'll be reading bedtime stories until 3 a.m. You can totally score a burger and beer while you're there, but if you're anxious to get moving, snag a pound of Christmas fudge for the road.
Historic Manitou Springs Holiday Lights Contest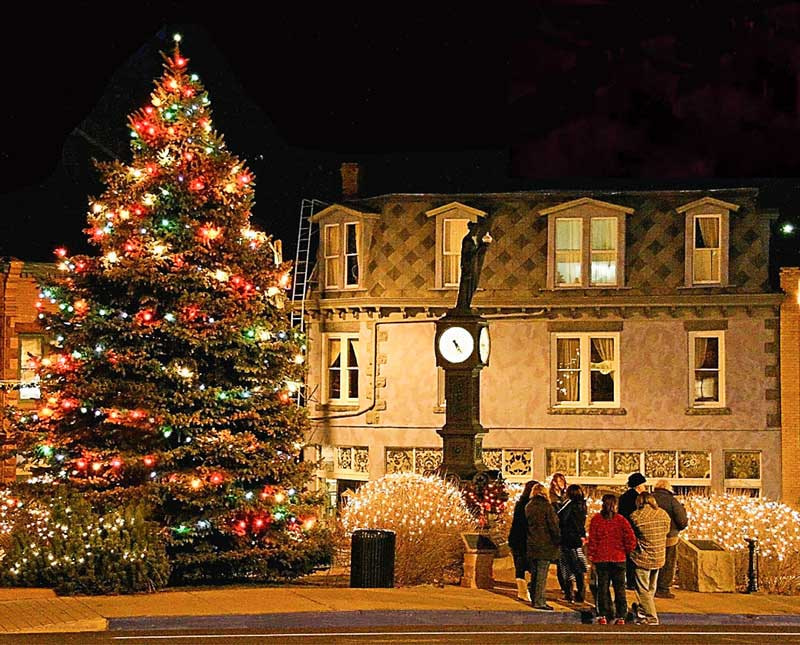 Manitou Springs is one of the most charming little towns in Colorado, which is only enhanced by a smattering of twinkling lights.  From now until December 18th, the merchants of Manitou are competing in a holiday lights contest.  They'll be scored on creativity, most colorful, holiday theme, & overall appearance with prizes for first, second and third place.  You can also get in on the action by voting in the People's Choice Awards.  Just send your favorite store front to jenna@manitouchamber.com.  Everyone who votes will be entered into a drawing for $25 of Manitou Money.  May the odds be ever in your favor!
Electric Safari at the Cheyenne Mountain Zoo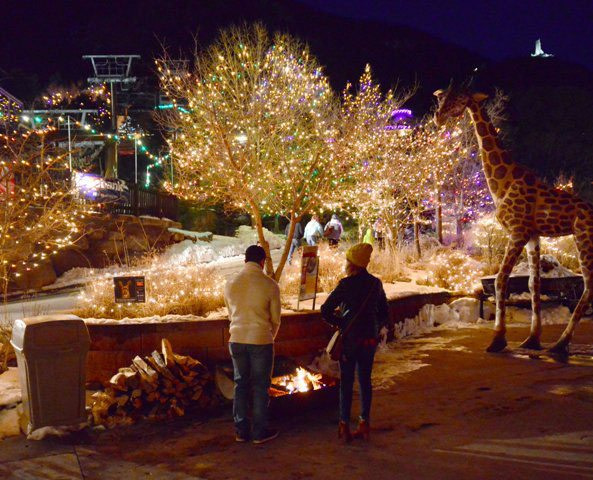 Photo credit: Cheyenne Mountain Zoo
The zoo crew is staying up way past bedtime to welcome visitors to a special evening of lights, animals and fun. There are 85 light sculptures spread across the zoo's 50 acres, and outdoor fun is what it's all about this year.  Dec. 4-6, Dec. 11-23, Dec. 25-Jan 1., 2020; 5:30-8:30 p.m. NOT open on Christmas Eve, Dec. 24. Get the full details, prices and schedule of events here.
As of Saturday, Nov. 28, El Paso County is at "Safer at Home – Severe Risk" or "Level Red." The following changes will be seen during visits to Electric Safari while under Level Red precautions:
-Ticket capacity to the Zoo will remain limited, with advance timed tickets required.
-The outdoor areas of the Zoo will remain open, but most buildings will be closed.
-Santa will be available for photos and to hear wishes as he travels around the Zoo during evenings through Wednesday, Dec. 23. Indoor visit and photo opportunities will not be available.
-Dining options will be limited, and available for take-out only. No indoor dining available.
-Thundergod Gift Shop will be open at 50% capacity, per current guidelines for retail establishments. Online ordering is also available at giftshop.cmzoo.org.
-Restrooms with direct outside access will be open.
-Sky Ride will be operational; weather dependent. Only members of the same household are permitted per seat.
For all the details and to secure your limited-availability tickets, visit: cmzoo.org/electric.
Advance timed tickets are required for both members and non-members. Zoo member tickets are free, but must be reserved in advance. Everyone visiting the Zoo must have their own advance e-ticket, including children age 2 and under.
Socially Distanced Light Tour in Cripple Creek
Anybody can light their trees, but only in America's biggest gold claim can they light mining headframes!  Enjoy this self-guide tour through Cripple Creek and Victor from the comfort and safety of your car.  From now until January 1, every Friday, Saturday and Sunday you can enjoy this tour starting at dusk (weather permitting!) Check out their website for more information.   
Shopping in a Winter(Light) Wonderland: Old Colorado City
Old Colorado City sparkles to festive life during the holidays, and every resident and business owner must be in on it; each one trying to outdo the other. The winner? You. Bundle up and stroll streets lined with a huge selection of local businesses and restaurants all filled with Christmas cheer. On certain days, you (and your kiddos) can meet Santa, too. There are special sales to help you find the perfect gift for your budget and the variety of shops simply can't be beat. In the evenings, many of the bars and restaurants have live music for the 21+ set to enjoy over a cocktail or two.
The Closer: Christmas at the Ranch
As we all know, nothing gets you in the Christmas spirit better than the music of the season, and the folks at the Flying W Ranch are world-famous for their live performances. The Cowboy Christmas Jubilee, set in a festival of twinkling white lights at the stunning, illuminated rock formations at the Flying W Ranch, will leave you with memories that will last a lifetime.
After a mouth-watering Christmas dinner with Flying W smoked meats and all the trimmings, you will be captivated with a musical show performed by the world-renowned Flying W Wranglers. One of the most talented groups in Flying W history will perform a Western Christmas Jubilee that will make your heart sing, take you back to years gone by.  The Wranglers captivate and bring joy to all ages.
DECEMBER 4TH THROUGH DECEMBER 20TH, 2020
Two Dinners and Shows each night.
Dinner 1: 4:30, Show 1: 5:45
Dinner 2: 7:30, Show 2: 8:30
Tickets can be purchased online at www.flyingw.com or by calling 719-598-4000.
As you can see, Colorado Springs is loaded with ways to catch the beautiful Christmas lights and capture the joy of the season. We hope you'll find our options fun, festive and filled with holiday cheer!