Cave of the Winds Mountain Park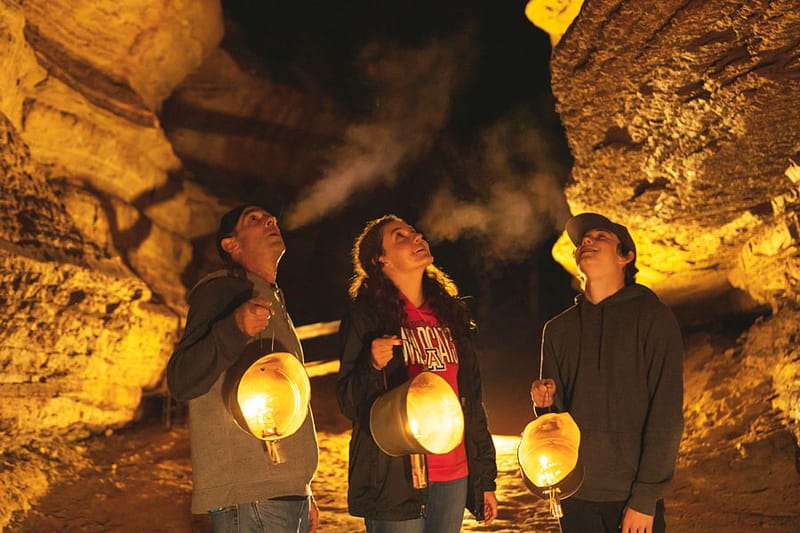 What should I wear for my tour?
Wear comfortable clothing: jeans, shorts, or even a comfortable skirt will do. Make sure your shoes have good traction – sneakers or hiking boots are ideal. Bring a light jacket – even in the heat of a Colorado summer, the temperature in these Colorado caves is a pleasant 54 degrees.
Is Cave of the Winds Mountain Park for everyone in my family?
Cave of the Winds Mountain Park is an exciting Colorado natural attraction that can be enjoyed by everyone in your family, from toddlers to grandparents. Cave tours are not recommended for pregnant women or people with heart or respiratory problems. All family members can enjoy our visitor center, gift shop, and the lovely views of Williams Canyon.
Is Cave of the Winds Mountain Park open on holidays?
We are open every day except Christmas Day. On Memorial Day and July 4th, we are open 9 a.m..-9 p.m. On Thanksgiving Day and Christmas Eve, we are open from 10 a.m.- 2 p.m. (last tour at 1 p.m). On New Year's Day, Easter and Labor Day, we are open from 10 a.m.-5 p.m.
Do you have any discounts?
Are cameras or camcorders allowed in the Colorado Caves?
Yes! We encourage cameras and camcorders in the cave.
Yes, in our Caver's Cafe.
Parking is free at Cave of the Winds Mountain Park!
Can I make a group reservation?
Reservations for tours are accepted for groups of 15 or more. For reservations and group rates, call 719-685-5444, ext. 5056 or email us at info@caveofthewinds.com
Spring Break Activities in Colorado Springs
Spring Break is here and we have a brave proposition in Colorado Springs and the Pikes Peak Region for those of you seeking adventure!
10+ Reasons Manitou Springs is the Best Little Town
Manitou Springs is the best little town in Colorado! From unique festivals to homemade custard and mineral water, it's fun for everyone!
Valentine's Day in Colorado Springs and the Pikes Peak region
With so many options for Valentine's Day in Colorado Springs, there's really no excuse not to have some sort of outing!
Attractions & Restaurants Open for Thanksgiving Day
Celebrate turkey day with your loved ones by supporting these local attractions and restaurants open on Thanksgiving in Colorado Springs.
Top Fall events in Colorado Springs
You don't want to miss even one of the amazing fall events happening in the Colorado Springs, so get ready to upload a massive list of fun!
Best Time of Year to Visit Colorado Springs
There's no shortage of fun to be had anytime you visit Colorado Springs and each season offers its own special benefits to visitors.
More attractions like this
U.S. Olympic & Paralympic Museum
Flying W Ranch Chuckwagon
Pikes Peak Tour by Gray Line
Challenge Unlimited- Pikes Peak by Bike
Cripple Creek and Victor Narrow Gauge Railroad
Echo Canyon River Expeditions