Top Five Burgers in the Pikes Peak Region
On the hunt for the best burgers in Colorado Springs? The Pikes Peak region is home to some of the tastiest hamburgers we've ever had — and the most creative. What makes a burger the best for you? Is it the quality of the patty? Are you a beef fan? A bison fan? A vegetarian? Do you like it loaded with toppings or leaving it a plain Jane that lets the meat do all the talking? This city has what you're craving. 
With hundreds of great places to dine, it can be hard to know where to go to find your new favorite hamburger. Heck, it was hard for us to even narrow our list of favorites to five. Here are our favs to get you inspired.
OCC: Cerberus Brewing Co.
Dog-friendly with a massive outdoor patio, Cerberus Brewing offers cold beers, rotating beer slushies and a pub menu that is phenomenal. You're guaranteed to be happy with everything on the menu, but we're here to talk about burgers, so a burger recommendation you shall receive. Their best burger is named for America's Mountain and it definitely towers over the plate just like our friendly fourteener. The Pikes Peak features a thick beef patty piled with Cerberus's house-smoked brisket. The patty is smothered with a tangy white cheddar cheese to give the final flavor touch. The burger comes with the fixins to dress it up how you like on a thick, fluffy bun. Make sure you order the wedge fries and ask for the aioli for dipping. Their fries are huge and crispy, with nary a soggy one in the bunch. 
Manitou Springs: The Keg Lounge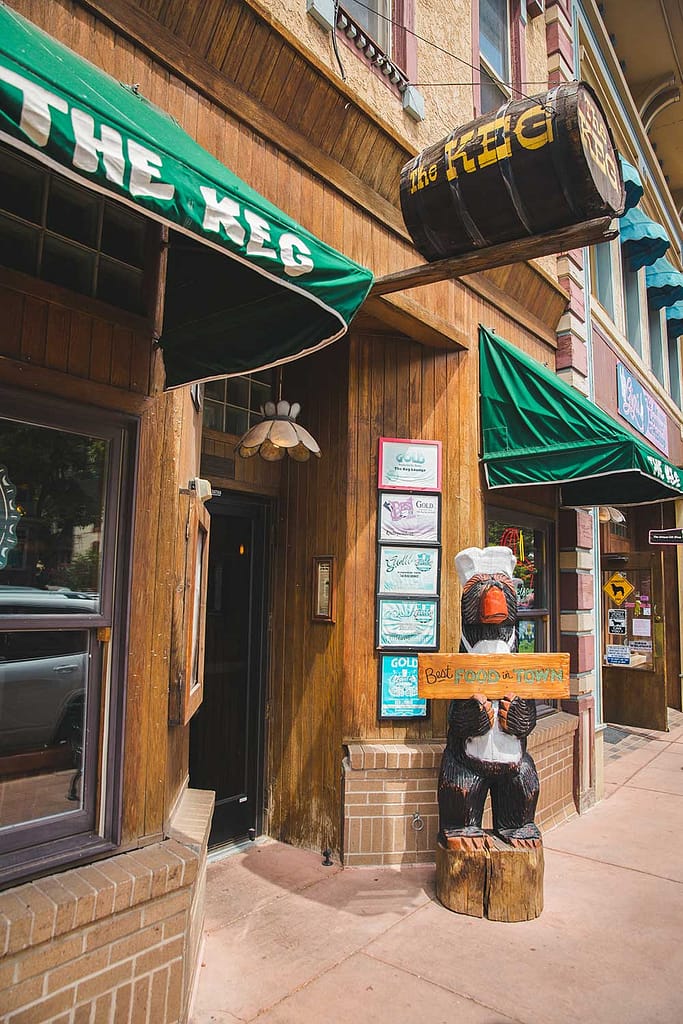 The Keg is a popular bar and restaurant located right in the middle of the main drag in Manitou Springs. With a casual, friendly and unassuming atmosphere, the Keg offer diners a great menu served with zero pretension. And their burgers? Well, they're pretty darn popular for a reason. The Keg uses burgers from Ranch Foods Direct, which means your meat is as local as you can get. In addition to traditional beef patties, they have turkey, buffalo, Beyond and farrow patties. Yet another stride forward in uniting herbivores and omnivores at the table. We suggest the patty melt. It's topped with melted swiss and grilled onions, tucked between two slices of dark rye and then toasted to perfection. It comes with chips, but you can upgrade to fries or onion rings for a little extra.
Manitou Springs: The Border Burger Bar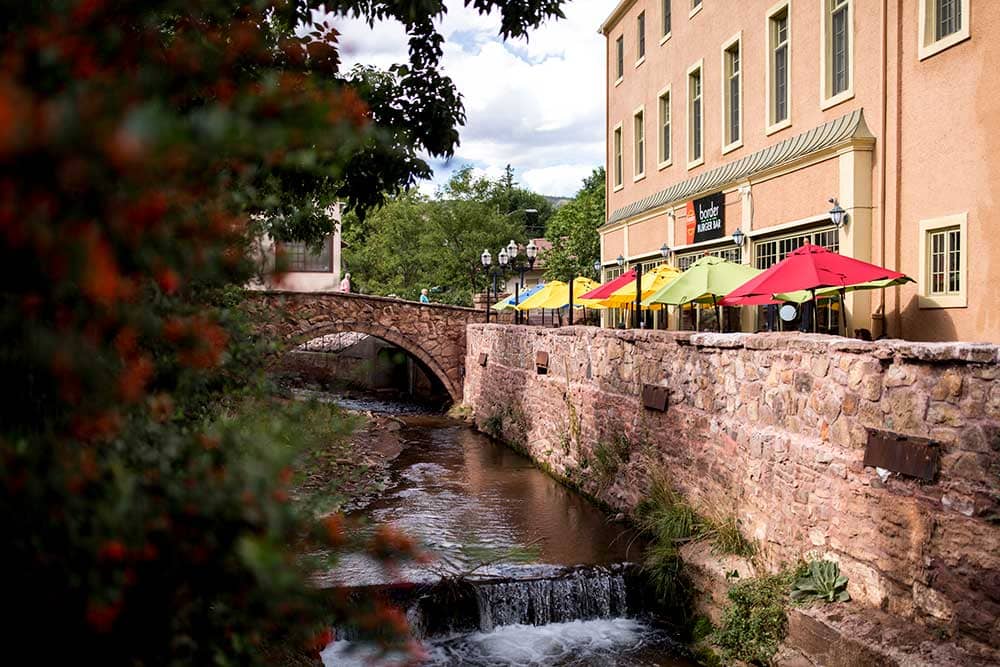 The Border Burger Bar has an immense menu of over-the-top burgers. Every offering has its own theme, with complementary toppings that amp up the flavor. Since Border Burger has a menu that is almost exclusively hamburgers, we're sharing two of their best to try to capture their outrageous options. First, let's spotlight the burger that isn't quite a burger. The Ahi tuna burger uses a thick ahi filet for the protein of choice and builds up from there. Poke sauce, nori chips (the wasabi kind!), daikon and greens create a light and airy meal that feels a bit like you're eating a sushi burger. The tuna is sushi grade, so that's only fitting. The other recommendation is decidedly heavier and also has the bragging rights as being the winner of 2017 Taste of Hope. The beef patty is ground in house and grilled to perfection before being smothered in colby-jack, topped with pico de gallo and avocado with a healthy smattering of deep fried jalapeno slices. All burgers come with hand-cut fries. However, we would be remiss if we didn't recommend you grab an order of the deep-fried mashed potato balls. You're welcome in advance. 
Downtown Colorado Springs: Brakeman's 
Brakeman's is part of the downtown scene, but it's location on the beaten track means that it sometimes gets overlooked. Brakeman's, you see, is located in the old train depot on Sierra Madre Street behind the Antlers Hotel. It's worth the detour, especially for burgers. (They also deliver.) Brakeman's has a lot of great concoctions on their menu, but the fanciest by far has to be the Black and Blue. A rich and flavorful Wagyu is blackened, topped with smoked Moody Blue cheese, then finished with a touch of arugula, fresh tomato and garlic aioli. Pop into their historic location for a lovely atmosphere and good food seven days a week. By the way, the place has shakes! Big ones. 
Cascade: Wines of Colorado
For creekside dining at the base of Pikes Peak, it doesn't get any cooler than Wines of Colorado. The location is a little deceptive. From the road to the Pikes Peak Highway and the North Pole, it looks like a tiny restaurant perched off of Highway 24. Once you're inside, however, you'll find a huge venue with ample patio seating and creekside tables. It's a place you can get a little dressy for, but they still serve up a stellar burger. Our recommendation for this locale is the famous wine burger. What? Did you think a wine-centric restaurant wouldn't have a wine burger? The ground Angus patty is infused with delicious wine, dressed with all the standards and served with your choice of cheese. Get it with tots, because tots are the best. Check out the restaurant's wine flights for a wide selection that won't leave you stumbling into the creek. Get the carrot cake for dessert and bring a crew to eat it. The whopping serving feeds four.
We won't blame you if this list sets off a grandiose burger binge. We suggest you take a few hikes in between to keep the hunger burning. Or order all of them at once and binge reruns of Scooby Doo. We support your choices.