Local Coffee Shops to Get Your Morning Java
For some folks, coffee is a tool for functionality and ensuring a hard day's work. For others, it's akin to a transcendent experience. Whether you're the former or the latter or some blend of the two, you need your morning java to be happy and we are here to deliver. We've built a list of local coffee shops that have some of the best coffee you will find in the Pikes Peak region. Even better, they live at the intersection of transcendence and necessity, meaning they'll please both the connoisseurs and the practical with one menu. You want a cup of well-brewed black coffee? Order up! You want a latte loaded with treats or carefully crafted pour over you can sip while you chat? Done! These local coffee shops have it all and they are ready to serve.
The Coffee Exchange
526 S. Tejon St. | Website
The Coffee Exchange has been a nice little south end secret for years in Downtown Colorado Springs, but a recent glow-up and a growing business district are finally giving it the credit it deserves. The location is huge with lots of space for a friendly meet-up and cozier nooks for a day date. The menu has great sandwiches and pastries for accompanying your favorite beverage. Speaking of which, their coffee is really cool. Well, it's hot, but it's also rad. They have strong and tasty cold brew you can buy in bulk to power up your crew and a variety of lattes and espressos.
Our recommendation: Cafe con leche or the Honey I'm Home. Both have Cuban espresso and a shot of milk but the latter has just a touch of sweet honey and brown sugar. The other highlight of the menu is their list of zombie coffees made with white espresso. Try the lavender honeycomb.
The Perk Downtown
14 S. Tejon St. | Website
The Perk is a Tejon Street staple, the kind of coffee shop where you get a tasted of the feeling the old Central Perk set was trying to create on Friends. There are two roomy stories to the charming downtown building, which gives you and your favorite coffee fans a lot of places to sip and chill.  Even cooler, the Perk has its own roasting house, so the quality control of every cup is second to none. They have loaded deli sandwiches with Boar's Head meats and artisanal bread, plus handmade pastries.
Our recommendation: You can't go somewhere that roasts their own coffee without at least trying a cup of their drip coffee. Fancier fare includes the Caramel Mountain and the White Mocha.
Good Karma Café
110 Cañon Ave. | Website
Good Karma is a popular coffee shop in Manitou Springs, catering to visitors and locals alike all year long. With a large breakfast menu and fresh-roasted coffee, it's a great place to fuel up before tackling the Incline or hanging out at one of the other local attractions in Manitou. It's definitely more of a sit down and chill location than a grab and go, but we think that's pretty nice considering how busy and hectic the day can get. They have all the basics — espressos, lattes, cappuccino — all in variations that shift from day to day.  The board and the barista always have something new to offer.
Our recommendations: If you're planning a relaxing day, you can't go wrong with an Irish coffee. Yes, with alcohol. It's the cafe's signature fresh roasted coffee with Irish whiskey and optional whipped cream. For the get up and go set, we suggest you go for a nice cup of the house blend so you don't burnout with a stomachache before you even hit the false summit. Drink water, too. You'll be glad you did.
Loyal Coffee
408 S. Nevada Ave. | Website
Located right in the heart of Downtown Colorado Springs, Loyal Coffee truly strives to be a community-centered coffee shop. Touted as a barista-owned shop, their coffee is roasted right here in Colorado Springs at the revamped Ivywild School on the southwest side of the Springs. You can pick up fresh packs of coffee (perfect for those crummy hotel coffee makers) in the shop or order up one of their specialty beverages. Did we mention they have a selection of artisan toasts and the option to order a bowl of ice cream? We happen to think anyone who offers random acts of ice cream is pretty special.
Our recommendation: If you want some of the best pour over coffee in the Pikes Peak region, this is the place to do it. Those fresh beans really shine through and the flavor is worth the wait. The cortado is also lovely, featuring espresso with "textured" milk. You'll have to snag a cup to know what that means but our best definition is that it's like a velvet blanket. You'll see.
Jives Coffee Lounge
16 Colbrunn Ct. | Website
Let's talk coffee and concerts because that's just what Jives has to offer and they are very, very good at it. With a dining area built around a small stage, the locale loves to lift up local artists with lots of community face time. Their coffee is also one heck of a treat, making is a favorite Old Colorado City coffee shop for visitors to the Pikes Peak region (locals dig it, too). They are extremely creative with their coffee (the beans are roasted in-house). That means you may find spicy, salty and even peppery concoctions on the board at any given time. They also offer trusty standards for folks who aren't into wilder brews.
Our recommendation: Hello, sea salt! Give the Black Sea a whirl. It's mocha, caramel, coffee and a hint of Mediterranean sea salt to counter the sweet. Want to take the adventure up a notch higher? Go for the spicy mocha — and they aren't talking about nutmeg. It's got a kick of cayenne for your sipping pleasure.
Red Dog Coffee
739 Manitou Ave. | Website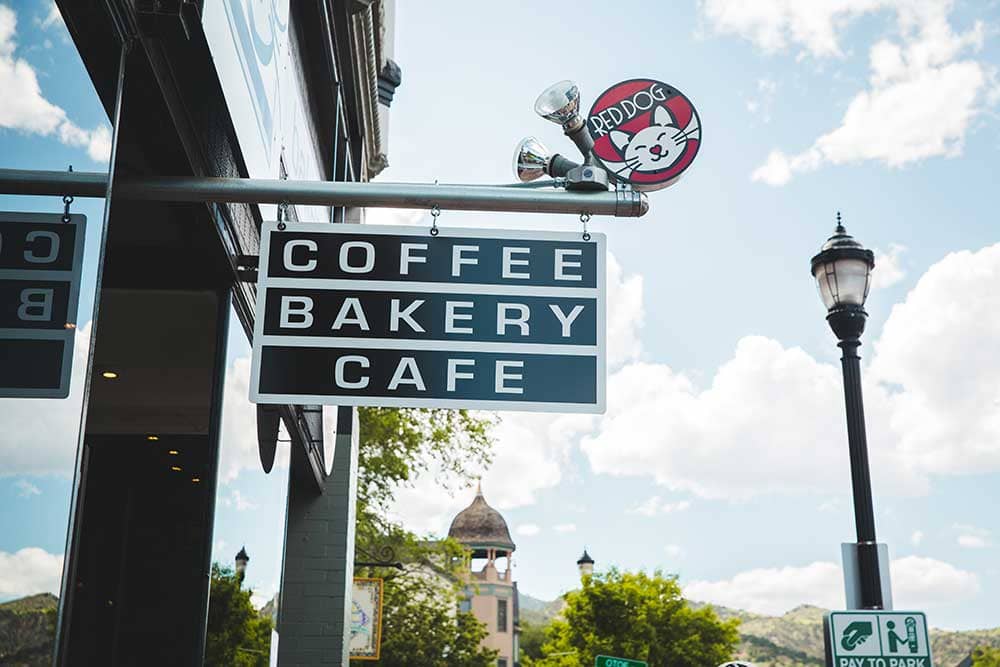 For our next selection, we're taking you back to Manitou Springs to Red Dog Coffee. It's a cozy coffee shop right on Manitou Avenue amidst the hustle and bustle of the shops and fun. Why do we love Red Dog? Simply put, it's beverage heaven. We know you're here for coffee, but it has booze, smoothies and acai drinks for all of your coffee-free friends. But back to the coffee. It's air-roasted right here in Colorado, a method the shop says is only used by about 20% of roasters due to the complicated nature of the process. It really does give a special flavor to the beans and the beverages. They train up all of their baristas on how to brew the best coffee with those magic beans, too.
Our recommendation: Try the peanut butter mocha for a sweet coffee made with real peanut butter. Or, since it tends to get mighty toasty in Manitou in the summer, order up a frappe made with espresso and ice cream and your choice of flavors. It's basically an adult frosty.
Story Coffee
120 E Bijou St. | Website
Don't move carelessly when hunting for this quirky coffee shop. You might just pass it by! Tucked away behind the historic bandstand in Acacia Park, Story Coffee is located in a lovely "tiny home" building right off of Bijou Street in Downtown Colorado Springs. Like most pint-sized things, Story Coffee has a huge personality. A portion of their funds support Marian House in Colorado Springs, an organization that provides daily meals for people experiencing homelessness or struggling with food insecurity. Their coffee is delightful and you can order it up wholesale or in bags to take home. They have special beverages that change monthly so it's worth repeat visits to try out limited editions. They've recently opened a second location in Old Colorado City, same coffee, same altruism.
Our recommendation: The coffee old-fashioned is a wild beverage (sans alcohol) with cold brew and bitters, maple syrup and, of course, a cherry. It's different but delightful. The other option that's super amazing is their coffee flight, which features two coffees for the unheard of price of $3.
Building3 Coffee
2727 N. Cascade Ave., Suite 155 | Website
Building3 Coffee is a veteran-owned shop located on Cascade Avenue in Lincoln Center. They are passionate about what they call specialty coffee culture and they invest their all into every cup. What does that mean, exactly? They make trips to visit their growers and work to form ethical partnerships for all the coffee beans they purchase. They also roast all of their own coffee in small batches to ensure the flavor is at its peak. You can buy coffee beans to take home and they even have a supply of brewing equipment for the home barista.
Our recommendation: You can't go wrong with drip coffee at Building3. That's where you'll really taste that devotion to the "seed to cup" mission. It's rich and flavorful and even people who like more cream in their cup than coffee agree it's mighty fine. We also dig the high octane nitro cold brew, which has the smoothest finish. It's almost dangerous how easy it goes down. Proceed with caution!
Wayfinder Coffee
6140 Austin Bluffs Pkwy. | Website
Live music, fancy brews and plenty of atmosphere make Wayfinder feel like your new coffee home. This place has all sorts of coffee concoctions you truly can't find anywhere else. They really lean into the unique while still managing to provide a stable of standard favorites that will delight even the barebones, just-black-coffee sippers. They have all the flavorings, all the milks and all sorts of coffee blends from around the world. They serve a nice menu of breakfast items and lunch items, so it makes a great stop for morning rations or a post-hike meal.
Our recommendation: Try the Romano for a unique twist on espresso. That's literal, by the way. They add lemon to the shot! For a sweeter dessert coffee, go for the Colorado Campfire. It's a mocha with a brûléed marshmallow and graham cracker on top. How can you go wrong with a s'more in your coffee? You can't. S'more on friends. S'more. on.
What can we say? Colorado Springs just seems to bring out the artisan in every entrepreneur who comes our way. We're just thankful these coffee masters have decided to make our city their home. Happy sipping!