*2022 Update: CANCELLED.  Plan to bring it back for 2023.
The time has come for one of the coolest (pun intended) events of the year in the Pikes Peak region. No, not discounted candy on February 15, although that is exciting. We're talking about the Cripple Creek Ice Festival, a celebration of ice, chisels and the occasional chainsaw, all hosted in the beloved historic mining town of Cripple Creek. This year's festival will run February 8-16, with most of the events running on the weekends (although you can catch the sculptures any day during the run). We want you to maximize your fun, so we've compiled a quick reference guide for making the most of your visit.
Ice Carver's Choice
Past Cripple Creek Ice Festivals have all centered on a theme that guided the ice carver's final sculpture. This year, organizers have given the carvers free reign to create whatever their artistic heart desires. That means the sculptures are sure to be amazing and give visitors insight into the inspiration that drives an artist to turn a plain block of ice into an exceptional — yet temporary — work of art.
Family-friendly Fun in Cripple Creek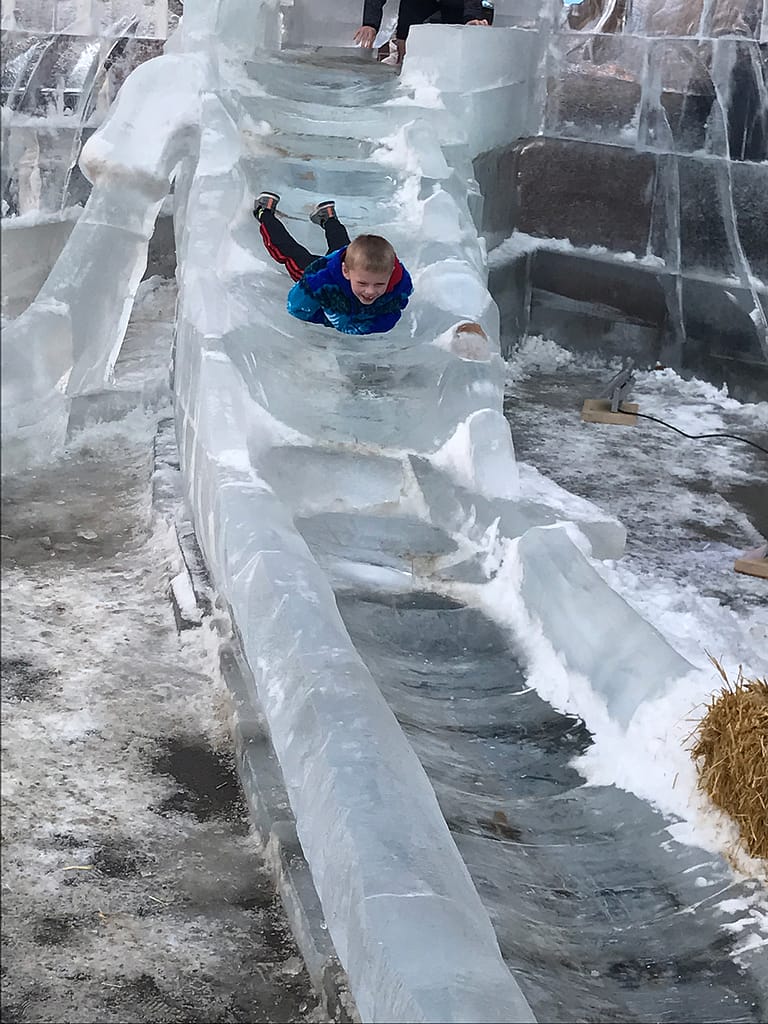 You're probably thinking that a place loaded with giant, fragile ice sculptures might not be the best to visit with kids. However, the Cripple Creek Ice Festival is absolutely great for kids (and those sculptures are sturdier than they look). In fact, many of the sculptures are interactive, including a slide made of ice and an ice maze. That means everyone can look and touch and no one will get upset. We recommend bringing the camera, because the chance to snap a photo of your kids prancing around the sculptures cannot be missed.
Let's Talk Food and Shopping
Great street vendors will be available February 8-9 and February 15-16 selling all sorts of creative gifts that will leave your pockets a little lighter than when you got there. And there are several permanent shops in town that offer unique souvenirs you can take home to remind you of your visit. As for meals, your favorite street fair food is sure to be found at one of the booths and there are Cripple Creek restaurants serving everything from diner fare to fine steaks. You can snag fresh fudge and homemade ice cream for a post-meal treat.
Grown-up Entertainment
You don't have to be pint-sized to be awed by ice sculptures and the Cripple Creek Ice Festival manages to balance family-friendly activities and cool adult stuff quite well. On Saturday, Feb. 8, you can meet the talented artists who have created this year's sculptures and learn all about their craft. The event, which runs from 1-5 p.m., will include wine and hors d'oeuvres. You can also check out the Ice & Art Fest over at the Cripple Creek Heritage Center (park there for free and shuttle to the festival).  And, if you like your fun a little more sudsy, there's a beer garden on the weekends where you can enjoy the best beer in the Wide West (make sure you have a DD for that mountain drive home).
Additional Fun
While you're up in the mountains, be sure to make a stop at the Heritage Center. Local historian and storyteller Steve Plutt will present "Midland Railroad Tragedies at 2 p.m. on Sunday, Feb. 9. Over at the Old Homestead House, they'll be open for tours both weekends. It's the most famous brothel in Cripple Creek History and it usually isn't open until May, so don't miss your chance for a rare winter tour. Despite the home's original purpose, they sell tour tickets for kids, so we can safely assume it's as family-friendly as an old brothel can manage to be. Speaking of family-friendly, the Butte Theater will be screening Hook on Feb. 8 and 9 at 3 p.m. Last, but not least, if romance is your reason d'être, the sculptures are lit up fantastically in the evening and the Butte Theater will be performing a romantic dialogue show known as "Love Letters" on Feb. 14 and 15. Perhaps a romantic weekend getaway is in order?
Be Prepared!
Cripple Creek sits at an elevation of 9,494 feet, so it's important to be mindful of the altitude. Make sure you bring lots of water and keep yourself hydrated while you're walking about, especially if you decide to hike the trails outside the town while you're up there. And, since it is Colorado, dress in layers so you're prepared for it to be hot or snow or both. It may ruin your super hero costume's overall flair, but you won't be freezing to death, so we think it's a good compromise. The opportunity to check out art made completely of ice only happens once a year in the Pikes Peak region. And the drive to Cripple Creek is utterly gorgeous, so it's not even a chore to get there! If you're looking for something different this month, the Cripple Creek Ice Festival is an event you won't want to miss.
Cripple Creek Ice Festival is free and open to the public. So bring the family for a day of fun!