What You Need to Know About the Cripple Creek Ice Festival
After a two-year pause, the time has finally come for the return of one of the coolest (pun intended) events of the year in the Pikes Peak region. No, not discounted candy on February 15, although that is exciting. We're talking about the Cripple Creek Ice Festival, a celebration of ice, chisels and the occasional chainsaw, all hosted in the beloved historic mining town of Cripple Creek. This year's festival will run February 18-26, with most of the events running on the weekends (although you can catch the sculptures any day during the run). We want you to maximize your fun, so we've compiled a quick reference guide for making the most of your visit.
Ice Carver's Choice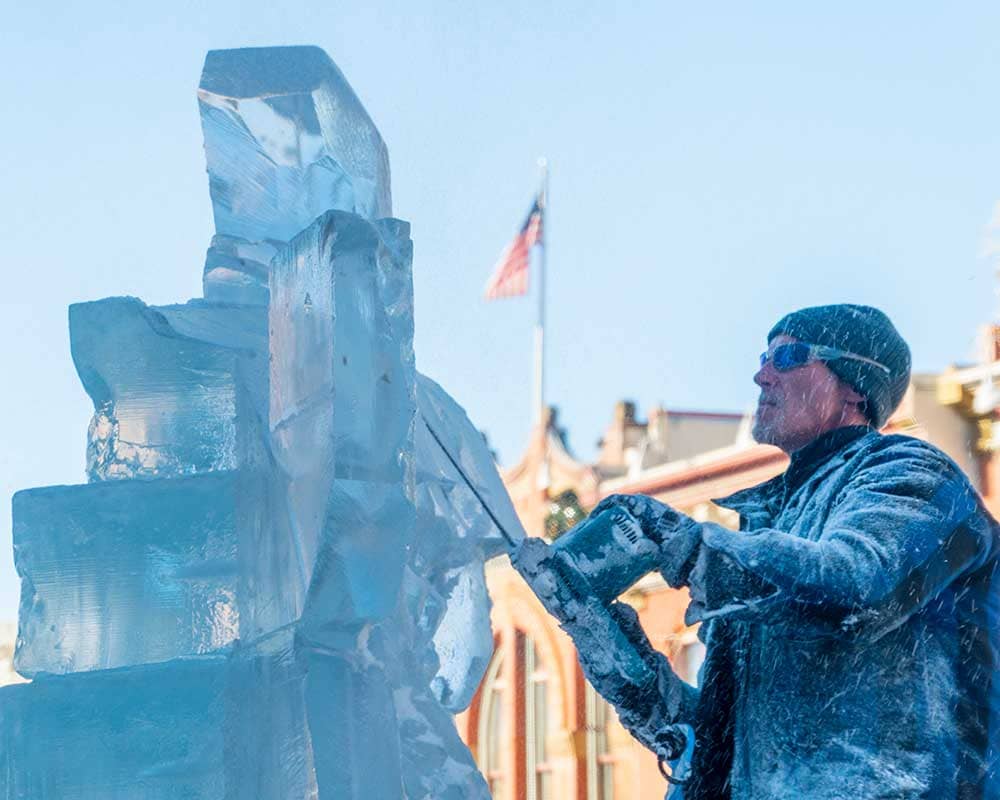 Past Cripple Creek Ice Festivals have all centered on a theme that guided the ice carver's final sculpture. This year, organizers have given the carvers free reign to create whatever their artistic heart desires. In a recent NPR article, Klaryssa Murray, Cripple Creek marketing coordinator, explained the reasoning: "This year we do not have a theme so our carvers can carve to their strengths and get to pick whatever they'd like as long as it gets approved. So those will be very cool. The sculptures can get rather large — which is super fun."
There will also be a head-to-head, live carving competition with a cash prize. Attendees can also help boost their favorite sculptor by voting in the People's Choice Awards. The winning sculptor will receive a $5,000 prize! Per a recent press release from Cripple Creek: "Voting is open throughout the event and closes at noon on Sunday, February 26. The winner will be announced at 1:00 that day." 
The sculptures are sure to be amazing and give visitors insight into the inspiration that drives an artist to turn a plain block of ice into an exceptional — yet temporary — work of art. 
Family-Friendly Fun in Cripple Creek
You're probably thinking that a place loaded with giant, fragile ice sculptures might not be the best to visit with kids. However, the Cripple Creek Ice Festival is absolutely great for kids (and those sculptures are sturdier than they look). In fact, at least one or two sculptures are typically designed to be interactive. That means everyone can look and touch and no one will get upset. We recommend bringing the camera, because the chance to snap a photo of your kids prancing around the sculptures cannot be missed.
Let's Talk Food and Shopping
Great street vendors will be available on the weekends (including President's Day, Feb. 20), selling all sorts of creative gifts that will leave your pockets a little lighter than when you got there. And there are several permanent shops in town that offer unique souvenirs you can take home to remind you of your visit. As for meals, your favorite street fair food is sure to be found at one of the booths and there are Cripple Creek restaurants serving everything from diner fare to fine steaks. You can snag fresh fudge and homemade ice cream for a post-meal treat.
Be Prepared!
Cripple Creek sits at an elevation of 9,494 feet, so it's important to be mindful of the altitude. Make sure you bring lots of water and keep yourself hydrated while you're walking about, especially if you decide to hike the trails outside the town while you're up there. And, since it is Colorado, dress in layers so you're prepared for it to be hot or snow or both. The opportunity to check out art made completely of ice only happens once a year in the Pikes Peak region. And the drive to Cripple Creek is utterly gorgeous, so it's not even a chore to get there! If you're looking for something different this month, the Cripple Creek Ice Festival is an event you won't want to miss.
Cripple Creek Ice Festival is free and open to the public. So, bring the family for a day of fun!