Check out our most recent vlog of the Cog Railway
The Grand Reopening of the Broadmoor Manitou and Pikes Peak Cog Railway
After hauling thousands of visitors up Pikes Peak for more than a century, the Broadmoor Manitou and Pikes Cog Railway decided to take a much needed, well-deserved vacation for a little rest and rejuvenation back in 2018. Fans of the beloved 9-mile journey to the summit of Pikes Peak were understandably bummed, but they also knew that the temporary closure would mean big things when the Cog Railway reopened. That day has finally arrived! After nearly four years of upgrades and renovations with a price tag of $100 million, the Cog Railway opens May 27 and tickets are already on sale! An official ribbon-cutting ceremony will follow on June 30, the Cog's 130th anniversary.
Yes, the Cog Railway is back on track and ready to continue its legacy as the highest, longest and just-plain-coolest cog railroad in the world. Whether you're a seasoned Cog rider or a new visitor to Colorado and the Pikes Peak region, the new additions are sure to create an unforgettable experience. Take a look at what's in store for you during your next Broadmoor Manitou and Pikes Peak Cog Railway Adventure!
New Trains and Track for the Pikes Peak Cog Railway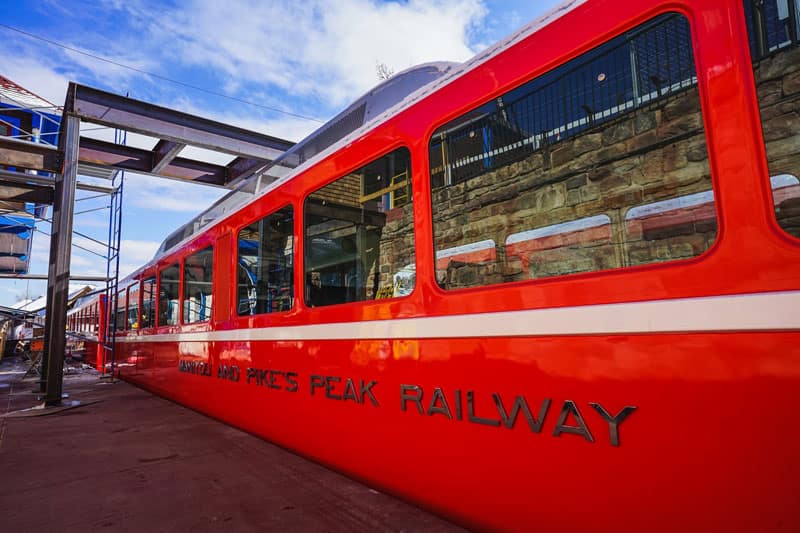 While everyone is surely stoked about the new amenities on the Pikes Peak Cog Railway's new trains, we'd be remiss in not talking a little tech for all the train aficionados out there. The new trains come from Stadler Bussnang, a Switzerland-based manufacturer. Since there are less than 50 cog railways in the entire world, Stadler is the only company capable of filling such an order. In February of 2019, the Colorado Springs Gazette's Wayne Heilman reported that the company, "had received the order for the rack-and-pinion diesel locomotives, the rail cars that will be configured to carry 240-260 passengers, cog-rail and snow removal systems."
There are now three new engines and nine passenger cars to take people up the mountain on new track, which has been converted from its previous ABT system to a new Strub single rail cog system. Construction began at the top during warmer months and has worked its way back to the depot. Swiss engineers have even ventured over to inspect the new track to ensure it is safe and operating properly for guests.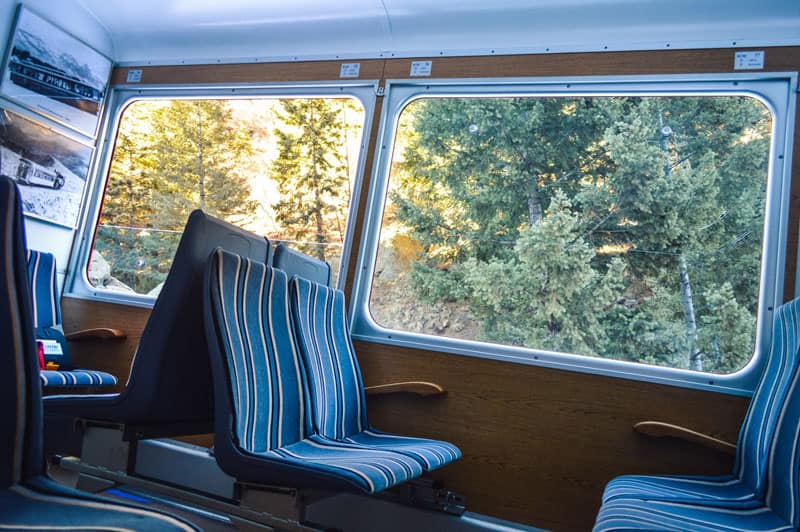 The railcars for guests are comfortable, roomy and built to make the most of the 1-hour and 10-minute journey each way. After all, part of the fun is the ride itself and the enjoyment of experiencing an authentic train trip. Guests will have ample opportunity to enjoy the scenery through the car's broad windows and relax as they make their way to the summit of Pikes Peak.
A Renovated Cog Railway Depot in Manitou Springs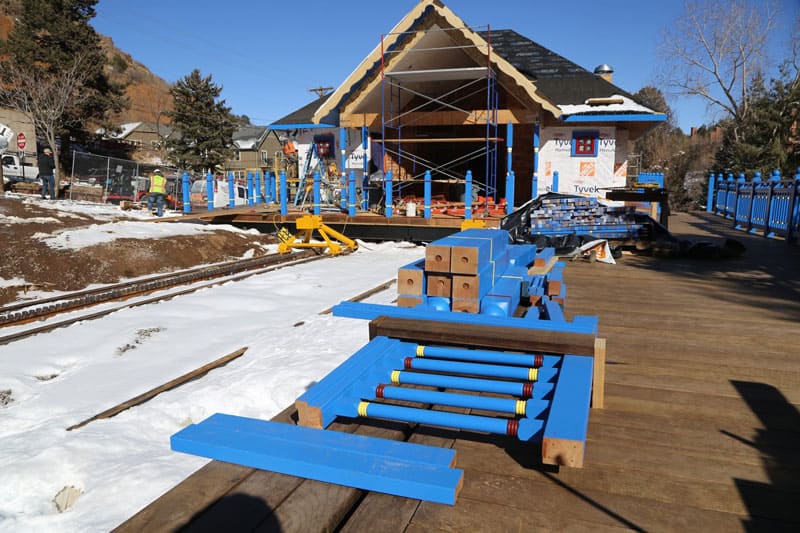 The Pikes Peak Cog Railway has also gotten a facelift. You can't have fancy new trains and state-of-the-art new track and not show a little love to the epicenter of your mountain adventure, right? In addition to cosmetic upgrades, the Cog Railway Depot has added new restrooms for guests. The small retail space offers visitors the chance to purchase Cog memorabilia, souvenirs and gifts. It also allows you to purchase snacks for your trip like bottled beverages, sandwiches and icy treats.
Parking isn't always easy to find, even with the changes to the depot. Manitou Springs is a popular little town and the Cog Railway is one of the most loved attractions in the Pikes Peak region. Its location doesn't provide many options for parking expansion without a major impact on the environment, either. Give yourself some time to check the designated parking area next to the Cog Railway Depot and park elsewhere if it's full. If you pre-purchase tickets and use your cell phone for sign-up, they'll text you updates if the parking lot gets full. There is overflow parking at Hiawatha Gardens in Manitou Springs with a free shuttle that will bring you to the depot so you can be there 30 minutes before your departure time. Even better, it will bring you back to your car after your trip and you'll have to make the tough choice to leave or stay and enjoy some of Manitou Springs' popular restaurants, shops and attractions.
The Broadmoor Manitou and Pikes Peak Cog Railway Route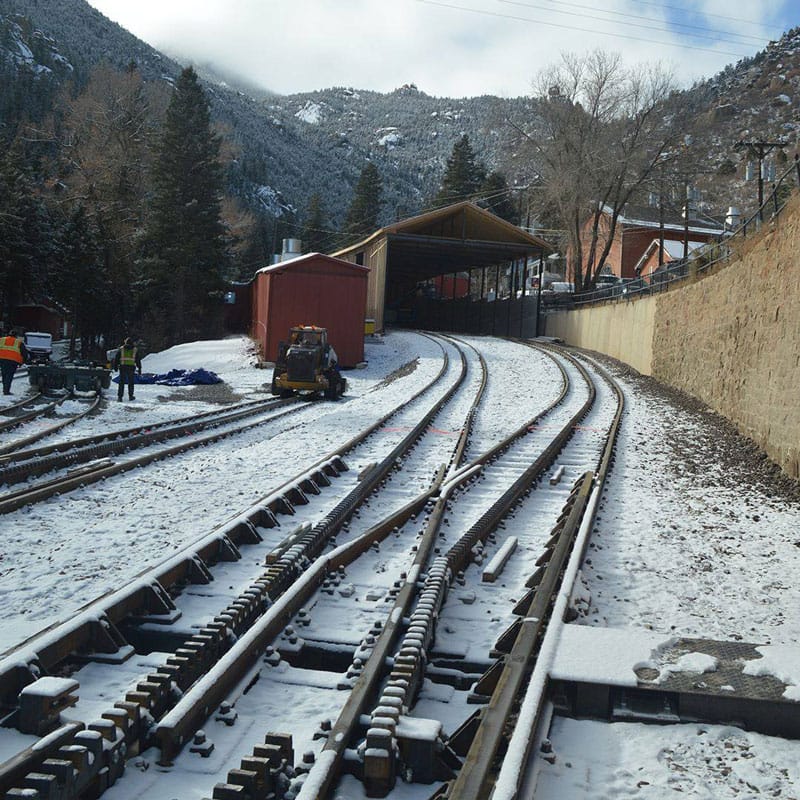 While the trains, track and depot have been upgraded to maximize guest enjoyment and guest safety, the breathtaking Rocky Mountain views and the unique beauty of the Pikes Peak region have remained untouched — and rightly so. It's hard to improve upon perfection! Guests will still enjoy a 9-mile journey through pristine wilderness to the summit of America's Mountain and it's safe to say every bit of the ride is well worth your time.
Starting in Pike National Forest and traveling along Ruxton Creek, the Cog Railway navigates a variety of terrain to show off little-traveled areas of the Pikes Peak region. Along the way, you'll catch glimpses of Rocky Mountain wildlife like deer, elk, bighorn sheep and marmots. You'll travel through different "life zones," each with its own unique features and strange adaptations to ensure the survival of the plants and wildlife that dwell within them. You'll learn about the people who shaped the Pikes Peak region and discover historical points of interest. It takes an entire thesaurus to even attempt to describe how incredible the views from the train can be — we strongly suggest simply seeing it for yourself and jotting down a few of your own. Who knows, maybe you'll even write a song about it …
The Pikes Peak Summit
While it's our humble opinion that the ride on the Cog Railway is the best part of the trip, the Pikes Peak summit is nearly tied for overall awesomeness, especially now that the new Summit House has been built. We're talking tenths of a point between the two. Cog Railway riders get about 40 minutes to mosey around the summit of Pikes Peak, snack on world-famous hot and fresh donuts and snap selfies and pictures of views that go for miles on a clear day. We've been told you can see up to five different states (including Colorado) when the conditions are just right, which is pretty amazing.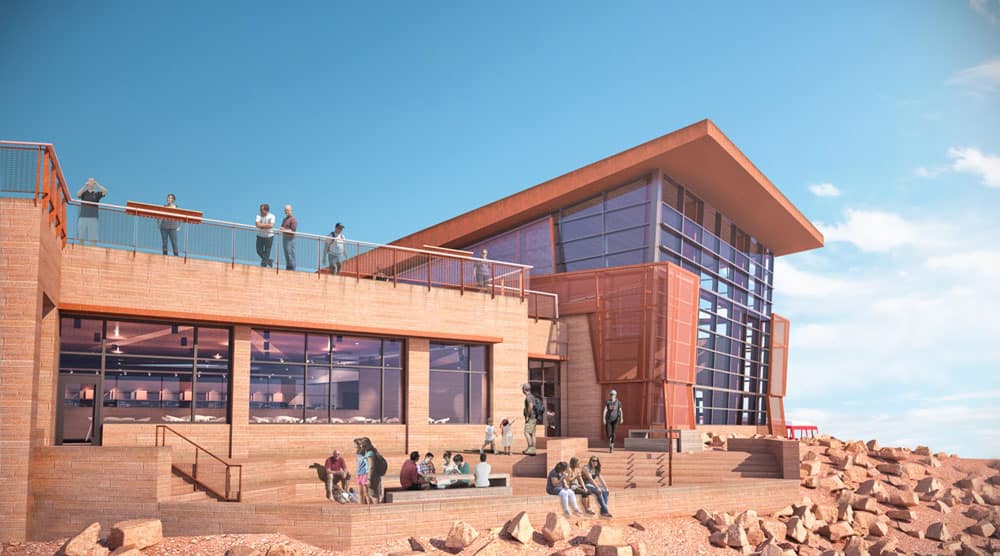 The new Pikes Peak Summit House includes an expanded gift shop (including the Cog's shop on the platform) and dining area with plenty of food options for hungry travelers. That means more shopping and more snacks, yay! There are also new interactive guest experiences that detail fun and interesting facts about Pikes Peak and the surrounding region. Wide windows and a more spacious interior layout allow guests to savor the views indoors on chillier days. Outside the Summit House, upgrades to the paths and parking areas have made the summit more accessible to individuals who use wheelchairs or require more stability to move around. Markers can be found along these paths and they share even more information about the flora and fauna of the area, as well as facts about the new upgrades and their environmental impact.
The Pikes Peak Summit is a very popular attraction in the summer, so it's always a good idea to plan your time wisely to maximize your experience. Try to balance your time spent both in the Summit House and outside along the paths so you don't miss out before it's time to head back home.
The Finer Details
As always, weather in the Pikes Peak region is unpredictable and even more so on the summit. Dress in layers even if it's hot in Colorado Springs when you leave. It can snow on the summit in July even as it swelters in the foothills. Wear sunscreen and bring a hat for your time outside the train — you can burn mighty quickly at 14,115 feet. Make sure you stay hydrated, too.
Standard admission for the 3-hour trip on the Broadmoor Manitou and Pikes Peak Cog Railway is $58.00 for adults and $48.00 for children 12 and under for advance e-ticket purchases ($59.50 at the depot ticket window). Guests may select specific spot in the train by upgrading to the reserved seating option for $68.00 for adults and $58.00 for children. Advance online ticket purchases are strongly recommended. Click here to get your tickets.