Places to Eat with Kids in Colorado Springs
If you're visiting Colorado Springs with children (or you're a local looking to dine out), we've compiled a list of kid-friendly local dining options for a variety of tastes. Dining out with kids isn't always easy, especially when parents want to forgo national chain restaurants and check out local restaurants. No parent wants to show up and discover the restaurant doesn't have a single meal for kids on the menu. 
Fortunately for both visitors and locals, the chefs in our list of locally owned family restaurants have not forgotten the wee ones when creating their delicious menus. Yes, you may indeed find the traditional chicken nuggets or mac and cheese on the menu, but they will knock it out of the park in terms of flavor, ingredients and preparation. Whole grains, healthy meats, tasty vegetables and of course, French fries all make up tasty dishes children love while parents can dine on new creations and classic favorites. Let's plan your next night out with the adults-in-progress!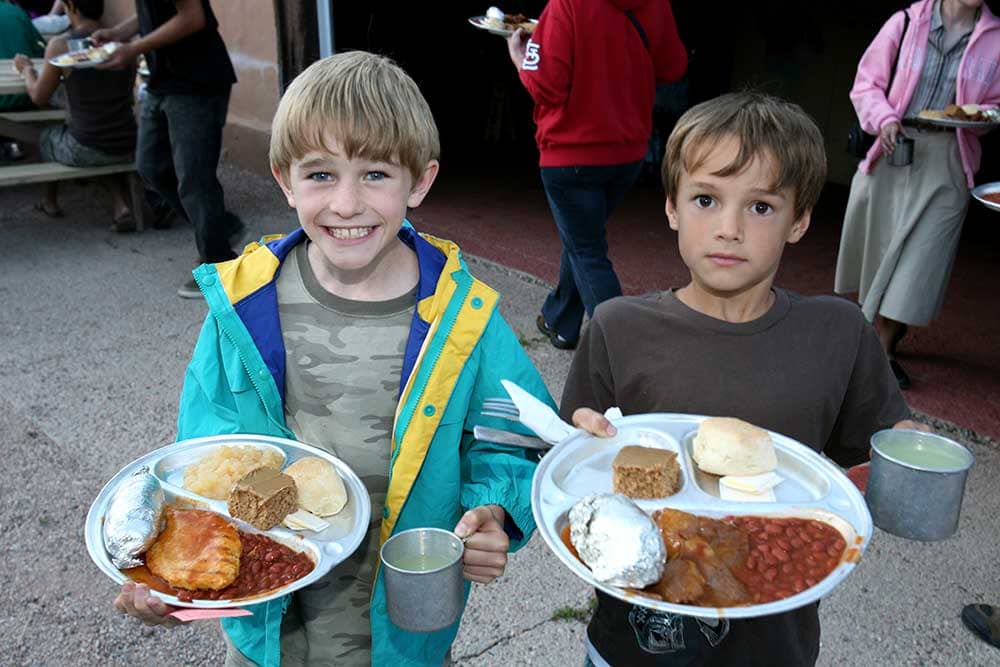 Flying W Ranch
The novelty of a chuckwagon dinner at the Flying W Ranch cannot be beat. It's the kind of experience that encourages generations of families to bring their kids just as their parents once brought them when they were young. Your evening opens with a chance for the kids to get out and explore the ranch before settling in for a filling chuckwagon meal that includes beans, cornbread and your choice of meat (plus dessert and biscuits). The famous Flying W Wranglers perform cowboy tunes each night and there is a lot of humor and fun to be found. It's a great place for everyone in the family, so be sure to include the grandparents, aunts, uncles and cousins, too.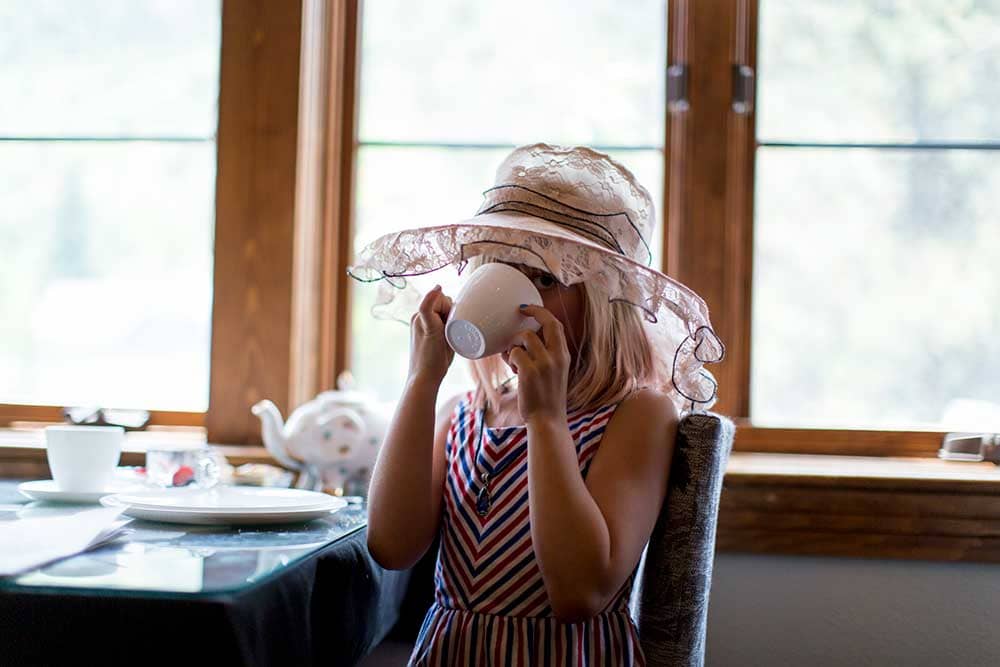 Tea at Miramont Castle
Everyone loves a tea party, especially kids. At the Miramont Castle's tea room, you and your kiddos can experience an authentic Victorian tea experience that will make any little tea partiers jump for joy. Kids are absolutely welcome and the popular tea room will even host special teas for birthdays or other celebrations. The luxuriously decorated room, delicate teapots and friendly staff make the experience unforgettably authentic and extremely fun! The Queen's Parlour even offers an assortment of vibrant hats to make the experience extra special. Dress up in your favorite best tea sipping gear and enjoy one of the best teas in Colorado Springs. As a side note, you can get a discount tour to the museum and continue your royal reverie in the castle when you're done sipping all those fancy boiled leaves.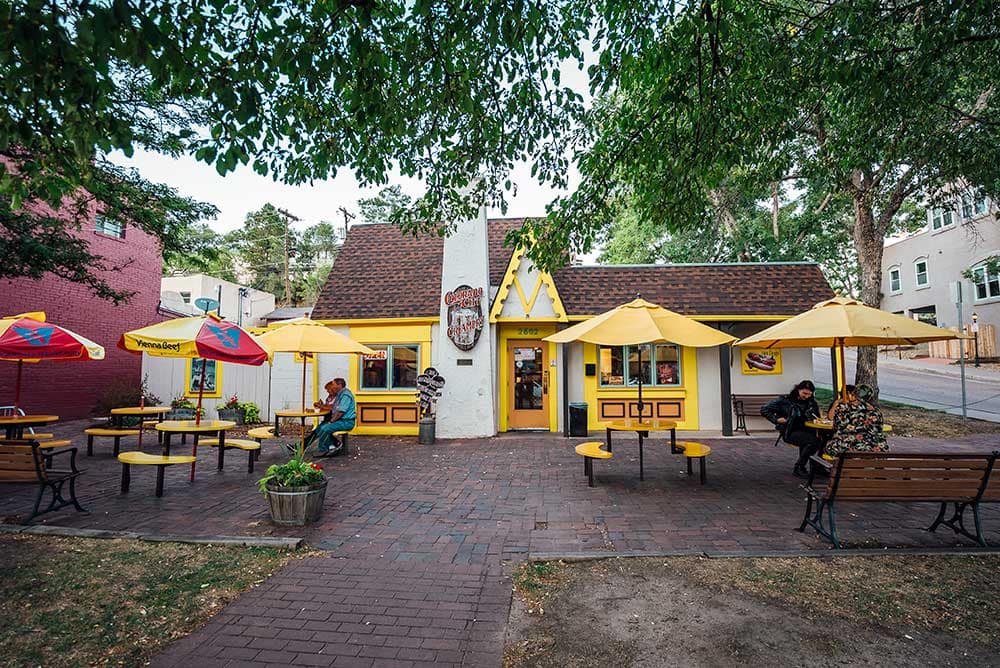 Colorado City Creamery
No list for dining out with kids is complete without a good recommendation for ice cream. Dessert is a food group, and it is particularly important that children don't miss out. Colorado City Creamery is an Old Colorado City staple featuring rich and creamy ice scream hand-scooped into waffle cones and paper cups to satiate those sweet teeth. They have all the standard flavors, plus seasonal options packed with goodies and unique Colorado flair. They also make milkshakes and banana splits, as well as sundaes and ice cream cakes. Oddly enough, one of their best flavors is vanilla. It's flavorful and rich and perfect alone or in one of their signature treats.
Adam's Mountain Cafe
It's hard enough to be a vegetarian or vegan as an adult. For kids, it can make finding good food even more difficult, especially as kids develop their palates and broaden their tastes. Adam's Mountain Cafe makes it easy for vegetarian and vegan parents to have a great meal out with tasty foods that fit their family's dietary needs. With breakfast options like pancakes and eggs and other kid-friendly lunch and dinner options like mac and cheese and fresh fruit, your kids will get all the nourishing food they need to roam Manitou Springs later on. The options for adults are also incredible, with lasagna and a signature Thai dish that consistently turn in rave reviews. The libations are equally good and highly recommended for dining out with children. 
Mountain Shadows Restaurant
This tasty brunch shop is known for a great breakfast … and a cinnamon roll that looks like someone zapped a regular cinnamon roll with a gigantor ray. The kids' menu boast a delicious Mickey Mouse-shaped pancake, French toast, biscuit an gravy, eggs and sausage and lunchtime options like corn dogs and chicken fingers. The cinnamon roll is an absolute must-order option, even if you just get it to go and save it for later. It's a top stop in Old Colorado City so go early to beat the crowds on summer weekends. 
Colonel Mustard's Sandwich Emporium
Located just south of Old Colorado City off of 21st Street (on the way to Bear Creek Dog Park), Colonel Mustard's is a locally owned sandwich shop that has great options for parents and kids. In addition to their many adult sandwiches, the shop also serves PB&J, hot dogs, vegetarian burgers and much more. The Colonel is a good friend to their fellow Colorado foodies and they serve Colorado sodas and chips, plus cookies from Sasquatch cookies. It's a great way to get the sub sandwich you crave with fresh ingredients and local flavor. 
Mo's Diner
This classic breakfast joint has some of the best green chili in the city, bacon that can't be beat and service with a smile. Mo's feels like a diner throwback, complete with hearty portions and friendly waitresses. Kids will love their pancakes, hash browns and biscuits and gravy, and parents will love those same dishes, plus the ability to enjoy a bloody Mary or screwdriver with breakfast. We strongly suggest you take home a jar of their green chili if you're here from out of town. Then you'll have a little bit to savor once you're back home. 
Hell's Kitchen Pizza
Is there a food more universally adored by children than pizza? Or adults for that matter? The shop may be called Hell's Kitchen, but the folks inside serve up slices of heaven on the daily and everyone wants a piece of the pie. They'll deliver if you're staying in Manitou Springs, or you can dine in or pick up a pie for a picnic. You can get favorites like cheese or pepperoni for pickier eaters or go all-in with a mac and cheese or veggie lovers pie. Hell's Kitchen also has Italian desserts like cannoli and limoncello mascarpone cake. 
Go out to eat at a place that everyone can enjoy with these kid-friendly restaurants located right here in Colorado Springs. We know your next favorite is on the list!