Mollie Kathleen Gold Mine
Hours
Daily from 10 a.m. - 4 p.m. | Weather permitting
*Updated with daily COVID info
Climate is of dry high altitude. Meaning when it's sunny it is mild, when it's cloudy it's cool. This is true year around. The Cripple Creek area averages 340 days of sunny weather with average temperatures 10 to 15 degrees cooler than Colorado Springs and 15 to 20 degrees cooler than Canon City, Making Cripple Creek, Colorado the BEST PLACE TO BE ON A HOT SUMMER DAY!
Reservations are recommended for groups of 25 or more. Discounts are only available with pre-payment.
For Group rates visit:
– Underground Temperature: 50 degrees F / 10 degrees C
– How long do tours last?: About 1 hour.
Is this a real gold mine?
Yes, the mine is as-real-as it gets. The Mollie Kathleen is documented by the National Geological Survey as a gold production mine.
Jackets and state required hardhats are provided. Good walking shoes are suggested.
Is the tour area claustrophobic and tight like most caves?
No, the mine is not claustrophobic. In order to mine underground, one must haul equipment in and gold out. Therefore, a hard rock mine is made to work in, not crawl through.
Are wheel chairs or strollers allowed underground?
No, the Mollie Kathleen is a real gold mine and is not ADA accessible.
Road Trip to Colorado Springs
Take advantage of these road trip opportunities afforded by this unique school year in Colorado Springs and the Pikes Peak region!
Top Historic Attractions to Explore in Colorado Springs
Colorado Springs has some of the best attractions in the state for learning cool Colorado history.
Beating the Summer Heat in Colorado Springs
9 Items to Check Off Your 2018 Colorado Bucket List
Take that trip, climb that peak, enter that pie eating contest! You do you. And while you're at it, we've built a bucket list for Colorado Springs, too. It's our 9 coolest things to do in the year ahead in the best region in Colorado.
More attractions like this
Flying W Ranch Chuckwagon
Pikes Peak Tour by Gray Line
Cave of the Winds Mountain Park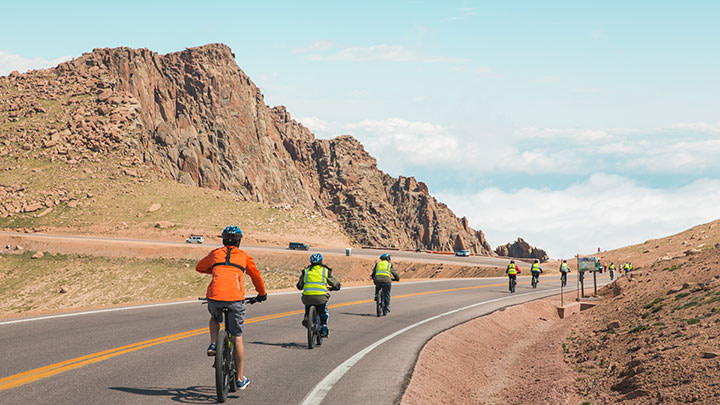 Challenge Unlimited- Pikes Peak by Bike
Cripple Creek and Victor Narrow Gauge Railroad
Echo Canyon River Expeditions