Exploring Through the Seasons
Best Time of Year to Visit to Colorado Springs
When is the best time to visit Colorado? It's one of the most frequent questions that potential visitors ask when planning their vacation and we're here to help! While most people might be inclined to say summer is the best time to visit Colorado, we're here to tell you that fun in this state — and in the Pikes Peak region in particular — is as evergreen as our plentiful pine trees. In fact, visiting during non-peak seasons offers lots of new ways to enhance your visit, like smaller crowds, unique events and completely different scenery. Read on to find out just how much fun you can have all year long in Colorado Springs and parts beyond.
Fabulous Fall in the Rocky Mountains
Fall may cool the state of Colorado down a bit, but our mighty mountains still remain a popular destination for visitors — as they should. The days are still warm enough for hiking and exploring and the colorful fall foliage makes any adventure outside doubly awesome. If you plan your visit just right, you can tour the Pikes Peak region right as the aspens turn a vibrant gold and fill the hills with breathtaking color. You can enjoy the display from pretty much anywhere in the Pike Peak region but heading west of Colorado Springs will allow you to really immerse yourself in the scenery. If you want to let someone else do the driving, the Cripple Creek and Victor Narrow Gauge Railroad is one of the coolest ways to see the trees with open-air cars taking visitors into the pristine wilderness all the way into early October.
We've also got some pretty rad events in the fall, with some local attractions hosting hayrides and pumpkin patches and outings to explore the ghostly lore of many popular destinations. The days are shorter, but that really just means you can start the nightlife sooner. The firepits at local restaurants and breweries are well-stoked for diners who still long to dine al fresco and the First Friday art walks on the west side continue throughout the season. There are even opportunities for family fun on fall nights, like trick-or-treating at Boo at the Zoo or enjoying cowboy songs and a chuckwagon supper under the stars at Flying W Ranch. Now, it can still snow in the fall, so be sure to pack warm clothes for your visit. On the other hand, you can have some pretty hot days, too. Your best bet is to pack for both — we can almost guarantee you'll use everything while you're here.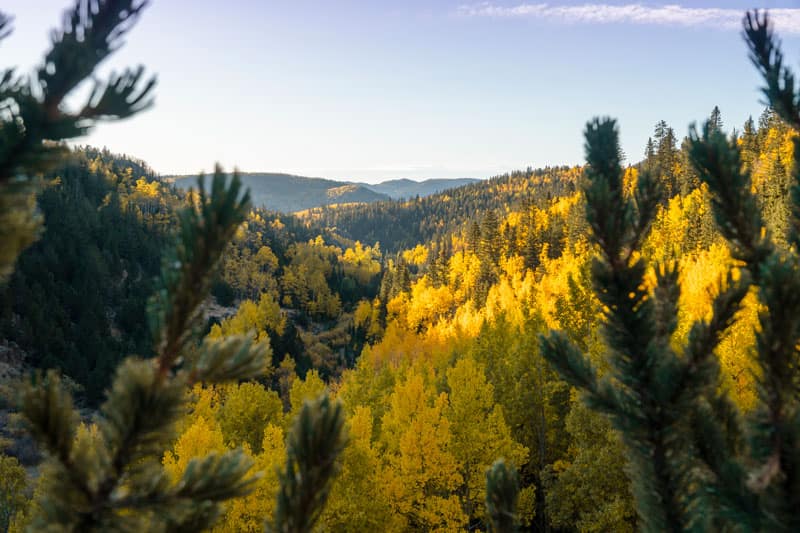 Winter Visits to the Pikes Peak Region
Let's talk about visiting Colorado in the winter, because that seems to be the season that is most intimidating for out-of-state visitors. While our state has a rep for awesome ski resorts and monstrous blizzards, winter in Colorado is pretty darn, well, chill. It's not at all surprising to see folks riding bikes in t-shirts in mid-December or barbequing comfortably on a January afternoon. Sure, we also get our share of snow here, but even snow can be a lot of fun. We have sledding hills all over El Paso County, outdoor ice skating downtown and we are just over two hours from some of the most affordable skiing in the state up on Monarch Mountain.
Many of our most popular attractions also stay open year-round, so you can easily bundle up for a day at the Cheyenne Mountain Zoo or duck into the Garden of the Gods Trading Post for a hot coffee after roaming the world-famous rock formations. We've also got some pretty amazing winter events, like the Cripple Creek Ice Festival, the holiday parade in downtown Colorado Springs and a whole lot of other holiday happenings in Manitou Springs and Old Colorado City. People actually wassail in Manitou during the holidays, just like the song. There's a lot of joy to be found in the colder weather, like the crisp, fresh smell of the air, the excuse to snuggle up with hot cocoa in the evening and the beautiful way that freshly fallen snow softens winter's harsh edges. The best advice for visiting Colorado Springs in the winter is actually the same as any other season: dress in layers (including a quality coat and a warm hat), stay hydrated, wear sunscreen outside, watch your altitude and have a blast.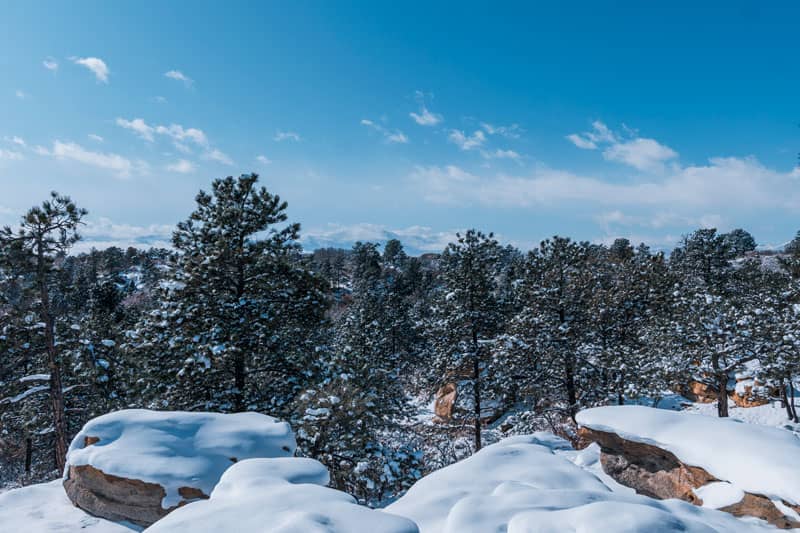 Springtime in the Rockies
Visiting Colorado Springs in the spring is similar to visiting in the fall in that your visit will require a dual wardrobe and some flexibility about the weather. Other than that, it's about as opposite as you can get. Instead of the hills turning gold as the trees prepare to rest, they fill with the fresh green of new growth and the rainbow colors of thousands of wildflowers. You can feel the world coming to life around you and it's downright awe-inspiring. The Pikes Peak region has lots of ways for you to immerse yourself in the season and see everything the state has to offer. You can simply drive, of course, but that's just the beginning. Outfitters like Adventures Out West will tote you around the region in a custom Jeep or fly you across in an honest-to-goodness hot air balloon. If you're not keen on leaving the ground or cruising in a Jeep, you can pay a visit to Garden of the Gods and check out wildlife and spring flowers by horseback. You can also take a hike in some of our plentiful outdoor spaces, like Red Rock Canyon or North Cheyenne Canyons.
Spring also launches the state's popular white water rafting season, with some of the wildest waters you'll see on rivers like the Arkansas. The snowmelt from the mountains in April makes for some pretty thrilling rapids for experienced rafters and Outfitters like Echo Canyon will help you navigate the river safely to ensure you maximize your fun. As spring unfolds, the waters do slow down a bit, making rafting safer for novices or families who want a gentler experience.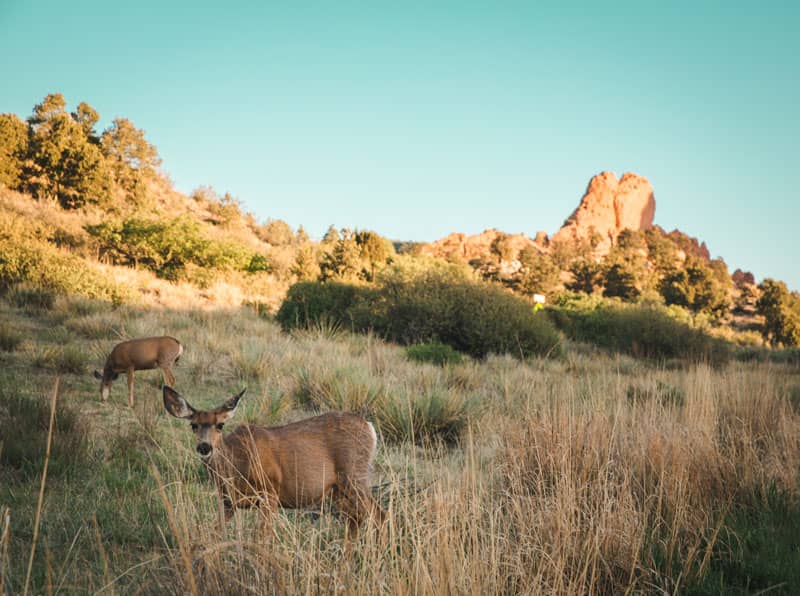 No Summertime Blues in Colorful Colorado
Summer in the Rockies is really a magical time to pay a visit. There's a reason it's the peak of the tourist season in the region. It offers an excellent combination of hot days, mild nights and lots of activities — indoor and out. Hiking is one of the most popular activities for visitors and Colorado Springs has lots of places to do it that don't even require you to leave the city. Of course, sometimes it's worth heading deeper into the mountains to enjoy slightly cooler temps. Cycling is also popular, with urban trails that you can traverse with your own bike or by snagging a PikeRide from the local bike share. More precarious rides can be found on regional mountain biking trails. There's even an outfitter that will take you to the top of Pikes Peak and let you ride back down along the highway.
We've got cool ways to beat the hotter days, too (pun completely intended). It's always important to be cautious at high altitude, especially in the summer, when it's easier to get dehydrated. Fortunately, there are lots of indoor and indoor adjacent attractions open all summer to help you reset. Attractions like Cave of the Winds and the Mollie Kathleen Goldmine, for example, take you underground to learn some regional and geological history. We can promise that the temps in both will leave you feeling refreshed and ready to take on the next adventure. Like every other season, you want to drink a lot of water and pack layers. Places like Pikes Peak can still get snow even in July and the nights can occasionally drop in temperature. Having a sweater or light jacket will ensure you can still enjoy what you're doing.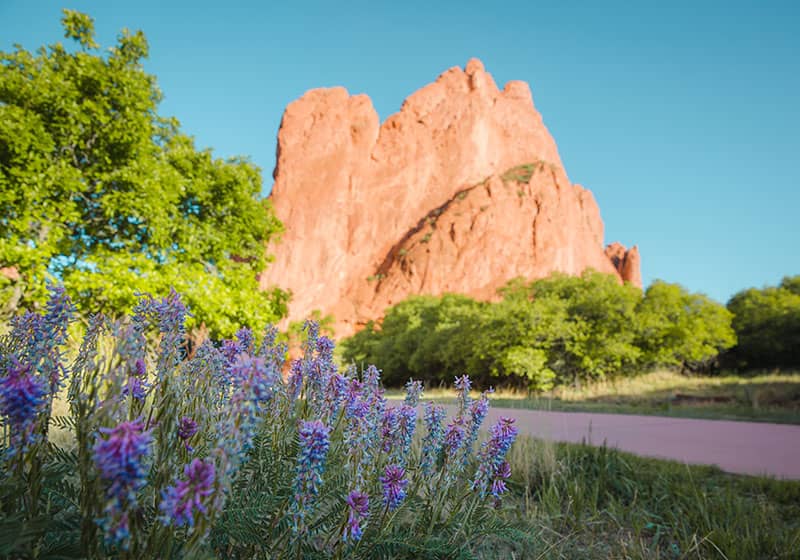 There's no shortage of fun to be had anytime you visit Colorado Springs and the Pikes Peak region. In fact, each season offers its own special benefits to visitors. With a little preparation and a few extra layers, you can make incredible memories all year long.