The Best Places to Take Engagement Photos in Colorado Springs
Winter is one of the most popular seasons for engagement photos. Are you, lucky reader, one of our lucky new betrothed on the hunt for a great engagement photo site in Colorado Springs? Or, are you a hopeless romantic looking for a proposal location that will create excellent photos you'll love to look back on till death parts you? We have a list of local favorites to inspire you and create the perfect photos. Let's begin!
A Quick Note About Engagement Photo Permits and Regulations
Let's get started with the basics of taking photos at parks and recreational spaces in Colorado Springs, including some of the locations we recommend here. According to the website for Colorado Springs Parks, Recreation and Cultural Services, no permit is required for the following: 1. Informal recreational photos taken for your own personal use or 2. Professional photos taken by a professional photographer including, "landscape, still life, senior portraits, family portraits, team portraits, birthday or holiday portraits, prom photos, engagement, and wedding photos. This final product is not used to market a good or service; for example, a car commercial." Times and rules change, so be sure to check the link above if you're in doubt about your photo session in one of the city parks. When in doubt, always ask first or check online ahead of time. 
Okay, enough about the technicals, let's get to the good part. Here are some of the best places to take engagement photos in Colorado Springs and the Pikes Peak region. 
1. Garden of the Gods
3105 Gateway Road, Colorado Springs, CO 80904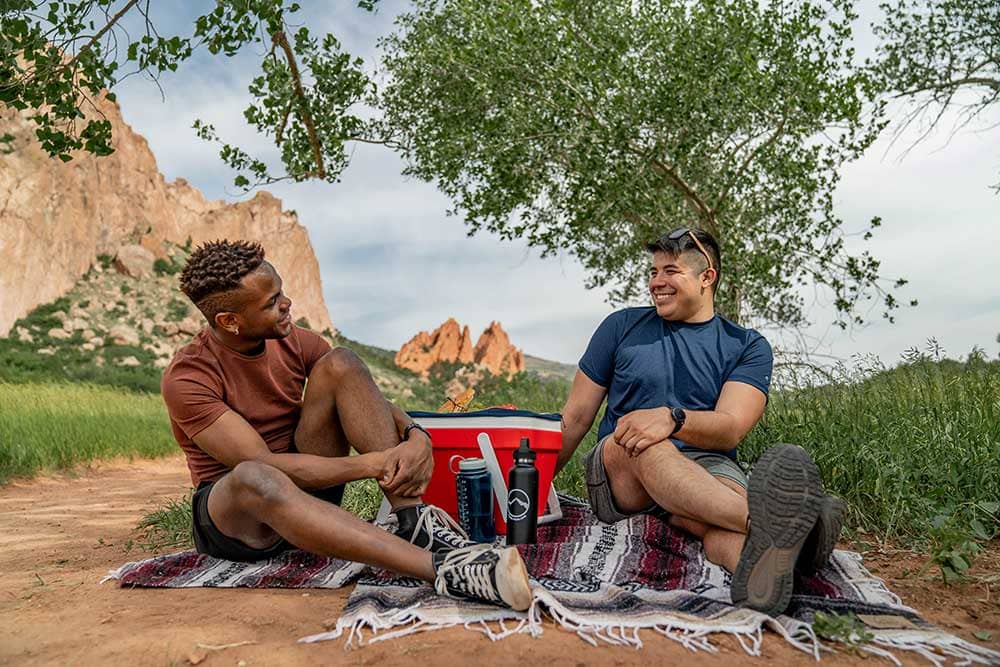 There's a reason that Garden of the Gods is number one on the list. It's one of the most popular photography locations for engagement photos (and wedding photos and senior photos and …). The gorgeous colors of red sandstone create a dynamic background through every season. In the spring, they are surrounded by wildflowers. In the summer, you'll find more flowers and lush greenery. The fall is a competition between the changing leaves and the fiery formations. The winter? Well, the winter is a snowy white canvas for nature's rock garden. 
Popular spots in the garden include the area around Balanced Rock near the Garden of the Gods Trading Post, the entrance to the park itself along Gateway Road and the area near the Spires. The park is open from 5 a.m.-9 p.m. If you are trying to take photos during the peak summer season, we recommend you arrive before sunrise and catch those early morning rays to avoid ducking crowds. 
2. Manitou Springs and Old Colorado City
If you want old-fashioned buildings, dramatic murals and unique urban landscapes, the westside of Colorado Springs, Manitou and Old Colorado City specifically, offer lots of unique cityscapes for amazing engagement photos. Both towns have original architecture and lots of hidden spaces. Some areas, like the Incline (yes, some of our crazy locals love the incline that much), may require a permit. Others may require the permission of the building/business owner. 
One stunning location is Rainbow Falls above Manitou Springs. It does require a permit but the combination of manmade structures and nature's beauty create a powerful backdrop for showcasing your love. Over in Old Colorado City, you'll find charming parks and architecture to get the shot. Don't be afraid to venture off the sidewalk in both towns. There are hidden murals and brick backdrops in the alleys and backroads throughout Old Colorado City and Manitou Springs.
3. Cripple Creek, Colorado
If you want a rustic feel with old-time charm there is no better place to go for engagement photos than Cripple Creek, Colorado. Located west of Colorado Springs, the town of Cripple Creek has an extensive amount of original architecture dating back to the town's booming mining years. Not only that, the town and foothills are filled with ancient equipment, mining headframes and, oh yeah, spectacular views of the Rocky Mountains in every direction. Cripple Creek also happens to be close to Mueller State Park, another breathtaking location you can use for breathtaking mountain magic. 
Some parts of Cripple Creek may require permission or permitting. Head through town past the casinos to catch shots with some of the older buildings sans modern signage. Beyond the town, you'll find access to mining headframes and other old sites. Be sure to check for trespassing signage before venturing onto any property. When in doubt, stick to labeled trails so you're in the clear. 
4. Pikes Peak
Pikes Peak Hwy, Cascade, CO 80809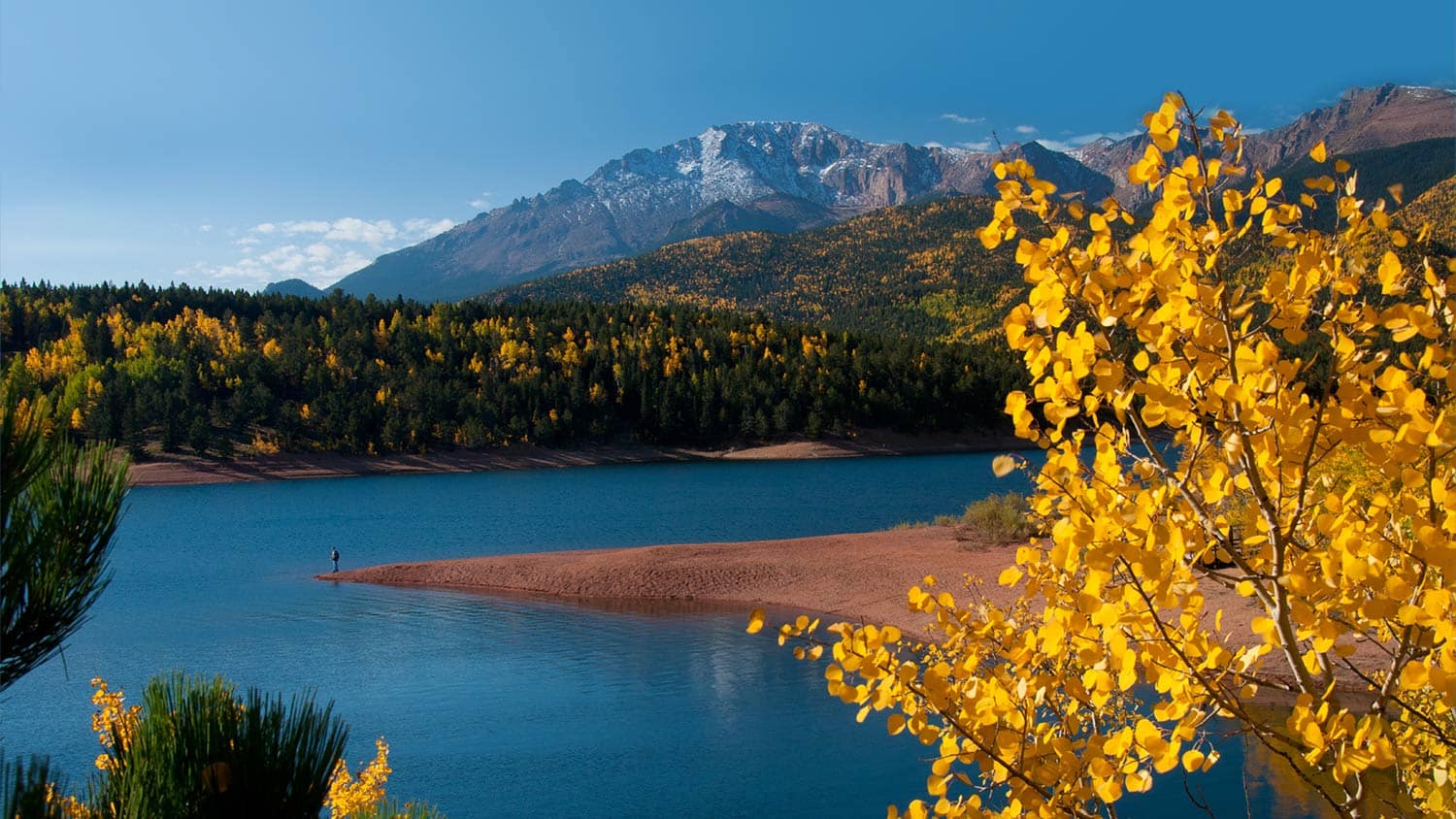 Want a photo that showcases the endless love you feel for your partner? Why not snap photos against the backdrop of Pikes Peak's endless views? Pikes Peak does not require permitting to shoot photos for personal use, including engagement photos. You can make the journey memorable by taking the Cog Railway (515 Ruxton Ave, Manitou Springs, CO 80829) to the top. It's an adventure and, pro tip, might be a great tee-up for a surprise proposal. However, the Pikes Peak Highway will also allow you frequent places to stop and add more awesome candids to your shoot. 
Pikes Peak does offer challenges, mainly weather and crowds. Go early in the day to beat most of the traffic and the weather. Storms tend to roll in by the afternoon and you do not want snow or wind to ruin your photos. Be sure to stay out of the road. Do not disrupt animal habitats or your fellow visitors to the mountain. If you have patience, you'll get that dream photo when it's your turn. Make sure you're also a good visitor by sharing popular spots. 
5. Palmer Park
3650 Maizeland Road, Colorado Springs, CO 80909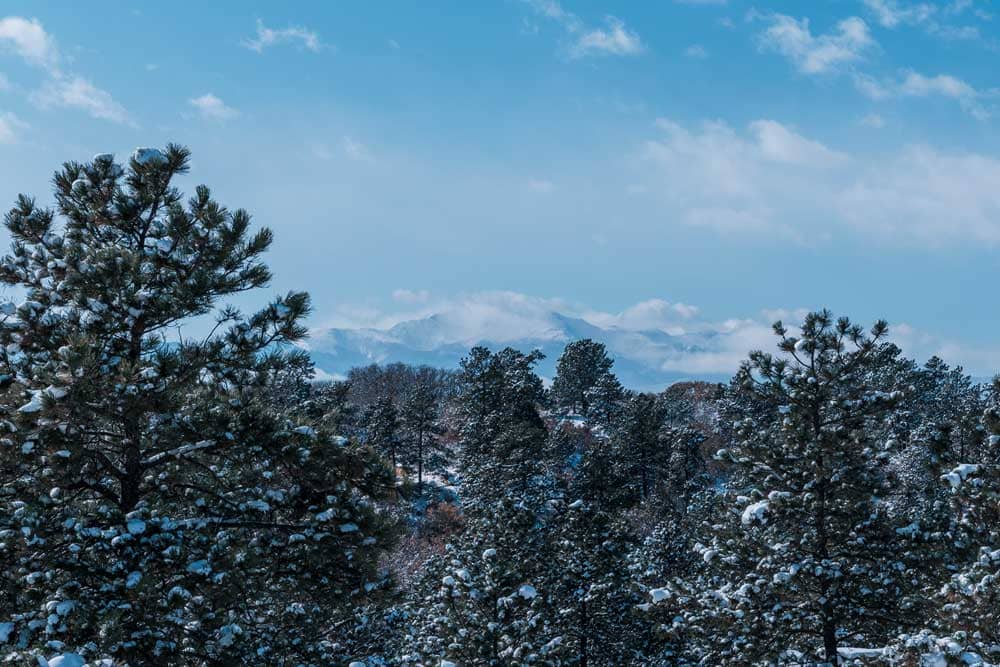 Located in the heart of Colorado Springs, this popular park offers ample spots to snap photos with spectacular views of the Rockies and the city at large. There are unique rock formations, wooded landscapes, hidden, grassy valleys and endless pull-offs with hidden views. Head up the road into the park past the baseball fields, dog park and playground and begin your hunt for the best spot. 
Palmer Park can be a pretty busy place in the summer and spring. Plan accordingly before scheduling your shoot. Weekdays are the least busy, as are early mornings. Coloradans tend to squeeze all of the daylight out of a day, so you probably won't find great prospects at sunset. Fortunately, most folks will not mind a bit stepping out of your shot. 
6. Bear Creek Park
21st Street & Argus Road, Colorado Springs, CO 80906
If you want a location that has it all, Bear Creek Park is the place to be. From the rolling fields set against the backdrop of Pikes Peak and the foothills, to the immersive trails, adorable bridges and community garden, there's a dream photo just waiting for a subject. Spring and fall offer two dynamic seasons for photos where you won't be fighting the crowds for space. Fall is particularly beautiful because the foliage lights up with glowing yellows, vibrant orange and warm reds. Spring, of course, features a pastel rainbow of wildflowers, running creeks and wildlife. 
Bear Creek Park does not require a permit for photography. However, please mind all signage regarding off-trail restrictions. Avoid the dog park and the playground areas if you wish to minimize background "noise" in your photos. 
7. Red Rock Canyon Open Space
3550 W High St, Colorado Springs, CO 80904
Like a miniature Garden of the Gods or Red Rocks Amphitheater, Red Rock Canyon Open Space is a monument to the iconic red sandstone that puts the color in "colorful Colorado." This small chunk of open space has easy trails with exceptional views. While the formations are smaller than the towering camels making out across the way (which you can absolutely catch in some of your photos, they are no less impressive. The old quarry located on the east side of the park is another great place for photos, with a clear pond and lots of sassy ducks. 
As with all parks in the Pikes Peak region, pay attention to signage regarding trails and climbing. This particular bit of open space gets a lot of traffic all year long and a little TLC can go a long way in keeping it a great spot for photography for many years to come. The deeper you hike into the park, the less crowded the space, so slip on those hiking shoes and pack some water to beat the crowds. 
Congratulations on your pending nuptials. If you happen to get a shot at one of these top locations, we would love to see your favorite shots. Head on over to our Facebook page or tag us on Insta @VisitPikesPeak. If you just can't get enough of the Pikes Peak Region and need a little help planning that next step, check out our Unique Wedding Venues blog. In the meantime, we wish you a happily ever after.