Quirky Colorado Springs Shops
Are you looking for quirky Colorado Springs shops that cater to the avant-garde? Sometimes you want something a little different, a gift that makes the recipient ask, "Where on earth did you find this." We get it. We're guerrilla gifters too, always on the look-out for ways to wow our friends and loved ones. Fortunately, the Pikes Peak region is the place to be for people like us. With a community as creative as this one, there are lots of unusual opportunities to find one-of-a-kind gifts and experiences you simply won't find anywhere else. 
British Pantry and Tea Room
You don't need a passport or a Tardis to get a taste of England. The British Pantry and Tea Room has created a little nook right in the heart of Old Colorado City. The British Pantry's collection of items is extremely fun, with gifts inspired by British pop culture (Harry Potter, Dr. Who, The Beatles), delicate tea sets and food — oh yes, the food. The shop has lots of imported foods like crisps and candies, plus an entire frozen and refrigerated section. Have you ever wondered what clotted cream is? They have little jars of that tasty scone topper and it's well worth the price, especially consider you would have to bake unpasteurized cow milk for 12 hours to make it at home. Speaking of scones, they host daily teas where you can have an early preview of the huge bag of goodies with which you will assuredly leave.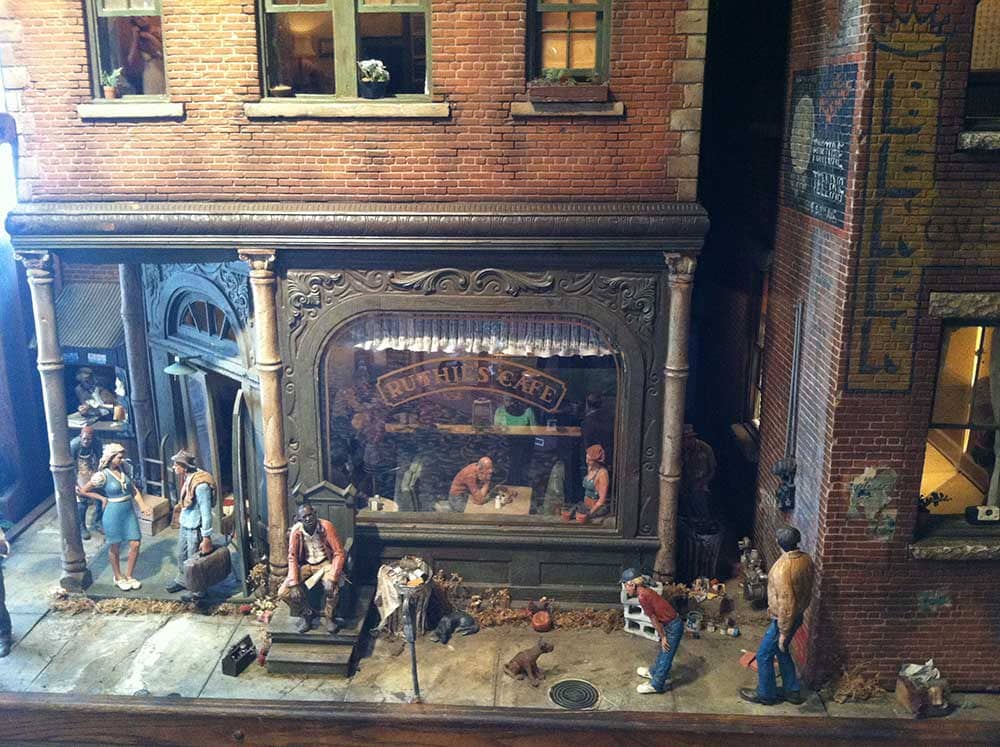 Michael Garman Gallery
It's hard to define exactly what you'll experience at the Michael Garman Gallery. Is it an art exhibit? An immersive experience? A seek-and-find adventure? Pay it a visit and you'll discover for yourself it's all of those things. Garman's tiny sculptures are exquisite. The tiniest of details are captured by the artist, from the fine smile lines around the eyes of the subject to the miniature newspaper lying crumpled on the ground beside a equally small park bench, no detail is left behind. Garman has built an incredible city in the depths of the gallery, a city street filled with life and motion. You can pop in to the front and get to know Garman's talent, or you can pay a fee to walk the 1/6 scale city. If you're a miniature enthusiast, a lover of art or simply an admirer of oddity, this is an art gallery in Colorado Springs that is like no other.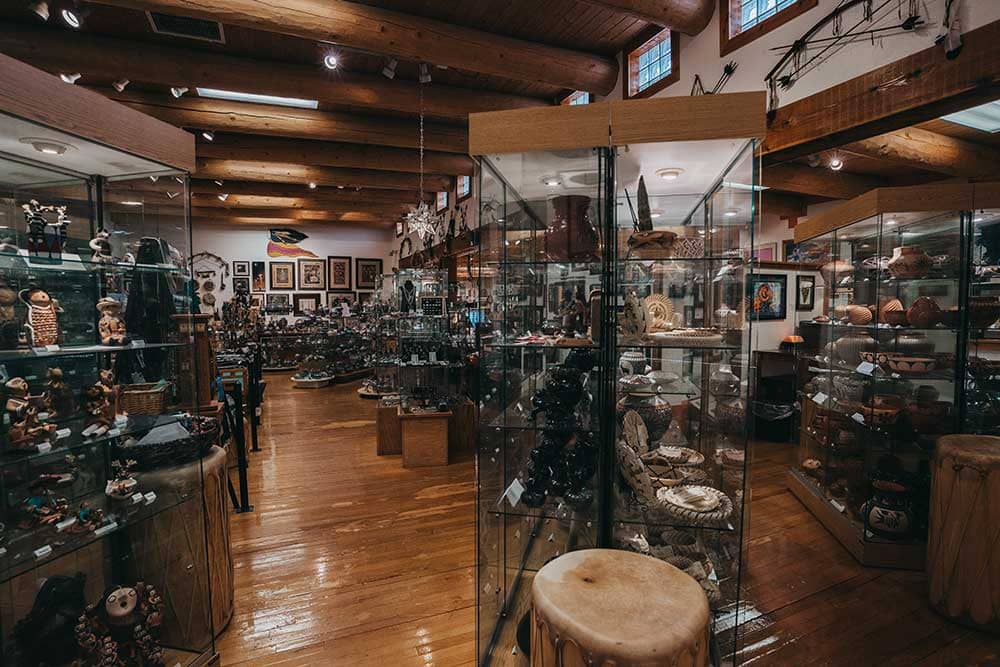 Garden of the Gods Trading Post
The most incredible thing about the Garden of the Gods Trading Post is the sheer amount of gifts and art it has to offer. The current running estimate is 90,000 different items. We're not sure if fudge counts as one or 20, considering they have a huge selection of the confection, but you should start there. The art collection is enormous, with indigenous art, western themed paintings and sculptures and pottery galore. While we're still gushing, the jewelry selection is also lovely, with styles for every taste and an extensive collection of gems to choose from. The kiddos can also find their fair share of toys, plus lots of options for amateur rock collectors. Pick up a bag of dirt and sort it in the water out back — treasure is guaranteed.
Le Grande Accents Boutique
Le Grande Accents has to be one of the most joyful stores in Manitou Springs. They should be! They are packed with clothes and accessories that will make any fashion lover delighted. Their adorable Facebook description says the offer the best styles "from the late 1800s through current fashion." No, that is not a typo, they really do offer a breadth and depth of fashion you definitely will not find perusing the mall or a big box store. Capes, purses, jewelry, hats, dresses, skirts and more can be found at Le Grande, making it a great one-stop shop for holiday gifts or just-because treats. It's hard to pick a highlight from a shop with such diverse selection, but we have to go with the sheer awesomeness of the patters/prints you'll find. Plain is not a word they use at Le Grande and even a little black dress is far from average.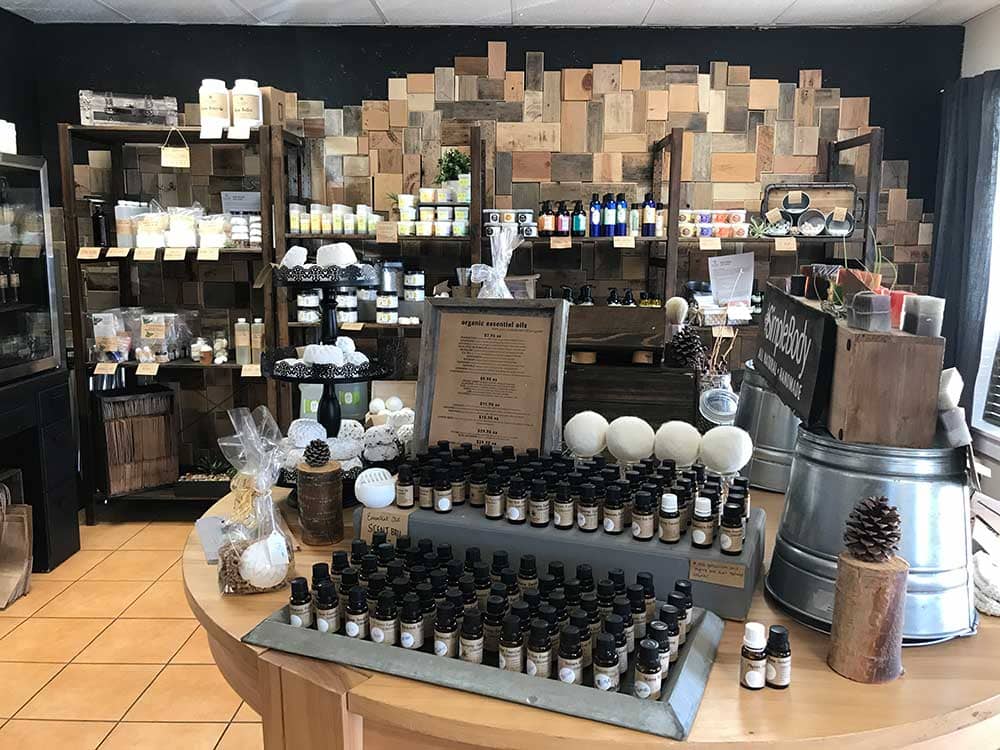 Simple Body
Everyone is looking to reduce the number of harmful substances they encounter each day. Many are starting with their make-up, hygiene and skincare. Simple Body is a dream come true for naturalist folks looking for safer products. It sets itself apart from other body care shops in that everything in the store is 100% natural. The moment you enter the pristine shop in Old Colorado City, you are immersed in fresh scents, clean, bright displays and a feeling of calm. The knowledgeable staff is delighted to help you select a toner or a clay mask to fix problem skin, or pick the perfect gift for someone you love. Their spa baskets are thoughtful and full of glow-up goodness and their new mama baskets will make you the best gifter at any shower or new baby celebration. You can even order gifts and skincare online and have it shipped. However, we highly recommend you visit in person. It's an amazing experience. 
The Quacker Gift Shop
If you want to shop somewhere really wild and wacky (or should we say … quacky?), the Quacker Gift Shop is certainly a winner. The store has been thriving in Manitou Springs for more than a decade and yes, it really is devoted to selling rubber ducks. These aren't just any rubber ducks, though. These ducks are dynamic. Quacker has the standard yellow bath buddy we've all come to know and love. It also has themed ducks decorated for different careers or even different creatures (like unicorns). Of course, man cannot live on rubber ducks alone, so they've also got a collection of rich fudge in a variety of great flavors. They recommend you try out Moose Mountain Fudge's "Moose Poo." They've also got candied nuts roasting daily, which is a pretty clever way to lure you into their duck lair. 
We hope you find the perfect, unmatchable gift on your next shopping excursion. We hope it blows your recipient's socks off so you have a reason to go out and buy them new socks at one of these fabulous stores. We want you to be the supreme royal gifter of all the holidays and birthdays and "I was just thinking of you" days. This list of unusual stores in Colorado Springs should help!