Top Attractions for Teens in Colorado Springs
Don't leave your teenager out when planning your next staycation of vacation in Colorado Springs! Give your older kids memories they'll cherish long after they've grown up and moved out by adding a few activities just for them to your agenda. Colorado Springs and the Pikes Peak region offer several unique and entertaining experiences that appeal to teens (and adults). Our regional attractions love ensuring that everyone, regardless of age, has a positive, memorable experience they'll look back on with joy for years to come. To help you maximize your planning for your Colorado adventure, we've compiled some of the top attractions in Colorado Springs for teens. 
Adventures Out West Ziplines
1.5-2 hours | Ages 6+ | 925 S 8th St., Colorado Springs, CO 80905
Adventure Out West's ziplines offer exhilaration and fun for adventurous teens who love a challenge. Their five-line course doesn't rely on platforms for launching. Instead, your teen will leap from natural terrain perches and careen down lines reaching 650 linear feet in length. The natural terrain element creates opportunities for brief hikes between lines. Since the course is set above Manitou Springs at the base of Pikes Peak, that adds an extra layer of excitement to the experience. The guides for the AOW tours are known for their humor and their friendly engagement with their groups, which means less talkative teens won't feel intimidated or singled out. Before the soaring begins, your teen will have a chance to identify whether they want a chilled-out zip or a journey filled with adrenaline. The guides will use this to help them have the best possible trip. Of course, riders can change their mind at any point in the journey (except mid-zip, they are guides, not wizards). 
Challenge Unlimited: Bike Pikes Peak
4-5 hours | Ages 12+ | 925 S 8th St., Colorado Springs, CO 80905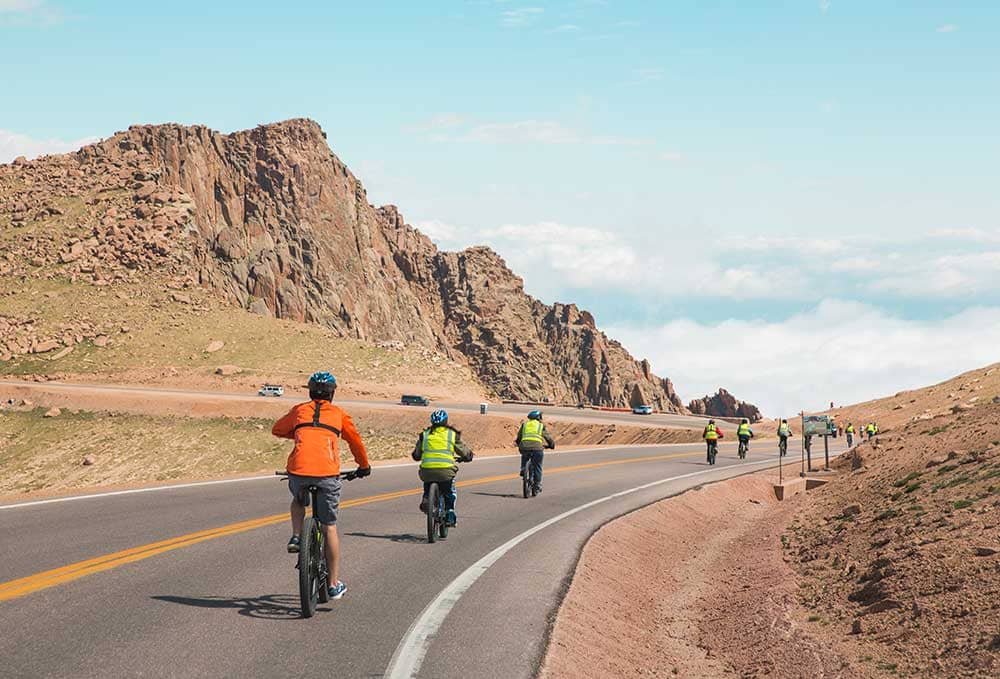 If your teenager has ever ridden a bike, chances are they loved the thrill of riding down giant hills feeling invincible with the wind in their (hopefully helmeted) hair. With Challenge Unlimited, they can experience that joy for 19.5 miles as they cruise down the Pikes Peak Highway on a mountain bike. The incredible views, unique life zones and breathtaking wildflowers surround riders as they ride from the summit of Pikes Peak all the way to the entrance to the mountain highway. Challenge Unlimited provides all gear for riders, a souvenir water bottle and gate admission to the Pikes Peak Highway. Riders will meet up in Old Colorado City and ride to the summit via van or Jeep (Jeep trips have an additional cost). At the top, riders can check out the new Summit House before receiving a safety briefing and being set loose on an unforgettable adventure. Dress in layers because it's cold at the top and hot at the bottom and you want to rest comfortably somewhere in between. Also, if your teen wants to ride but you prefer not to, you can cruise in the van and get out during re-group stops. 
Cave of the Winds Haunted Lantern Tours
1.5 hours | Ages 8+ | 100 Cave of the Winds Rd., Manitou Springs, CO 80829
The spooky 90-minute haunted lantern tour is a well-known favorite of teens and adults who love all the scary things. Participants are led through the unimproved areas of the Manitou Grand Caverns, an experience that is not part of the regular family tours. These areas are solely reserved for special tours! Guides share creepy folk legends and scary stories as you navigate the tunnels, stairs and rooms, which are lit only by candlelight. Fortunately, everyone gets their own lantern, so you won't have to share when you start to feel a little bit weirded out by the strange sounds in the caverns. This tour is geared for kids ages 8 and over, so you and your teen won't be overrun by armies of tiny children or derailed by scared kiddos. Be sure to dress warmly and wear good shoes. It's muddy down there in the dark and you never know what might be lurking in search of bare toes (the honest answer is nothing, but seriously, wear shoes). 
Academy Riding Stables Garden of the Gods Horseback Ride
2 hours | Ages 11+ | 4 El Paso Blvd., Colorado Springs, CO 80904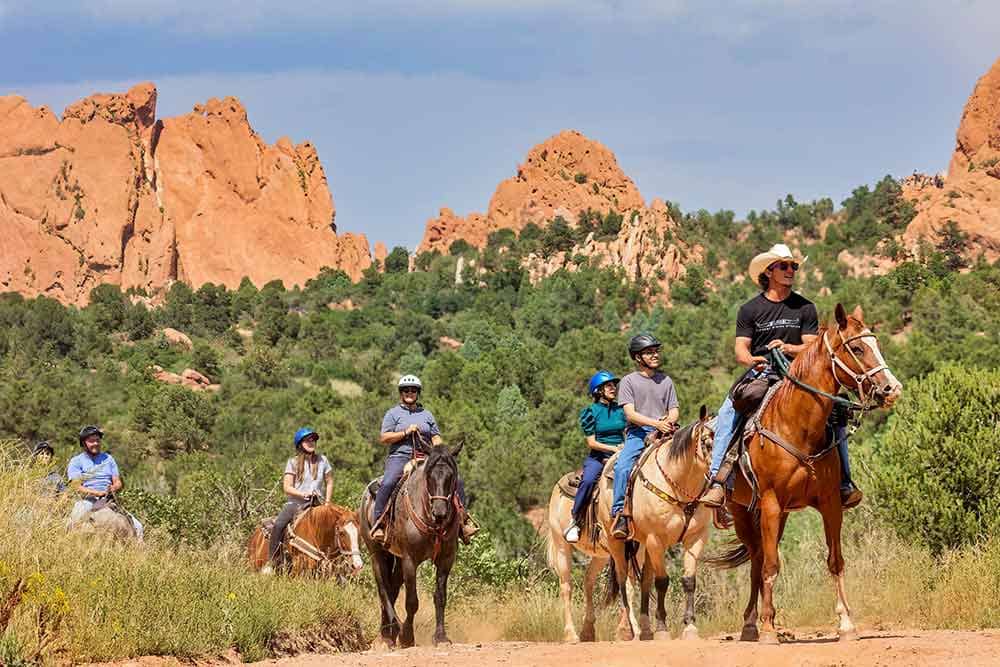 Academy Riding Stables horseback rides are the answer to the question: What could possibly make Garden of the Gods any cooler? You and your teen will experience a two-hour trail ride through the world-famous park, complete with insights from an experienced guide and opportunities to snap photos of the formations. The two-hour ride does require riders to have 10 hours of previous riding experience (other trail rides count). If you and your teen are completely new to horseback riding, the one-hour scenic ride is also available. You will still get all the benefits of the longer ride, just less time in the saddle. The horses are well cared for and familiar with the trail, making it a little easier for riders to relax and enjoy the scenery. The guides know all about the flora and fauna of the Pikes Peak region and they are happy to answer questions. If your teen is a fan of all things equine, or simply into new ways to explore the world, Academy Riding stables offers the best horseback riding in Colorado Springs.
Royal Gorge Bridge and Park Via Ferrata
3-5 hours | Ages 10-14+ | 4218 Co Rd. 3A, Cañon City, CO 81212
There are only eight via ferrata courses in Colorado and the Royal Gorge Bridge and Park certainly has one of the coolest. The cliffside course is great for beginners and experienced climbers alike, with lots of adrenaline-pumping glimpses of the crashing Arkansas River and sweeping canyons. The guides are experienced, friendly and patient. There is a short course and a long course and the opportunities for private tours for an additional charge. If you're not into heights but your kid is, teens 14 and over do not require an adult participant. You can sign off and head to one of the park's other attractions or stop in the restaurant for a cold beer and a snack while you wait. Speaking of the park's other attractions, if scaling cliffs isn't adrenalized enough, your teen can also try out some of the thrill rides. The Royal Rush Skycoaster will fling your kid right over the edge of the same cliff they just spent so much time trying to stay on during their climb. You're allowed to laugh when they scream, we won't judge. 
Echo Canyon White Water Rafting and Family Floats
Times vary. | Age limits vary by trip. | 45000 W US Highway 50, Cañon City, CO 81212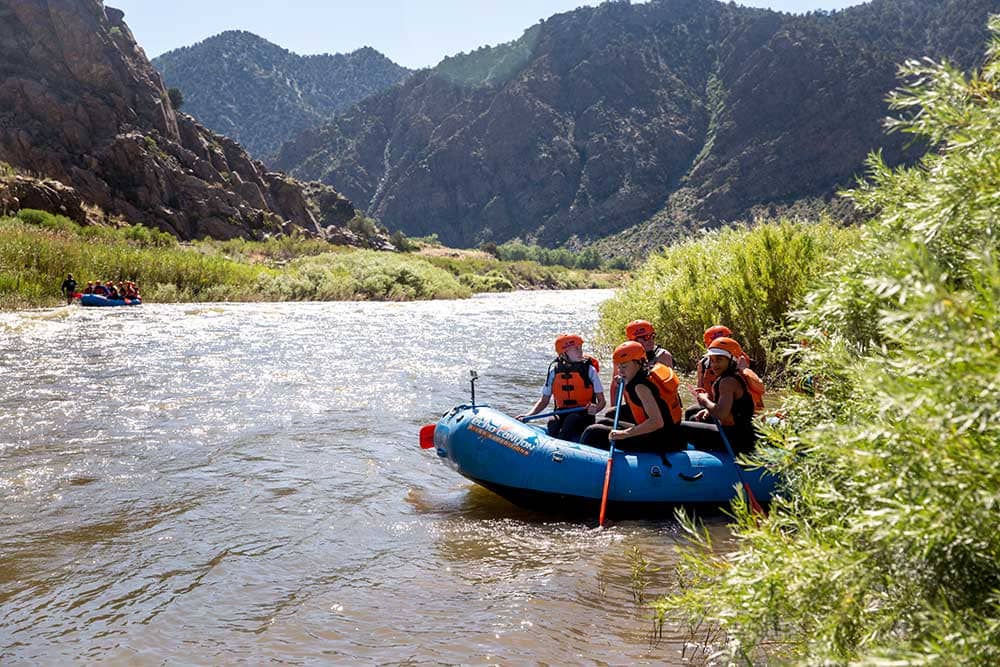 White water rafting is popular with lots of Colorado visitors and longtime locals. We have a sneaking suspicion your teen will be no different. This exciting excursion takes you on a wild, splash-filled adventure down the gorgeous Arkansas River. Your group is led by an experienced guide who focuses on safety without sacrificing fun. There are several options for rafting trips, including more challenging rafting experiences for those who have spent some time on the river. If your teen is more of a chill-chaser than an adrenaline aficionado, you can still enjoy the water on one of Echo Canyon's family floats. This ride is more of a tour, with slow waters and lots of time to gaze at the scenery. The family floats are super popular for folks who may not have the capabilities (or desire) to navigate rapids or people prefer to relax and enjoy the ride. Whatever way you and your teen choose to hit the water, you'll be in good hands and smack dab in one of the most beautiful areas of Southern Colorado. 
Broadmoor Outfitters Unique Adventures
Times vary. | Age limits vary. | 6 Lake Ave., Colorado Springs, CO
If you're interested in a few additional activities for teens who like their fun with more calm than crazy, the Broadmoor Outfitters have some excellent options to choose from. Stand-up paddle boarding, ebike tours and guided hikes are available daily and the team at Broadmoor Outfitters can even provide custom itineraries. They also offer truly unique activities, like falconry lessons. Your teen can start learning about the "sport of kings" with beginner lessons that include interaction with birds of prey such as falcons, owls and hawks. They will even get to hold a hawk on their gloved fist! Intermediate lessons include the chance to cast a hawk out and have it return to their hand. This is an incredibly rare experience and one that is guaranteed to delight kids who are into falconry, animal training or just hanging out with animals in general. 
Give your teen the gift of unforgettable experiences with these top attractions for older kids. We cannot wait for a whole new generation to fall in love with our beautiful city.