Where the Wildflowers Are: Wildflower Walks in the Pikes Peak Region
The beauty of Colorado is not restricted to sweeping mountain ranges and deep blue skies. If you zoom in on those distant vistas, you'll discover that the close-up is equally gorgeous. In the mountains, foothills and rolling plains, you'll find towering aspens, granite boulders, breezy grasslands, rich red sandstone and, coating every spare bit of ground from the Pikes Peak region to all seven state borders, exceptional native wildflowers. 
Cripple Creek or Bust: A Goldmine for Wildflowers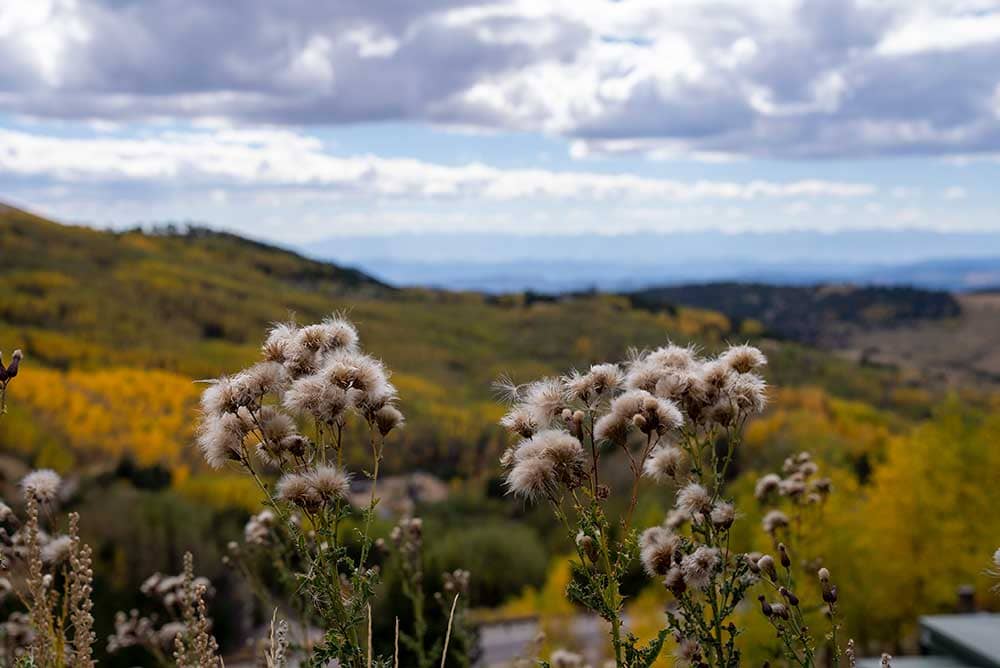 Cripple Creek is home to a wide array of native wildflowers, as is the ride to the town. For this adventure, you'll head west on Highway 24 all the way to Divide where you will turn left on CO 67. Along the route to Cripple Creek, there's a stop you simply cannot miss. Mueller State Park is a popular destination for wildflower fans because of its high elevation species and the ample amount of hiking trails there are for exploring. Get there early in the morning to beat the crowds and catch a variety of pink and purple vetch varietals, wild roses, gentian, goldenrod and many more. Ask the park staff for recommendations on which trails have the best viewing for the season you're visiting.
Don't quit after Mueller State Park. Cripple Creek still awaits! You won't have to hike to enjoy our next suggestion for wildflower watching. You'll get to do it from an open-air train. Cruise into Cripple Creek and hop onto a train with the Cripple Creek and Victor Narrow Gauge Railroad. The 45-minute round-trip journey will take you back into the hills to check out old mining claims and catch scenic views of, you guessed it, wildflowers. Like Mueller, you'll find all sorts of high-elevation species, including the Colorado columbine, which makes its home in the hills and shady areas around the trees. The train is a lot of fun and they'll even let you bring your dog (maybe leave Fido home if you plan to try your luck in town after a day outdoors). 
Pikes Peak: Flowers from Base to Summit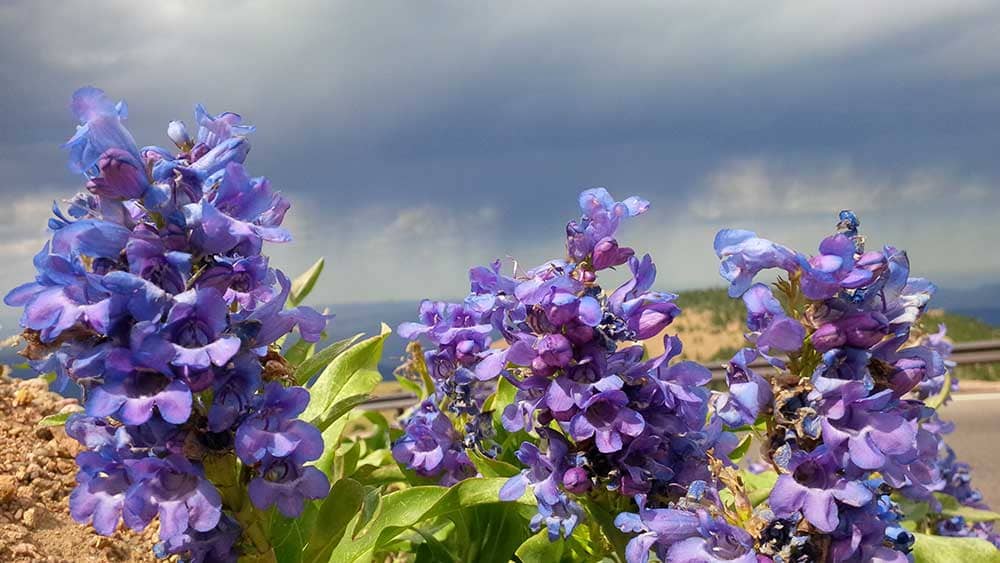 What sets Pikes Peak apart from other high-elevation wildflower destinations near Colorado Springs? Several thousand feet and two additional life zones, to start. Pikes Peak offers a fascinating wildflower journey, whether you're an experience hiker navigating Barr Trail or a visitor cruising up the Pikes Peak Highway. That's because Pikes Peak takes you through four Colorado life zones on your way to the summit and you'll find different flower species in each.
The two areas that will be most interesting to visitors are the sub-alpine and alpine life zones. Both have extremely harsh climates, with the latter offering very little to nourish healthy plants. However, if you look closely as you wander the trails near the summit or around the summit itself, you'll see that life has found a way and it is very, very pretty. Peer close between the rocks and boulders or along the flats leading to the summit in the alpine zone and you'll see tiny flowers like moss campion and snowlover thriving despite the conditions in which they grow. Start at the entrance to the highway and make a stop midway through each life zone to see how flowers change in response to the climate on the mountain.
The Garden within Garden of the Gods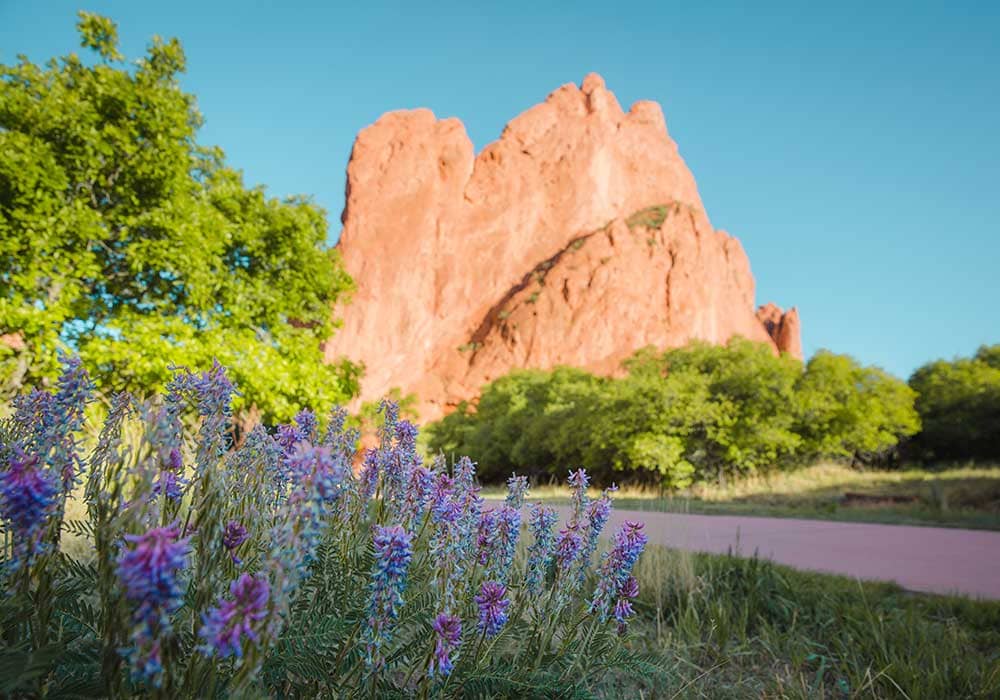 The Garden of the Gods doesn't just grow epic and ancient rock formations. It is also home to a menagerie of wildflowers that surround the formations and fill the hills that surround the park. There are a lot of ways to wildflower watch in the Garden, starting with the easiest — hiking. Several paved trails weave through the formations and offer glimpses of flowers right off the trail. Slightly more rusting dirt trails give you a quieter close-up of wild roses, paintbrush, yucca, coneflowers and butterfly weed. The visitor center offers great info on wildflower hikes and even more about the various flora within the park.
The most unique way to explore and view the wildflowers is via horseback. Academy Riding stables operates daily rides through the park with options for beginners and more advanced riders. These rides have the added benefit of a knowledgeable guide to point out different flowers and help you put a name to their pretty faces. Riding horses allows you to slow down and take your time. We suggest you let your guide know you're here for the flowers so they can point out cool Colorado species for you. Wear pants and closed toed shoes to the park if you think you might try that option. 
The last fun option is to hop on a PikeRide and cruise through through on two wheels. PikeRides have e-assist for tough hills, making it easy to ride even if you're not normally a bike person. There are bike lanes along the major roads and places to pause and lock up your bikes if you want to snap photos or take a mini hike. 
Flowers Fit for a Queen in Southern Colorado's Royal Gorge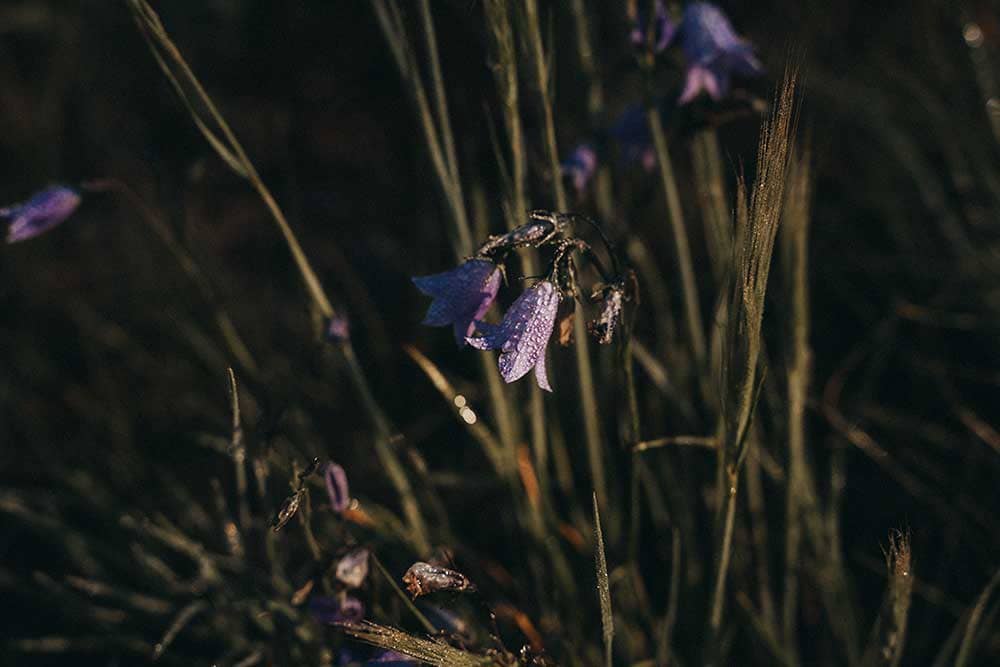 We've taken you from the top of Pikes Peak to the rolling foothills surrounding Colorado Springs. Now we'll take you a little further down — south, where the combination of dry, arid conditions clash with the rushing Arkansas River to create an interesting combination of desert and riverside wildflowers. You can get to the Royal Gorge by taking Highway 115 South of Colorado Springs to Canon City. From there, you'll pick up Highway 50. Once you're closer to the gorge you can decide how you want to see the flowers. The Royal Gorge Rim Trail is an easy 3-mile loop that has breathtaking views and lots of wildflowers. As with Pikes Peak's alpine zone, the flowers you see in this much drier climate fight hard to stay alive and looking fabulous. We are sure they'll appreciate your visit.
While you're in the area, you can also visit the Royal Gorge Bridge and Park. The enormous suspension bridge stretches across the canyon at 1,200+ feet from the canyon floor. It does have a bit of wildflower watching but you'll find more outside the park. However, you shouldn't pass up the opportunity to witness their color from a bird's eye view.
You can also get down in the canyon with a family float on the Arkansas River. Echo Canyon River Expeditions offers chill raft rides that drift gently through the canyon and require far less action than a white water trip. The 5-mile ride takes about an hour and a half and it's very safe. The minimum age is 4 and the minimum weight is 35 pounds. Your guide will share the history of the region and point out flora and fauna. The trip is very relaxed and you'll have a lot of time to gaze at the native flowers that thrive next to year-round water and sunshine.
These destinations will provide you with tons of wildflower-heavy time. Be sure to bring your camera as you explore these wildflower walks in the Pikes Peak region. We can't wait to see your shots on our socials and yours.