Awesome Ziplines in Colorado
 Ziplining has been all the rage as of late and the Colorado Springs ziplining options have grown because of it. It's easy to see why people love ziplining so much! Traversing the mountains and cliffs of any locale from above is a thrilling experience and doing it in the Colorado wilderness, even more so. You cover large amounts of terrain at just enough speed to make you feel exhilarated, but not so fast that you can't control your journey or enjoy the bird's eye views. It's an option we don't get to experience very often without the help of a drone or at a distance so far above that nothing can be seen. We're fortunate to have four zipline outfitters near Colorado Springs, each with its own special experience that sets it apart from the others. Unfortunately, having three quality ziplining locations actually makes things harder, not easier! So, try one, or try them all, but do not leave ziplining in the Colorado Rockies off your vacation bucket list!
Adventures Out West Ziplines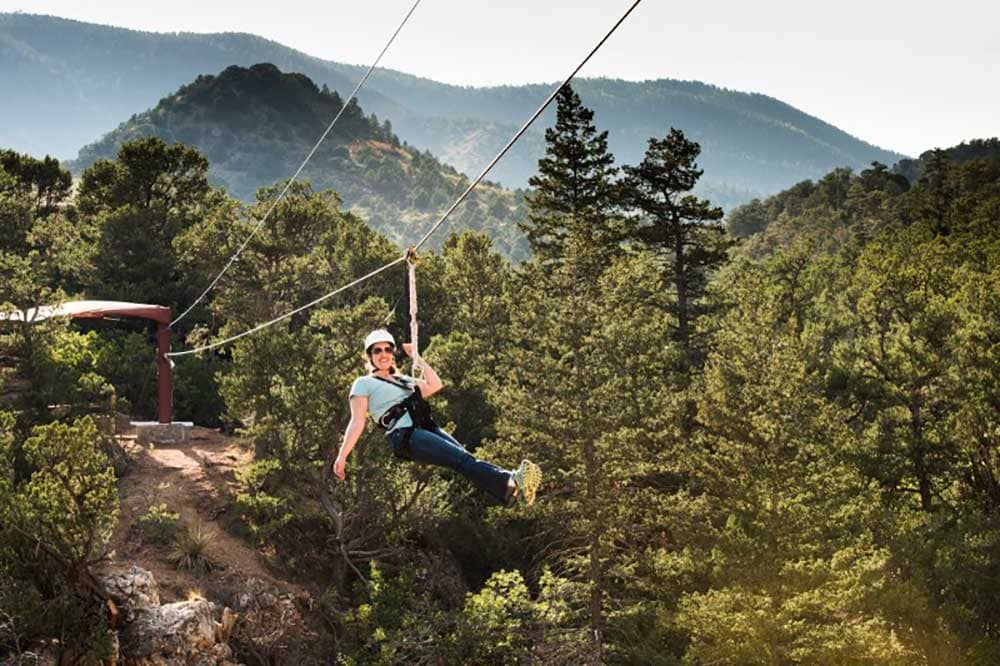 Adventures Out West offers natural terrain zipline tours close to Colorado Springs. In fact, it's right above Manitou Springs. Their close proximity to the city makes them a fan favorite, but, as we noted a minute ago, it's the natural terrain that make it truly special. Instead of platforms and ladders, zipliners launch from cliffs and navigate between lines via beautiful hikes that give visitors a moment to pause and take in the sights from a different angle. The ziplines themselves (there are five) vary in length, with one measuring at 650 feet. The lines are safe, with regular inspections and full licensing. Between zips, the crew provides water stations to keep you hydrated and eliminates the need for you to carry a water bottle. The guides are safety-focused but fun, providing zipliners with great conversation as they lead. If you're new to the sport and not ready to completely take the plunge, check out their discounted family ziplining nights that include zipping at your own pace, followed by s'mores by the campfire.
Cloudscraper Zipline at the Royal Gorge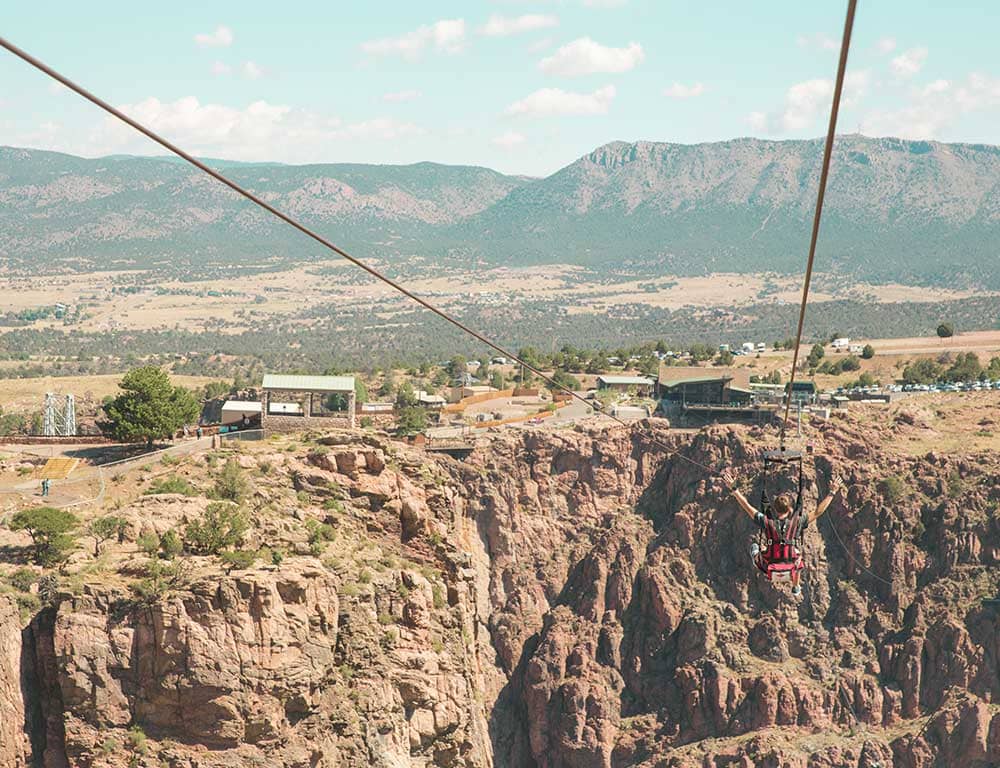 Adrenaline junkies will absolutely flip for the Royal Gorge zipline. The Cloudscraper, crosses the epic Royal Gorge and is the highest zipline in America.  Yes indeed, you and your zipline companions will step off a cliff and cruise 1,200 feet above the Arkansas River. Look ma, no hands! Make no mistake, this is a high-intensity experience that is meant to thrill. Unfettered views of the canyon abound if you're brave enough to look down. We won't fault you if you close your eyes, though. There aren't any guardrails once you're on your way! Fortunately, the Royal Gorge Cloudscraper zipline is a top-of-the-line attraction constructed with safety as the core and fun as the aftermath. Your harness is top-notch and you'll even get the benefit of a braking system if you can't possibly handle speeding off a cliff and dangling above a canyon at the same time. Kiddos age 10+ can join in on the exhilaration, too, as long as there is an adult in the park.
Cave of the Winds Frontier Zip Lines and Via Ferrata Course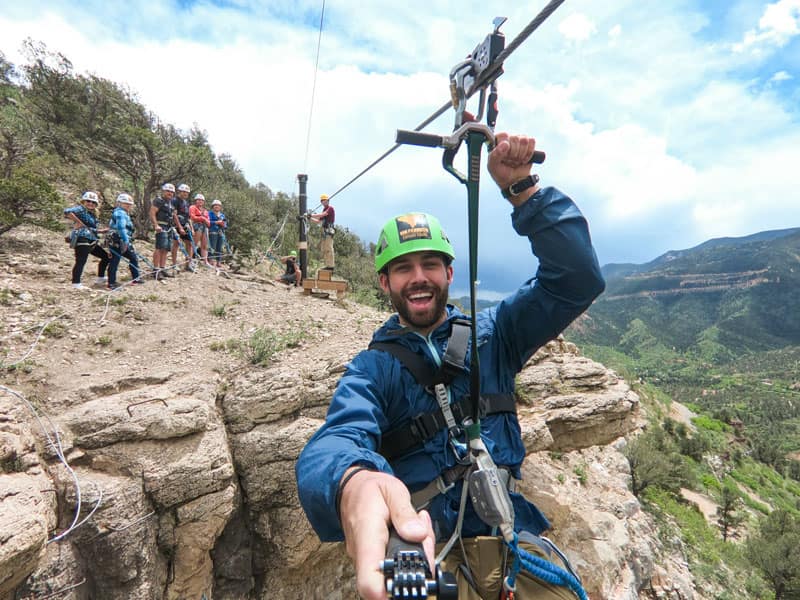 Cave of the Winds has worked continuously to add even more fun to their already-awesome caving experiences. Over time, they've mastered above-ground activities and that includes their brand-new Frontier Zip Lines. Like Adventure Out West, these ziplines are close to Colorado Springs, making it an easy trip to get there and have a grand old time. Cave of the Winds offers two lines totaling a quarter of a mile, but that's not even the best part. The best part is that the ziplines are the conclusion of Cave of the Winds' newest cliffside attraction, Via Ferrata! You'll ascend cliff walls, climb ladders, walk narrow trails and generally scale the canyon under the careful watch of your guide and then, after all that action, you'll get your zip on 80 feet above the canyon floor. Of course, you are more than welcome to zip sans Via Ferrata, but we're not sure why you'd want to!
Soaring Adventures at Broadmoor Seven Falls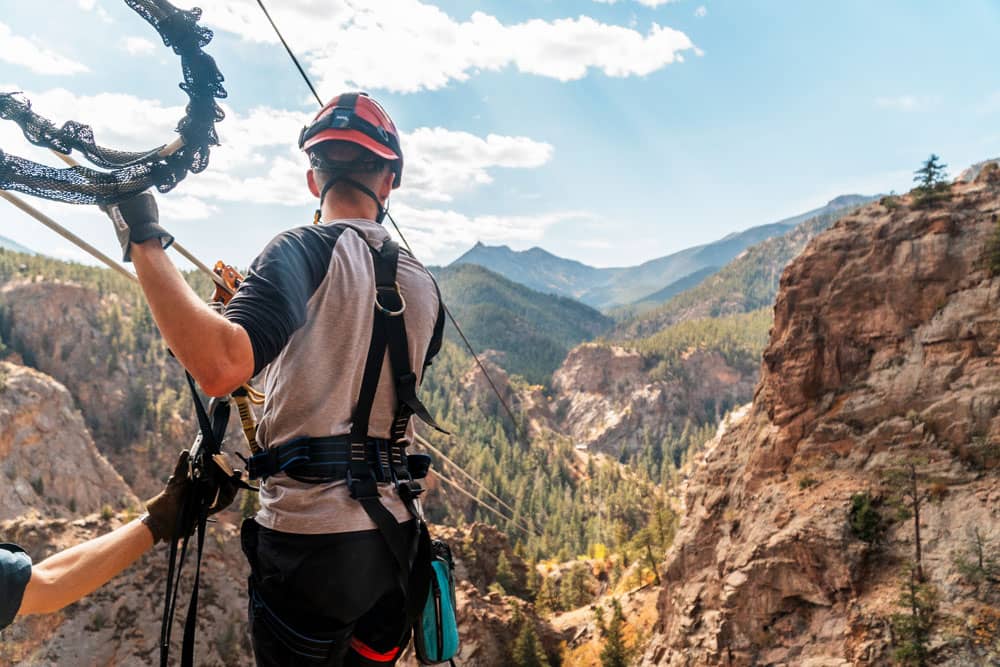 There are no shortage of amazing cliffs from which to jump in the Colorado Springs area. However, Soaring Adventures happens to hover above an area known as the Grandest Mile of Scenery in Colorado.  If you've spent anytime in Colorado, you know that's really saying something!  Let Broadmoor Outfitters be your guide for this three to four hour exhilarating adventure on a series of five zip lines.  The length of the lines range from 250 feet to 1500 feet at heights of 150 feet above the canyon floor.  Each zipline gets a little more exciting, and each view gets that much better!  End this adventure by repelling to the canyon floor and spending a little time at Broadmoor Seven Falls.
Each of these Colorado Springs ziplines offers a different terrain to view and unique thrills to be had. Adventures Out West will cruise you across the forests of the Pikes Peak region. The Royal Gorge will send you careening 1,200 feet above the crashing rapids. Cave of the Winds will let you scale the cliffs and then leap from them for maximum heart-pumping fun. And Soaring Adventures will let you fly over the Grandest Mile of Scenery in Colorado. Like we said in the beginning, it won't be picking a tour that is difficult. It will be deciding whether or not you have enough time and budget to try all four!