Pikes Peak Family Sampler
EXPERIENCE A LITTLE BIT OF EVERYTHING
The great museums of the area are a nice mellow way to acclimate to the elevation.  They're so much fun, the kids will never know they're learning something!
Nothing is more bonding than a family float on the Arkansas River, then a spectacular view of the beauty the river created.
All kids love Cave of the Winds and you can't come to Colorado Springs without a trip up Pikes Peak!
A little education, a little adventure, a little sight-seeing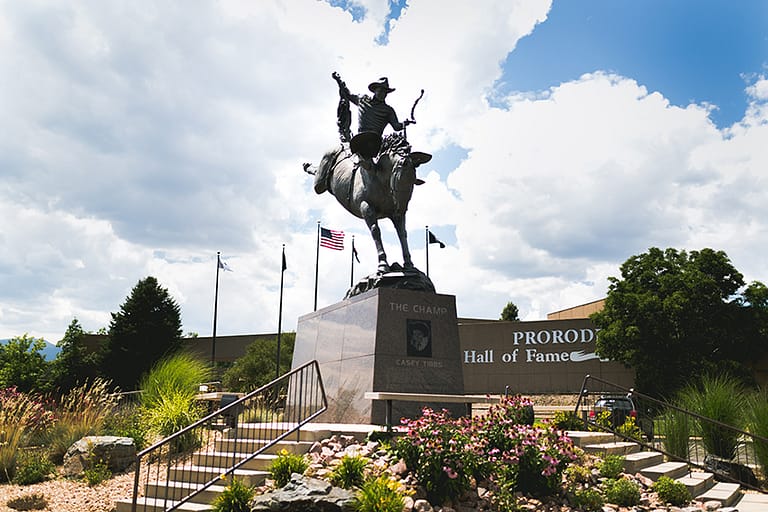 Explore the history of the rodeo and see why this exhilarating sport has endured for so long. Heritage Hall features an enormous display of saddles and artifacts from the past 100 years and in the Hall of Champions, you'll learn all about the bull riders, barrel racers, clowns, ropers and anyone else who's made a powerful impact on the rodeo. And if you're Wild West and rodeo obsessed? The gift shop has belt buckles, books, stuffed animals and other cool gear to slake your thirst.
Space Foundation Discovery Center
You're a part of this amazing universe, why not learn all about what makes it so special? The Space Foundation Discovery Center is the best place for space enthusiasts and those who are curious to learn about all that lies within the starry skies above. The exhibits are hands-on, the space gear is authentic and the staff knows just about everything there is to know (that's been discovered) about the universe.
The words "look, but don't touch" do not apply at the Manitou Cliff Dwellings, where you can explore authentic structures brought to Manitou Springs more than 100 years ago. Clocking in at a whopping 800-1,000 years old, the 40-room site has been carefully preserved to allow visitors to wander about the buildings without fear of damaging them. If you happen to be out with your pet, you'll also love that the dwellings are welcoming of well-behaved doggos.
For instant family fun, just add water
Echo Canyon River Expeditions
Nothing brings the family together like a brand new experience with a little kick of adrenaline, and everyone working together.  At Echo Canyon River Expeditions, you'll get all the fun of this iconic Colorado activity with the most experienced and well-trained outfitter in the industry. Even on their chill family float, the thrill of the water under those blue Colorado skies will be something you'll all be telling stories about forever.
Royal Gorge Bridge & Park
There's a reason 26 million guests have crossed the Royal Gorge Bridge — it's breathtaking, fun and unforgettable. The suspension bridge is a marvel, but there's a whole lot more to be found once you cross. Cruise across the canyon in the aerial gondolas, or zipline, if you're a more adventurous sort. There are some chill-out zones, too. Tommy Knocker Playland is the perfect place for kiddos to party safely, with slides and a playground and a carousel (and a summertime splash pad).
Views and fun underground and at 14,115ft
Cave of the Winds Mountain Park
Thrilled by the idea of spelunking, but not exactly equipped with ropes, helmets, maps and other cave gear? Explore Cave of the Winds! The Discovery Tour takes you past formations including Giant's Bleeding Heart and the Temple of Silence, not to mention cave staples like stalactites, stalagmites and underground streams. At the gift shop, you can add to your rock collection (we know you have one) and pan for gemstones.
Pikes Peak - America's Mountain
They say that half the fun of going somewhere is the journey to get there. Pikes Peak takes that adage very seriously, providing a scenic highway that winds up the mountain and offers several places to stop off and relish the beauty of the region. And when you reach your destination? You can see for miles in every direction. By the way, there are hot, fresh donuts and homemade fudge, too.
More attractions like this
Share this itinerary with others
More ways to enjoy your days
This itinerary will take you all of our historic districts and the best museums in our region. You'll get a taste for everything from architecture to mining, with more than our fair share of 'characters' along the way.
A 5-day Colorado Springs activity itinerary for new visitors and old friends that will help you shake off the winter blues and enjoy spring in all its glory.
We're not trying to brag (yes we are), but this city is the absolute best place to be when Mother Nature dons her spring apparel — hello, we've even got "spring" in our name!