5 DAYS OF LASTING MEMORIES
Westside is the Best Side
Family adventure, here we come!
Get ready for some Colorado fun!
Fun in the Royal Gorge Region
Splashing fun and views that will make your spirit soar.
Choose the perfect way to explore Pikes Peak for you and your crew.
Wind Down the Week with History
Slow it down with a museum day.
Westside is the Best Side
Family adventure, here we come!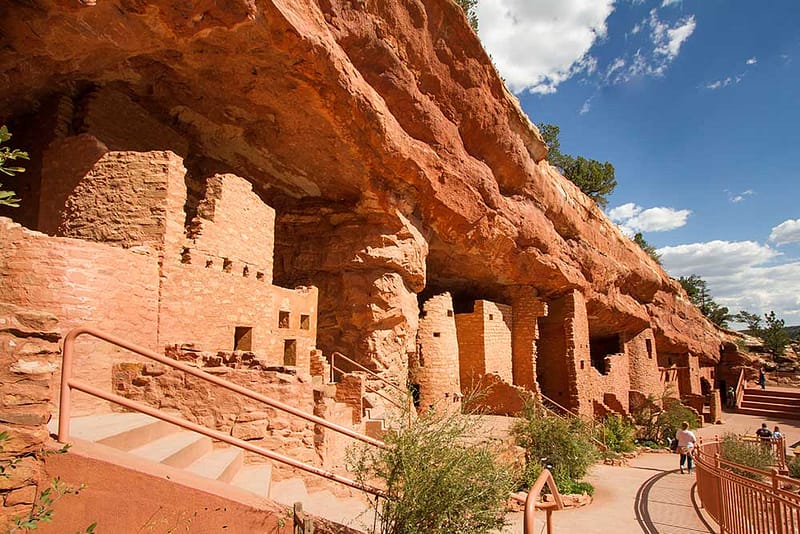 Originally moved from a site in southwest Colorado in 1904, the Manitou Cliff Dwellings make these 700 year old homes accessible, educational, and FUN! You and the kids can climb through history, imagine tribal life, scale wooden ladders, and even try grinding corn.  
Cave of the Winds Mountain Park
One of the trickiest parts of family vacations is trying to find something that will make everyone happy. Start your visit with a cave tour and then go topside for outdoor activities for the whole family — from the littlest in your tribe to your bravest cliff jumper.  Cave of the Winds has something for everyone!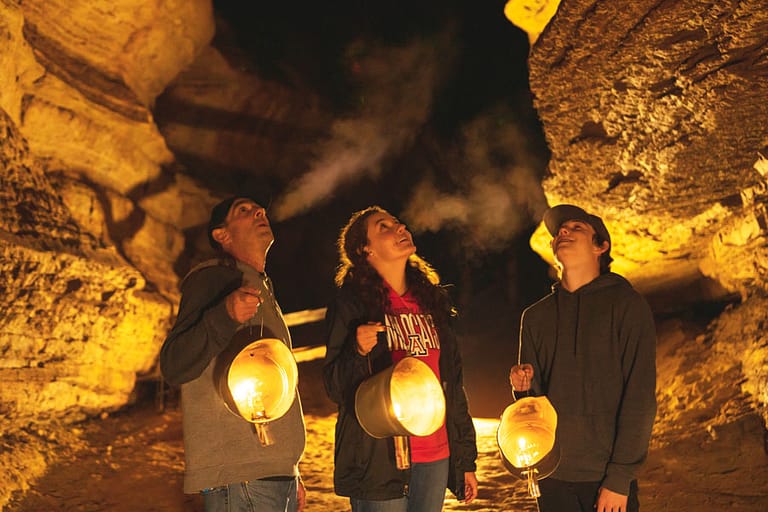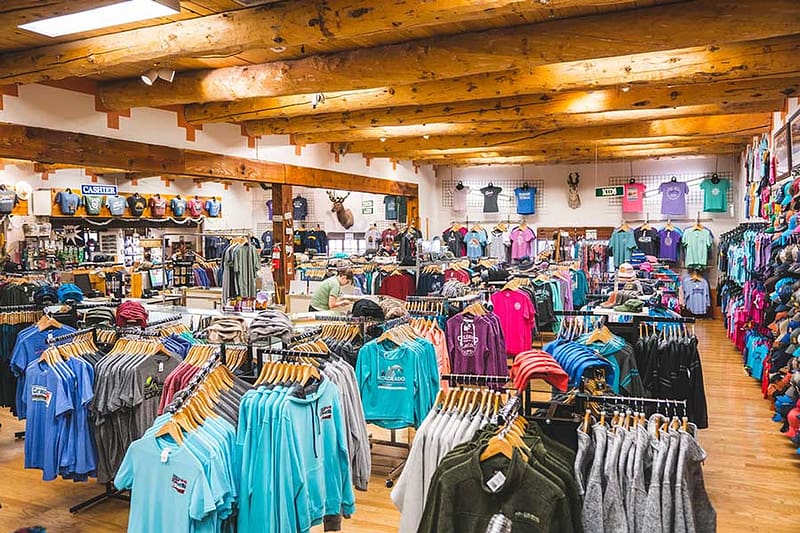 Garden of the Gods Trading Post
Family vacation just isn't complete without souvenirs to remember your trip. From toys, mugs, hoodies and t-shirts, to handmade jewelry and local artwork, the Trading Post has something for every taste and budget.  You can even enjoy lunch in-store at the Balanced Rock Cafe.
One thing that's really easy to forget when you're on a family vacation is making time to do stuff for mom and dad, too.  Do a little shopping, grab a Colorado craft beer, enjoy some saltwater taffy, and take a minute to look up and enjoy the mountains that embrace Manitou Springs.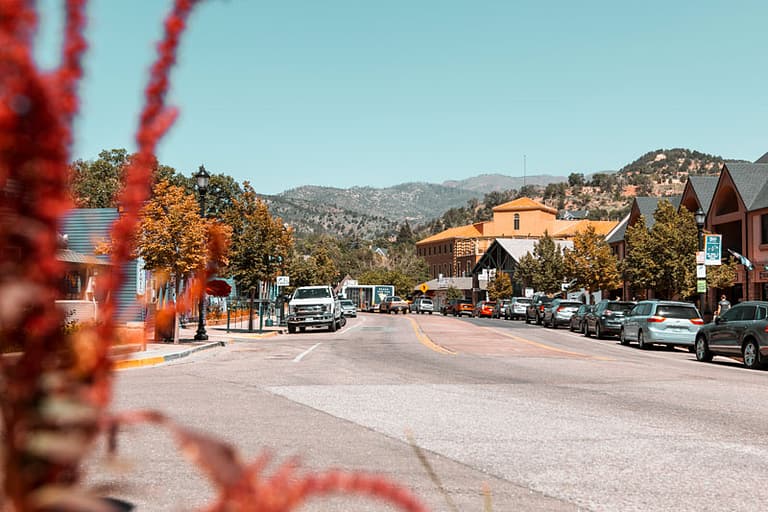 Get ready for some Colorado fun!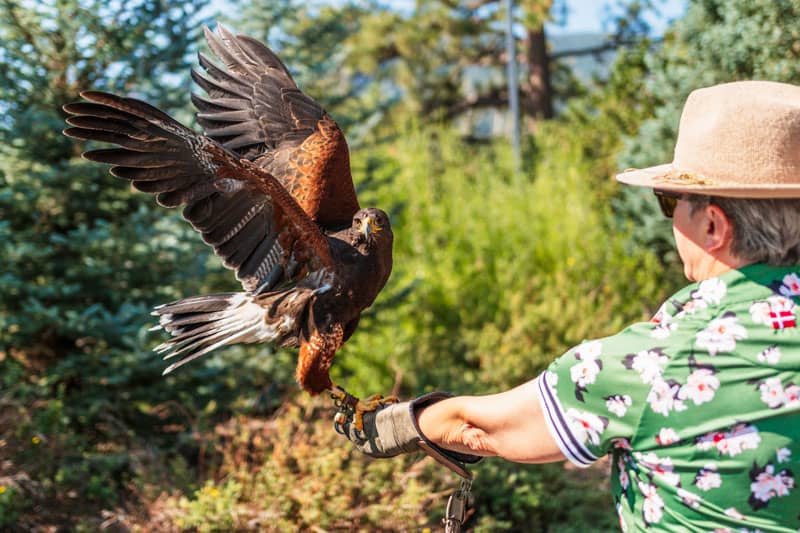 Broadmoor Outfitters is a one stop for all your outdoor adventure.  Enjoy zip lines over Seven Falls, stand-up paddle boarding or falconry for starters.  Follow that with archery and axe throwing, or a mountain bike ride through the foothills.  Whatever your Colorado outdoor dream, they can make it a reality.
The Broadmoor Seven Falls
Nestled at the end of what is known as "The Grandest Mile of Scenery in Colorado" and spilling down 180 foot tall box canyon, the Broadmoor Seven Falls takes natural beauty to a whole new level. Climb all 224 steps next to the falls, or grab the in-mountain elevator for a bird's eye view.
Fun in the Royal Gorge Region
Splashing fun and views that will make your spirit soar.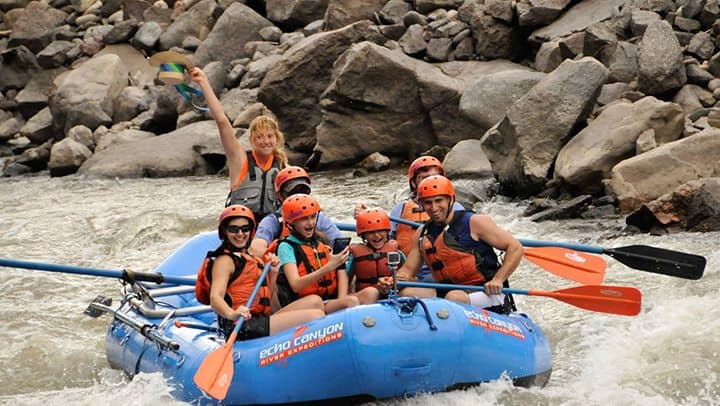 Echo Canyon River Expeditions
From gentle family floats to rockstar whitewater rides, Echo has your perfect rafting expedition for your family covered.  Add in onsite camping, glamping and luxury cabins, plus a bar and grill with Colorado beer on tap and you'll find a family vacation that's second to none.
Royal Gorge Bridge & Park
There are several ways to enjoy the gorge, which is perfect, because you'll want to soak in this view from a few different angles.  Stroll across the bridge stopping by your state flag for a photo opp. Kick back in a gondola ride from rim to rim.  Or for the truly daring, take the zip line across at 1,200 feet above the Arkansas River.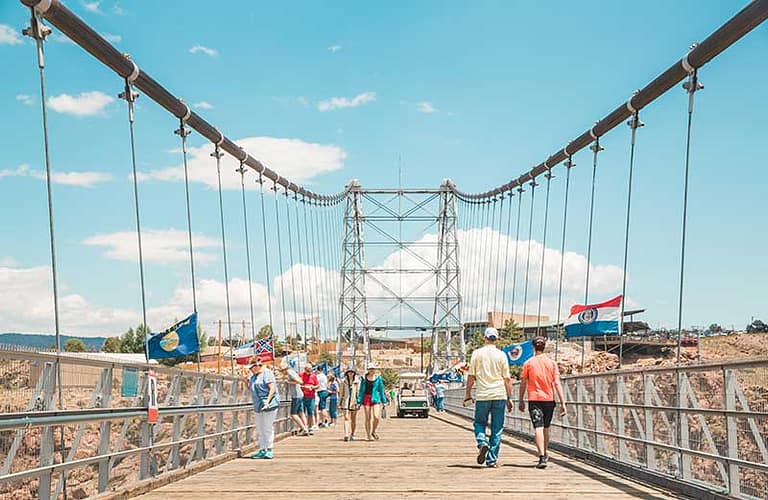 8 Mile Bar & Grill
8 Mile Bar and Grill is a great place to grab a burger or salad, a Colorado crafted brew, and share your river stories with the other patrons. The huge garage doors will give you all the clean rocky mountain air with plenty of shade. The food is great, but that view of the Sangre de Cristo mountains is better.
Dinner Above the Arkansas River
Lots of restaurants in Colorado can boast a great view, but there are only two with this view. Grab dinner with the family at Cafe 1230 or Bridge View BBQ. It'll give you an excuse to soak in that view a little longer.
Choose the perfect way to explore Pikes Peak for you and your crew.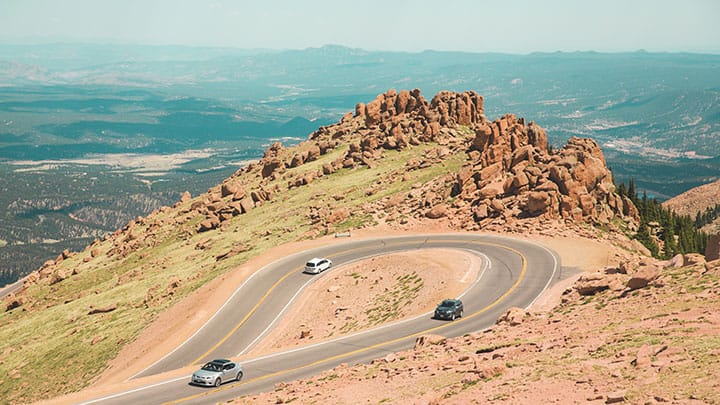 Option 1: Drive Pikes Peak - America's Mountain
Driving your own vehicle is at the apex of ease and affordability, and allows you the most independence of all your options.  Take the Peak at your own pace, stop for photos or just to breathe it all in at will. You'll find photo ops along the way, each more spectacular than the last.  
Option 2: Pikes Peak Tour by Gray Line
Kick back in their super comfy coaches, watch the trees whisk by till you come around a bin, and the vista opens before you and all the world seems stretched out below.  Meanwhile, somebody else is keeping their eyes on the road! Their drivers also know lots of local history and lore.  A view and a story, beat that!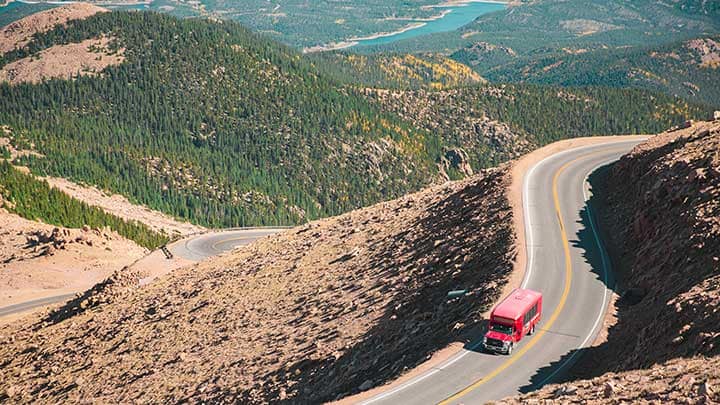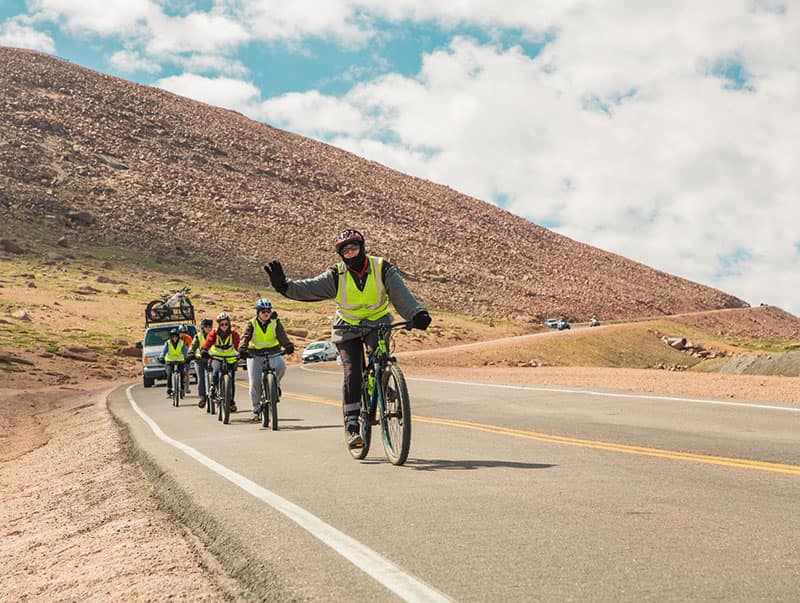 Option 3: Challenge Unlimited - Pikes Peak by Bike
Level up with this once-in-a-lifetime experience. Kick back and enjoy the ride to the summit in their custom Jeeps. At 14,115 feet above sea level, you'll have a chance to browse the gift shop, grab a selfie by the Pikes Peak summit sign (use the bathroom!) then gear up, grab a bike and cruise down 19 miles of sheer joy.
Option 4: The Broadmoor Manitou and Pikes Peak Cog Railway
One of the most iconic ways to summit Pikes Peak is reopening this spring with all new trains, tracks and depot!  Secure your spot on the Cog Railway for a backcountry view of Pikes Peak, past quaking aspen trees, giant boulder fields and the occasional cheeky marmot.  The summit awaits, all aboard!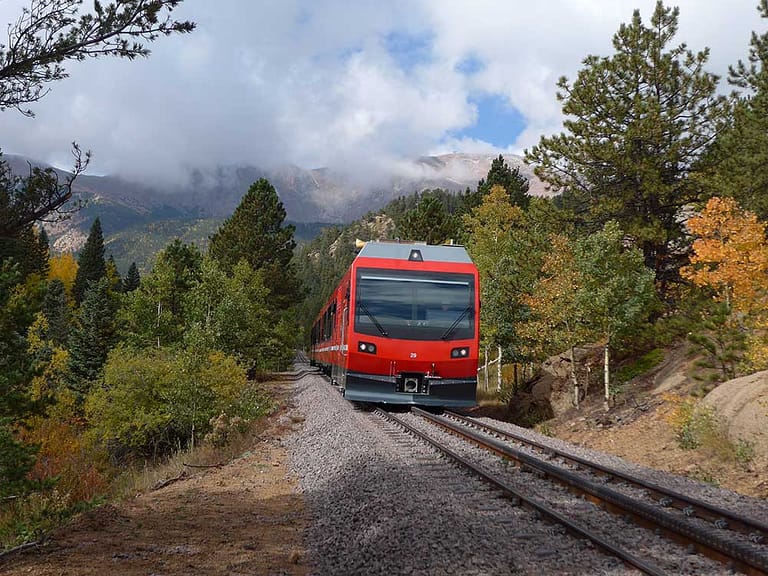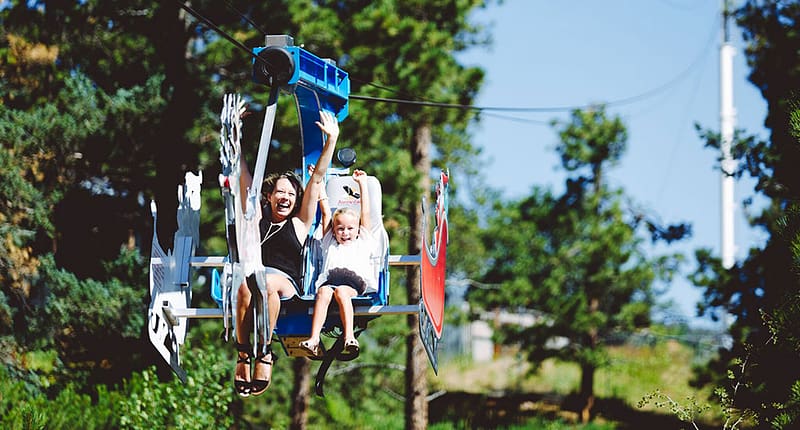 North Pole - Santa's Workshop
It's Christmas every day at this festive amusement park in the woods! Tucked in the hills at the base of Pikes Peak live Santa and all of his little elves. Enjoy more than two dozen rides, shopping right from the source, shows, a petting zoo and more. The perfect place to play for the young and the young at heart.
Wind Down the Week with History
Slow it down with a museum day.
Saunter the planked walkways, past the player piano and the General Store, stocked with goods of days gone by. Take aim at the shooting gallery to test your skills. Listen to the tinkering sounds of the black smith, and get hands on with the butter churn. During the summer months you can pan for real gold.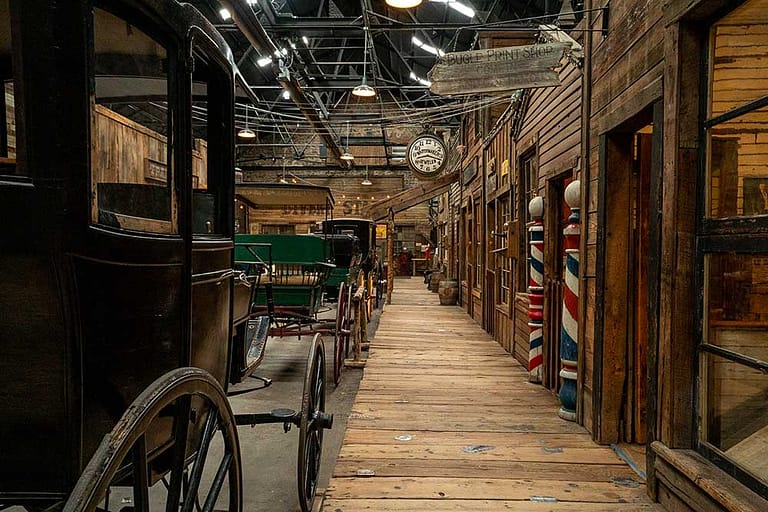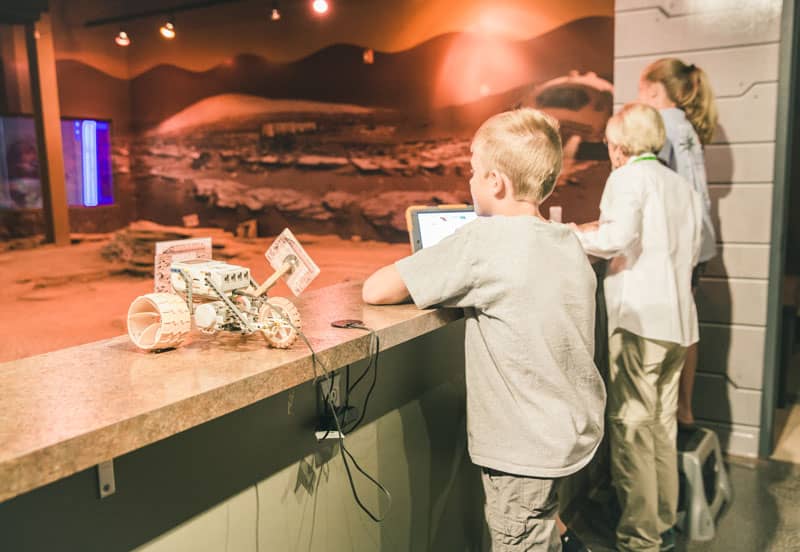 Space Foundation Discovery Center
Set your sites space-ward at this interactive museum, full of lots of STEM inspired activities. Explore space artifacts, learn about humans' history in space and enjoy presentations on the 3D Science on Sphere® globe. Be sure to check out the robotic rovers like the ones used on Mars!
America's most iconic sport along with the spirit and values of the American Cowboy are celebrated at the ProRodeo Hall of Fame. The family will enjoy cruising through the halls of displays showcasing decades of rodeo glamour and tenacity. With lots of interactive fun for the kids, this one is fun for all generations.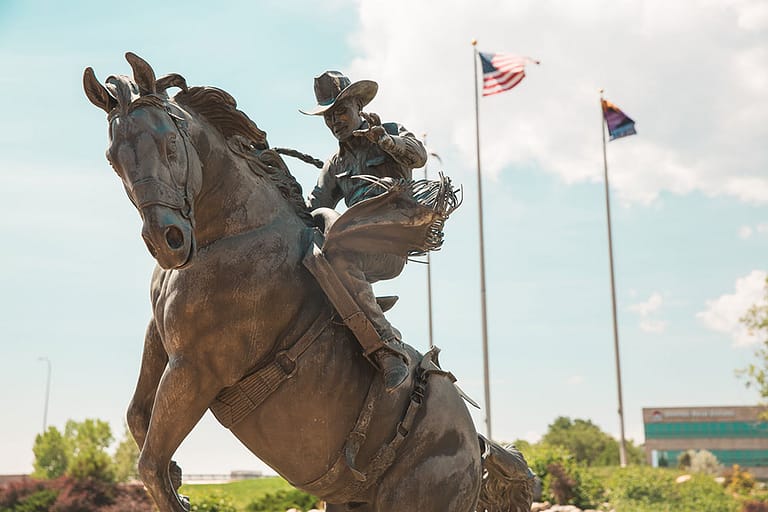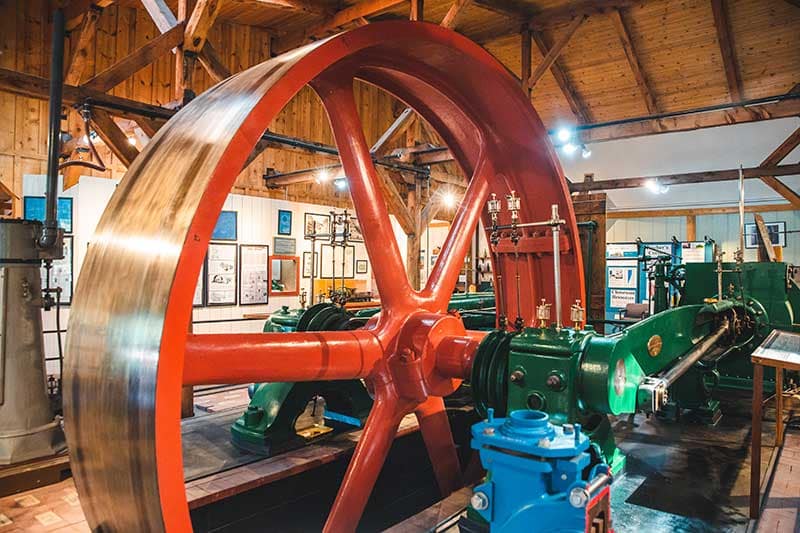 Western Museum of Mining and Industry
Come learn about the rocks you eat (yes — eat!), experiment with gold panning like the pioneers of old, play with hands-on exhibits, dress up like a miner, and see how families lived in the 1890s. Check out real mining equipment in action, including a ten-stamp ore mill. Great for history buffs and kiddos who love big machines that go!
More ways to enjoy your days
We've packed all 29 of our attractions into this 9 day itinerary so you can try a little bit of everything in the Pikes Peak Region.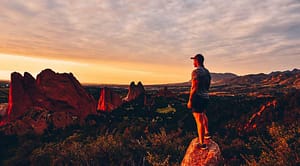 If your idea of vacation is getting out, trying new things, and making yourself feel truly alive — then this is the itinerary for you!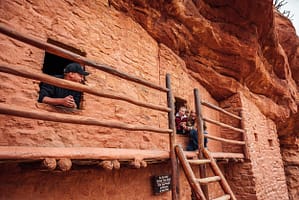 Looking for a quick few days of fun with the littles? Here are some of our favorites for creating new memories.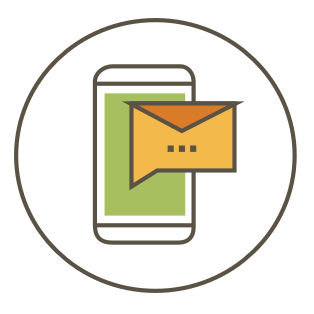 Share this itinerary with others