3 DAYS OF EXHILARATING FUN
Canon City is just an hour away and home of the best white water in our region!
Today's adventures will test your endurance and your bravery!
Axe throwing to spelunking — today is all one of a kind!
Get up and get going early for this first adventure. You'll want to catch the river early.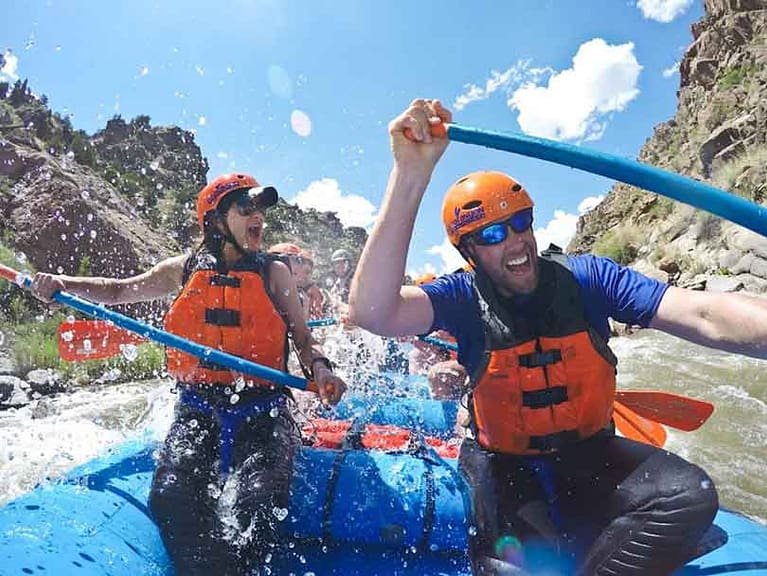 Echo Canyon River Expeditions
The folks at Echo Canyon say the 9:00 a.m. float is their favorite, and they ought to know. They've been guiding river trips for 40 years now. At 9:00, the morning chill is gone, and the heat of the day hasn't hit yet.  Whether this is your first time on the river, or you live in river shoes, isn't that the kind of expertise you're looking for?  
Royal Gorge Bridge & Park
The gorge takes all thrill seeking adventures up a notch or two. Fly 1200 feet over the Arkansas River, from one side of the gorge to the other on the Cloudscraper Zip Line. Or swing out over the gorge on the Skycoaster. Like a more active role in your adventure? The Via Ferrata climbing course across the walls of the gorge will not disappoint!
Manitou Springs, Your Basecamp for Adventure
Your whole day will have Pikes Peak and the foothills as a backdrop.
The Manitou Incline is by far the most well-known hiking trail in a little town riddled with hiking trails, and it's less than a mile long.  Don't let the distance fool you, you'll gain more than 2,000 feet in elevation, meaning it's basically straight up. That's 500 feet taller than the tip of the Empire state building!  So what makes this insane feat worth the trek?  Unbelievable views and a sense that you can leap tall buildings in a single bound.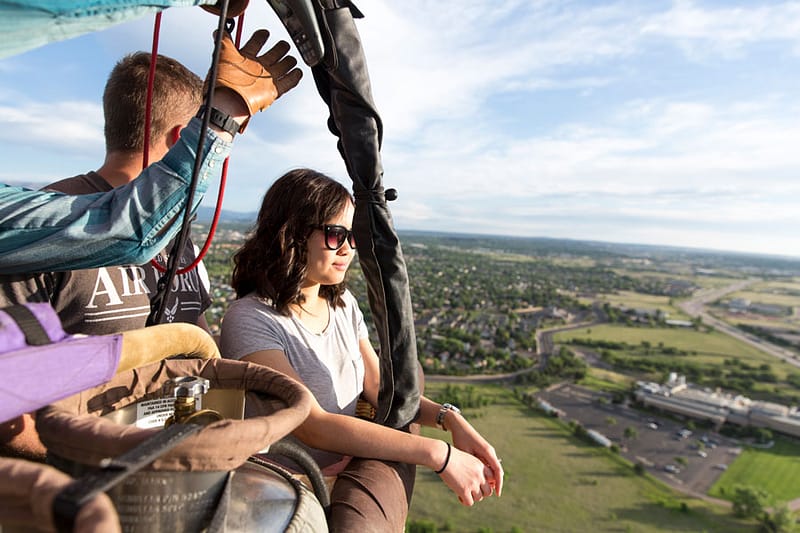 AOW has more adventures than you can shake a stick at, and if stick shaking is your bag, they would know where all the best sticks are! Take a Segway tour through Garden of the Gods, a hot air balloon ride for a bird's eye view of Colorado Springs, soar across the valleys of Manitou Springs on their zip line courses, or charter a Jeep tour to get the most out of your vacation. Whatever adventure you choose, Adventures Out West will be with you every step of the way.
Between our crazy geology and our wild-west roots, some of today's adventures can only be found here.
Broadmoor Outfitters will take you on about any outdoor adventure you can imagine, but they have a few specialties.  Enjoy zip-line courses that range from 300 to 1800 feet all above the beautiful Broadmoor Seven Falls. Check your zen-like balance with standup paddle boarding, or sharpen your axe-throwing skills.  They even have beginner and intermediate falconry classes!
Cave of the Winds Mountain Park
Start your adventure with one of three cave tours from mild to muddy, then scurry your way topside to climb, balance and ultimately drop from the cliffside.  Try your skills on a three story challenge course of ropes and beams over Williams Canyon. Finally, drop into the canyon on the TERROR-dactyl. At 100 miles an hour, this giant pendulum swing is 100% thrill.
More attractions like this
Share this itinerary with others
More ways to enjoy your days
This itinerary will take you all of our historic districts and the best museums in our region. You'll get a taste for everything from architecture to mining, with more than our fair share of 'characters' along the way.
A 5-day Colorado Springs activity itinerary for new visitors and old friends that will help you shake off the winter blues and enjoy spring in all its glory.
We're not trying to brag (yes we are), but this city is the absolute best place to be when Mother Nature dons her spring apparel — hello, we've even got "spring" in our name!