Forty Eight Hours in Colorado Springs
Colorado Springs is gifted when it comes to outdoor activities!
The West side is the best side!  Because that's where Pikes Peak is!
We hope you're well rested and ready to play, because there's no time to lose!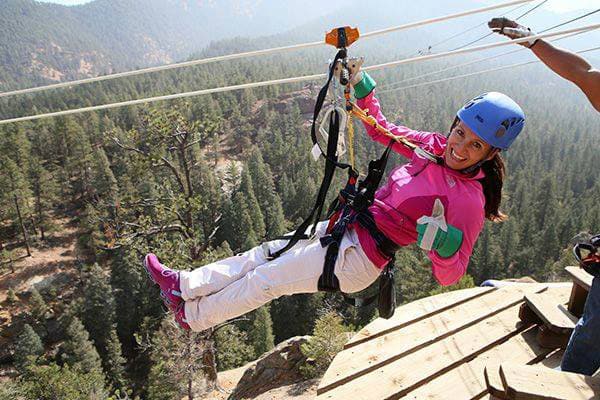 Broadmoor Soaring Adventure
Who needs coffee when you can zip line your way through the gorgeous Colorado sky first thing in the morning? Start day one in Colorado Springs at The Broadmoor Soaring Adventure, a rare and unique zip line attraction that guides you over the region's most stunning bedrock and woodlands. (If you're unfamiliar with the adventure sport, a zipline is simply a pulley suspended on a cable, and it propels you from one high spot to another.) The Broadmoor Soaring Adventure has 10 zip lines, divided between two courses — the Fins Course and the Woods Course.

The Fins Course takes you on a soaring excursion above steep canyons, craggy cliffs, and colorful rocks that make up Seven Falls. With its custom-built suspension bridges and rappel, you can safely take to the air and stroll while marveling at the canyon landscape and glistening streams below. The Woods Course takes you on an excursion high above the lush Colorado forest. You get a bird's eye view of pine trees, winding creeks, and numerous hiking trails. As you move — or should we say zip — along, the duration of each course gradually increases from 300 feet to 1800 feet. This is great if you're new to ziplining, as it allows you to ease into the process without overwhelming you. And even though you're high in the air, you still need to keep those feet protected. Closed-toe shoes (think: tennis shoes or hiking shoes) are the only acceptable footwear for the courses. Also, most of the zip lines and bridges are in direct sunlight, so be sure to bring your sunscreen and sunglasses.
The Broadmoor Seven Falls
You've seen The Broadmoor Seven Falls from above, but now it's time to explore the unforgettable natural wonder at ground level. As the name suggests, Seven Falls is a series of seven majestic waterfalls, located a little under a mile from The Broadmoor, and it is one of the most popular sites to visit in Colorado Springs. (It is so impressive, it even made National Geographic's list of International Waterfalls!) Known as "The Grandest Mile of Scenery in Colorado", this resplendent cascade is nestled in the sky-scraping Pillars of Hercules, a 900- foot box canyon. Though the space between the pink granite canyon is a narrow 41 feet wide, the sight of the enclosed waterfalls is unmissable. You and your crew will certainly be in awe.

Crystal clears streams of Pikes Peak water dance and leap along the towering canyon rocks, tumbling a whopping 181 feet from the top of the 224 step staircase. Enjoy captivating vistas of green forest vegetation and scenic rock outcrops while you climb the staggering 224 steps that lead you to the series of stunning waterfalls. Because of all the hiking and walking, it's wise to bring water and snacks along so you can stay hydrated and energized. And it wouldn't be a bad idea to dress in layers — even at The Broadmoor Seven Falls, the weather can change at a moment's notice.
Great places to take a break, grab a bite, or extend your day.
Flying W Ranch Chuckwagon
Founded in the early 1950s, the Flying W Ranch is one of most popular tourist destinations and entertainment venues in the Pikes Peak region. And we know why. All of the structures at the Flying W represent a core piece of western history, both in design and function. Plus, when you visit the ranch, you get to see live demonstrations of old west activities such as horse shoeing, silversmithing, and Navajo rug making. Naturally, as with most attractions in Colorado, there are striking scenes of red rocks and hiking trails, as well as ranch animals rambling all around the historic pioneer property.
Surrounded by thousands of rural acreage in the northwest foothills of Colorado Springs, the Flying W Ranch sits on land that was once owned by city founder, William Palmer. While the history of this cattle farm is as fun as it is fascinating, the Flying W Ranch is also famed for its outdoor chuckwagon suppers. The informal buffet features hearty home-cooked BBQ, trail beans, foil-wrapped potato, biscuits, and applesauce — all served on a tin plate. Remember we said something about entertainment? After dinner, you can catch a show by the celebrated Flying W Wranglers, one of the world's oldest western singing groups. (They were created by the ranch's original cowboys back in 1953!) The new crop of Flying W Wranglers are still dazzling audiences with their music-filled, bunkhouse comedy stage shows, but you might have to wrangle yourself a reservation to see them.
Grab your walking shoes and camera, and start exploring these westside wonders!
Drive the Pikes Peak Highway
The 19-mile stretch of road runs from Cascade all the way to the summit of Pikes Peak and straight through the clouds. Ok, maybe it doesn' go that far, but it does take you to the top of the mountain, which is a whopping 14,115 feet! While technically a toll road, the scenic, winding highway provides plenty of breathtaking views of the Pikes Peak region's most notable natural wonders, including lakes, wildlife, and of course, those tree-covered peaks we like to call mountains. 
In total, the lengthy expedition takes about three hours there and back. But it may take a smidge longer if you, like the rest of us, stop to take pictures (the elevation sign is a favorite spot for snapshots), spend time in the gift shop, or stroll atop the summit taking in the beautiful views. (Which you should absolutely do, because it's what makes the drive!)
Walk Around Historic Manitou Springs
Known by locals as Colorado Springs' eclectic neighbor to the west, Manitou Springs is a quaint location for a wide-range of activities, from sight-seeing, shopping, and lots of outdoor fun. Free parking and shuttles are available year-round, which makes it a lot easier for you and the family to explore the magic of this budget-friendly mountain town. Just be sure to bring your face mask and wear comfortable footwear and some sunscreen: On average, the city gets about 250 days of sunshine per year, making it the perfect place to stroll and soak in the sun. (Though it's just as picturesque in winter too!) Walk about the art galleries and specialty boutiques downtown, stop by the Manitou Outpost for unique gifts, listen to some live music, or cool off and take a sip of the effervescent water from one of the many mineral springs that populate the scenic city.

Only 6.5 miles from Colorado Springs, Manitou is chock full of historical hot spots and must-see places to play like the Cliff Dwellings, the Cave of the Winds, and the Incline — just to name a few. And if you're feeling more adventurous and outdoorsy, there are plenty of hiking trails, parks, and nature spots in Manitou that will satisfy your need to connect with Mother Nature. It's true, there's so much to do in Manitou, you'll want to add another day to your trip!
Miramont Castle Museum
Ever wonder what life was like in Victorian era Colorado? Well, you can marvel at the splendid decor inside the 30 rooms that make up the Miramont Castle Museum, a building which puts a spotlight on Victorian history in Colorado and beyond. The name of the castle — yes, it's a real castle — literally means "look at the mountain" (did we mention we love mountains in Colorado?), but scenic mountain views are not all you get here. If visiting in spring or summer, the Castle Gardens have a plethora of eye-catching flowers and plants that provide the perfect backdrop for snapshots. But regardless of season, you can enjoy the stunning architecture and unique antiques at Miramont Castle all year round (and feel like a member of the gentry while doing so). Located near the Incline and the Iron Springs Chateau, this must-see Manitou Springs attraction is rich in history. The deed for the Miramont Castle property dates back to the early 1860s. And in May of 1977, the castle joined the National Register of Historic Places, which makes it a bonafide national landmark! And when you're finished touring the 14,000 square feet of the castle, you can borrow a fancy hat and indulge in a spot of tea or a homemade scone in the lush Queen's Parlour Tearoom, a glass-encased room that provides a beautiful view of Colorado. Who knew history could be so fun and leave you feeling so fancy?
Ghost Town Museum
Located on the corner of 21st Street and Hwy 24 in west Colorado Springs, the Ghost Town Museum is the perfect easy-to-access site if you're fixin' to go on a Wild West adventure. The best part? You don't even have to leave the Springs. Don't let the name fool you, though, the Ghost Town Museum isn't actually haunted. You won't find any tumbleweeds here either. Instead, you'll find lots of history and hands-on activities for the whole family to enjoy. Housed in the building of a restored railway train workshop from 1899, the Ghost Town Museum takes you on an indoor trip through the Wild West. Each true-to-life display features a collection of 100-year-old historical treasures and decayed structures from the Pikes Peak region, all of which are preserved to look their age and give you the chance to roam the old west indoors. From stagecoaches and wagons to the butter churn and the printing press, there are countless artifacts from the pioneer days that will keep you and the family occupied for hours. Kids can play with the old-fashioned arcade and nickelodeon, or practice their aiming skills at the shooting gallery. But your trip to the pioneer days isn't complete until you do as the miners do: Grab your metal pan, and sift through silt and water in the museums' panning areas. There, you can pan for real gold, sand, and precious minerals. Yeehaw!
More attractions like this
Share this itinerary with others
More ways to enjoy your days
This itinerary will take you all of our historic districts and the best museums in our region. You'll get a taste for everything from architecture to mining, with more than our fair share of 'characters' along the way.
A 5-day Colorado Springs activity itinerary for new visitors and old friends that will help you shake off the winter blues and enjoy spring in all its glory.
We're not trying to brag (yes we are), but this city is the absolute best place to be when Mother Nature dons her spring apparel — hello, we've even got "spring" in our name!