Experience the town that inspired "Pikes Peak or Bust!"
Castles & Mineral Springs
Spend the day in Manitou Springs, one of the earliest visitor destinations in the West.
This looks like a jam-packed day, but all of today's attractions are about an hour and close together!
Pikes Peak or Bust, the mantra of many early settlers heading to this region in hopes of striking it rich during our gold rush days.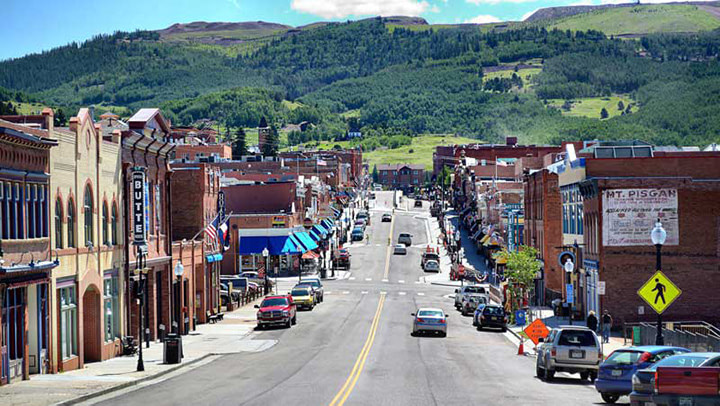 In its heyday, Cripple Creek saw many fortunes won and lost — the former in the gold mines, and the latter in the saloons. Somehow, this little mountain town has retained its character after all these years. Start your visit at their heritage center, high on the hill over looking the city. Admission is always free and their volunteers will be able to direct you to many other historic museums in town, like the Jail Museum and the old Brothel. Take the plunge, a 1,000 foot plunge, into one of the area's mines at the Mollie Kathleen Gold Mine, or go for a ride on the Cripple Creek and Victor Narrow Gauge Railroad that passes several old mines. 
History is all around us in the Pikes Peak region, but you'd never know what you're looking for without someone to point it out.  The folks at Adventures Out West have been regaling folks with tales of the Wild West since 1973, and their cowboy guides know more stories than half of our local historians!  If you're looking to really dig deep and get off the main track with our local history, then they're the perfect guide. 
Tours depart from their depot off of 21st Street in Colorado Springs and last from 2.5 to 3 hours. You'll be paired up with your very own cowboy, complete with nicknames like Butch, Duke or Rowdy.  They're more than happy to stop along the way for photos, and they know all the best spots.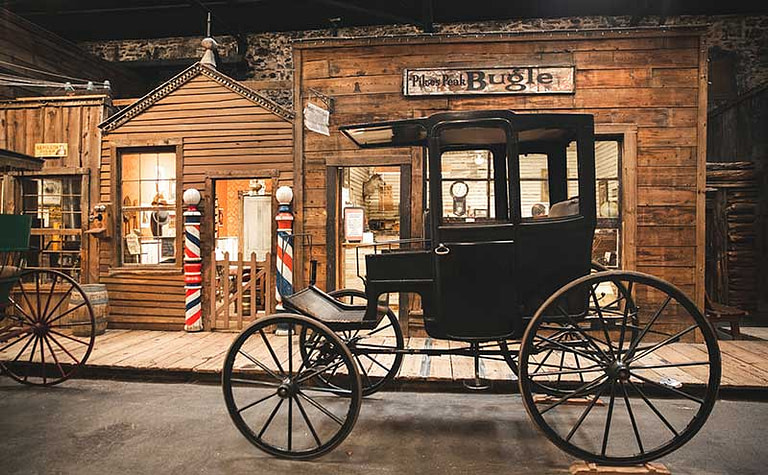 Once upon a time, the hills of Colorado were littered with ghost towns of a bygone era.  Most have since succumb to the elements and crumbled back into the dust from whence they came.  Ghost Town Museum has preserved these Wild West relics in an indoor, weather-proof building, so you can share this moment in history with your crew.
Mosey the creakity boardwalk, peeking in the storefronts with their merchandise of old.  Take aim at the shootin' gallery or test your luck gold panning (summer only).  Find vintage treats in their gift shop, and enjoy the tinkling of the player piano.  Ghost Town will sweep you back in time!
Explore the natural cool mineral springs both Colorado Springs and Manitou Springs are named for!
Start your visit at the Manitou Springs Chamber of Commerce. Their friendly volunteers will help you curate the perfect day in this charming little town. The town is full of art galleries, boutiques, restaurants and character — both the town and it's people! All of the businesses in downtown Manitou are locally owned and have their own Manitou flair.  Sit for a spell and enjoy a little people watching, or enjoy a few vintage games at the Penny Arcade. As you walk around town, you'll see many historic plaques on buildings and in front of houses that honor the significance of these places to our local story. Take some time to read these great tales.
Be sure to look for the cold drinkable mineral springs scattered throughout town — the original draw to the area, believed to have tremendous health benefits.  Each spring has a beautifully sculpted fountain around it and are worth the scavenger hunt in and of themselves.  The springs each have a slightly different mineral content and it's fun to taste test for your favorite.
Originally moved to Manitou Springs in the early 1900's, the Manitou Cliff Dwellings has served as a hands-on educational museum for well over 100 years. Climb inside the dwellings and imagine life as an ancient Pueblo Indian, try your hand at grinding corn, and soak in the cool feeling of the sandstone. There are no "Do Not Touch" signs here!is awesome little vacay wouldn't be coming to an end so soon.  For day three, we're literally going to take you back in time with two very different but no less interesting historic places.
Pikes Peak Tour by Gray Line
One of the most historic places, and we mean ancient pre-historic old places, is Pikes Peak – America's Mountain.  It's been here for, well, forever.  At least as far as we humans are concerned.  Pikes Peak was the anchor, the magnificent landmark that drew people to the area for the last thousand years!  
If you're coming to the Pikes Peak region, you really owe it to yourself to see the world from 14,115 feet in elevation.  There are multiple ways to summit Pikes Peak, but the Pikes Peak Tour by Gray Line not only lets you relax and enjoy the view, their well-storied guides will tell you all sorts of anecdotes along the way.  You'll learn about our past and the history of that big mountain than you could with a week of Sundays at the local library.  Let them handle that mountain driving while you listen to their tales and enjoy the view.
Garden of the Gods Trading Post
Celebrating its 90th year in 2019, the Garden of the Gods Trading Post has been locally owned and operated by only two families in all that time.  As such, the legacy is just as important to the owners as it is to its local fans.  And it has a lot of local fans.  Locals know, this is THE place to look for a great gift or the perfect piece of local art to fill an empty wall.  It's the place to stop for a Starbucks coffee before or after a hike in the Garden of the Gods, or meet a friend for lunch on their beautifully landscaped back patio.  
The Trading Post is really a local treasure in its modern iteration, without losing any of its great history. Before you even enter its original front doors, you'll see murals that date back to the 20's and 30's.  You see, back in its early days, the Trading Post was a mecca of Native American artistry, bringing and even bridging much of the ancient Pueblo crafts with modern art movements.  Jewelry, pottery and paintings were created onsite for decades, and many artifacts can be seen in the historical section of the store.  Whether you want to shop, eat, or learn about the history, you're going to have one heck of a good time here.  It's SO much more than a store!
Balanced Rock Cafe at the Garden of the Gods Trading Post
You'd never know it from the outside, but the Garden of the Gods Trading Post has one of the best outdoor dining spots in town! Shaded by old cotton woods, with lawn-space for the kids to play, you can kick back with their fresh-made food and listen to the trickling fountain. They also have locally made ice cream, Starbuck's coffee, local craft beer and wine. Perfect for a mid-afternoon breather!
Did you know the first rodeo was held in Deer Trail Colorado? We sure claim it (along with 2 other states). Regardless of our ranking, rodeo has always been an important part of our heritage and keeps the spirit of the west alive through the celebration of the American cowboy.  ProRodeo Hall of Fame honors that history and the sport that keeps it alive. 
2019 celebrates the 40th Anniversary of  the Hall of Fame, where you can meander through decades of artifacts, meet some retired rodeo stock and enjoy a video of the history of this very American sport.  Be sure to stop off in the 101 Gallery. There you'll find the current exhibit, "ProRodeo Hall of Fame: The First 40 Years."
Originally slated to be our state capital, Old Colorado City has a rich and colorful past.  Also known for it's secret tunnels, saucy madams, and moose-driving characters with names like Prairie Dog, if you like stories of the past, OCC is the place for you!
Old Colorado City is one historic district that has modernized beautifully without losing any of the flavor or charm that has always made it special.  Shop, dine and discover as you meander its treelined streets.  Chances are good you'll meet a modern character or two, and have some stories of your own to share.  
More attractions like this
Share this itinerary with others
More ways to enjoy your days
This itinerary will take you all of our historic districts and the best museums in our region. You'll get a taste for everything from architecture to mining, with more than our fair share of 'characters' along the way.
A 5-day Colorado Springs activity itinerary for new visitors and old friends that will help you shake off the winter blues and enjoy spring in all its glory.
We're not trying to brag (yes we are), but this city is the absolute best place to be when Mother Nature dons her spring apparel — hello, we've even got "spring" in our name!