Experience the town that inspired "Pikes Peak or Bust!"
Castles & Mineral Springs
Spend the day in Manitou Springs, one of the earliest visitor destinations in the West.
A trip to the region isn't complete without a visit to Pikes Peak.
One of the richest deposits of gold ore in the country, Cripple Creek drove many to fortune and folly.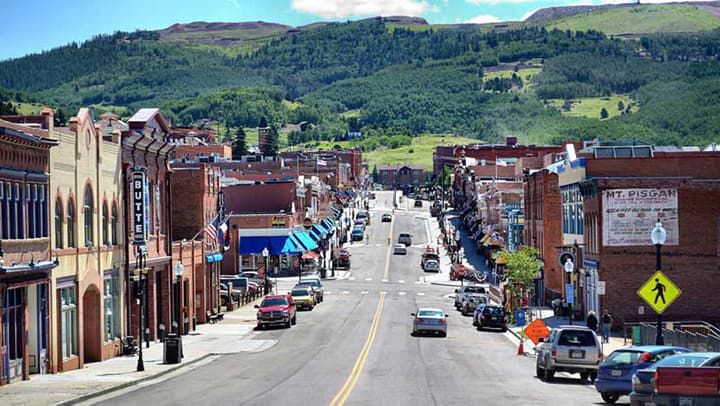 In its heyday, Cripple Creek saw many fortunes won and lost — the former in the gold mines, and the latter in the saloons. Somehow, this little mountain town has retained its character after all these years. Start your visit at their heritage center, high on the hill over looking the city. Admission is always free and their volunteers will be able to direct you to many other historic museums in town.
Mosey the creakity boardwalk, peeking in the storefronts with their merchandise of old.  Take aim at the shootin' gallery or test your luck gold panning (summer only).  Find vintage treats in their gift shop, and enjoy the tinkling of the player piano.  Ghost Town will sweep you back in time!
This melodrama theater is housed in one of the oldest buildings in Manitou Springs, an historians delight in and of itself.  Couple that with a the oohing and boohing of heroes and villains and you have yourself one old-timey night of fun!  Start the night with their family-style dinner for a full night on the town.
Explore the natural cool mineral springs both Colorado Springs and Manitou Springs are named for!
Start your visit at the Manitou Springs Chamber of Commerce. Their friendly volunteers will help you curate the perfect day in this charming little berg. Full of art galleries, boutiques, restaurants and character — both the town and it's people! As one of the very first tourist destinations west of the Mississippi, history blooms from every nook and cranny.
A spectacular example of Victorian architecture, nine distinct styles in fact, Miramont Castle Museum showcases life in the late 1800's.  Owned and operated by the Historical Society of Manitou Springs, the museum also houses World War II artifacts, a collection from the Nuremberg Trials, and an extensive collection of  Pikes Peak Hill Climb paraphernalia. Be sure to reserve a spot in the tea room for a High Victorian Tea.
Originally moved to Manitou Springs in the early 1900's, the Manitou Cliff Dwellings has served as a hands-on educational museum for well over 100 years. Climb inside the dwellings and imagine life as an ancient Pueblo Indian, try your hand at grinding corn, and soak in the cool feeling of the sandstone. There are no "Do Not Touch" signs here!
You can't come to the Pikes Peak Region and not visit Pikes Peak. That would be sacrilege!
Pikes Peak -- America's Mountain
Few places in the world this grand in scale are accessible with this level of ease.  Grab your favorite traveling companions and your trustiest four wheels and head up to the view that inspired America the Beautiful.  Those Purple Mountains Majesty and Amber Waves of Grain aren't going to admire themselves!
Pikes Peak Tour by Gray Line
You know you need to see the summit of Pikes Peak, but if making that drive makes you nervous, trust your journey to a local icon of transportation.  The folks at Gray Line drive thousands of visitors to this apex of adventure every year.  Their drivers act as tour guides, regaling you with local legends and historic tales.
Garden of the Gods Trading Post
One of the oldest gift shops in Colorado, the Trading Post is bursting with a fascinating history as evidenced in its original murals and fixtures.  But the store has also grown and changed over the last century, making it one of the largest locally owned stores in the state.  Whether you're in to history, art, shopping, or grabbing a coffee on a beautiful patio, the Trading Post is a special hidden gem you'll be glad you discovered.
Did you know the first rodeo was held in Deer Trail Colorado? We sure claim it (along with 2 other states). Regardless of our ranking, rodeo has always been an important part of our heritage and keeps the spirit of the west alive through the celebration of the American cowboy.  ProRodeo Hall of Fame honors that history and the sport that keeps it alive. 
More attractions like this
Share this itinerary with others
More ways to enjoy your days
This itinerary will take you all of our historic districts and the best museums in our region. You'll get a taste for everything from architecture to mining, with more than our fair share of 'characters' along the way.
A 5-day Colorado Springs activity itinerary for new visitors and old friends that will help you shake off the winter blues and enjoy spring in all its glory.
We're not trying to brag (yes we are), but this city is the absolute best place to be when Mother Nature dons her spring apparel — hello, we've even got "spring" in our name!