3 DAYS OF EXPLORING IN COLORADO SPRINGS
Hundreds of local galleries and boutiques await you in our Historic Districts.
Pikes Peak or bust — learn about the colorful history of our gold rush days.
From the world's largest private collection of insects to the moon and beyond.
Perfect for a great day of strolling, people watching, and treasure hunting.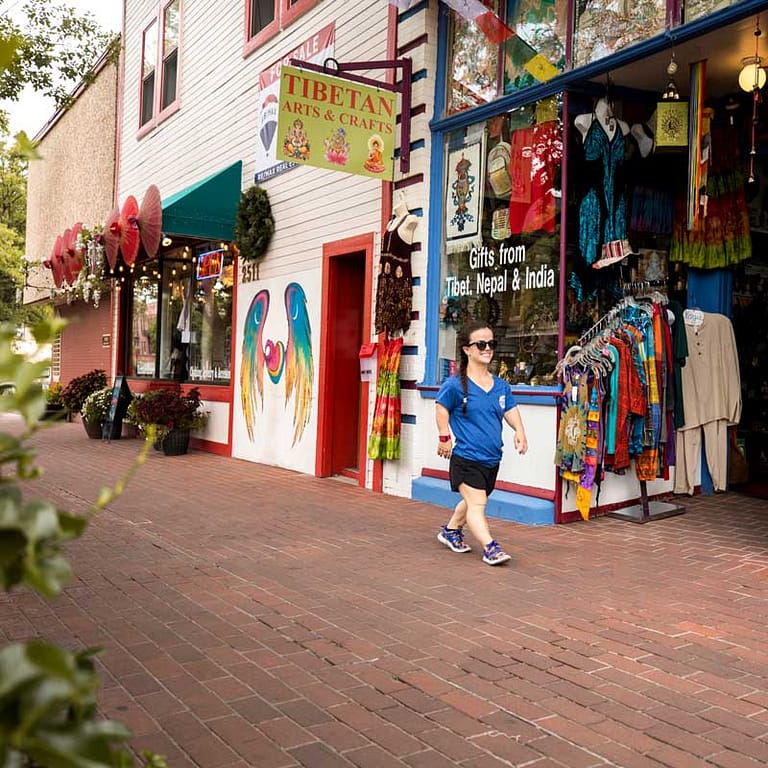 Old Colorado City was one of the first areas settled in Colorado Springs and boasts a very colorful history.  That charm and legacy has been beautifully preserved and celebrated, making this historic district an awesome place to spend the day.  Shop for local art, unique gifts, modern treasures and raucous stories alike.  With over 100 local galleries, shops and restaurants, you're sure to find things you won't see anywhere else.
If their history is more interesting than their retail, there's plenty of that to be had too.  It's common to find friendly shop owners behind the counters of their stores and they're always happy to share a story or two.  If you're looking for something a little more guided and directed, check out the tours offered regularly by their historic society. 
Garden of the Gods Trading Post
The Garden of the Gods Trading Post is a hard place to put into words.  On the surface, it's a gift shop with an old pueblo-style facade. When you pass through the doors, you'll find so much more lies beneath the surface.  You'll be immediately struck by the sheer size of the place — it's so much bigger than you expect from the outside.  Once you take in the massive volume of its interior, you'll start to notice cool features about the store itself.  Very old murals from world-famous pueblo artists adorn the walls.  Antique fixtures are still in prominent use.  And relics of their long history are framed and showcased in every corner of the store.
So we've established that the building is cool, and there's lots of great history, but we're no where near done.  What do they offer in the store?  I'll answer that with a question: what don't they offer?  From kitschy trinkets to one of a kind art, from allowance-level budgets to call-your-banker level finds, the Trading Post literally has something for everyone.  Peruse their kitchen section for the chef in your life, their library for your reader.  Or check out the largest selection of t-shirts in the region for the perfect "all I got was this t-shirt" souvenir.  However, our favorite is the Art Gallery, packed to the gills with locally made art, Native American crafts, and unique gifts galore. 
The morale of this story: you need to experience the Trading Post for yourself!
Miramont Castle Museum
If you listen closely, this place has a story to tell. Built in the late 19th Century by a rich priest and his mother, the castle boasts nine different styles of architecture and is a feat to behold in and of itself. However, the castle is just the beginning of the story. Operated by the Manitou Springs Historical Society, the museum has become the beneficiary of thousands of artifacts that record the varied history of Manitou Springs and its residents. Enjoy room after room of period furniture, clothing, household appliances and other accoutrements of Victorian life. You'll also find a collection of antique firefighting equipment, memorabilia from decades of the Pikes Peak International Hill Climb, one resident's keepsakes from World War II, photos and journals from a Manitou judge who served on the Nuremberg trials and so much more. Miramont Castle even boasts one of the largest collections of Charles Rockey paintings in existence. This place has many great things to tell you if you take the time to listen.
Great places to take a break, grab a bite, or extend your day.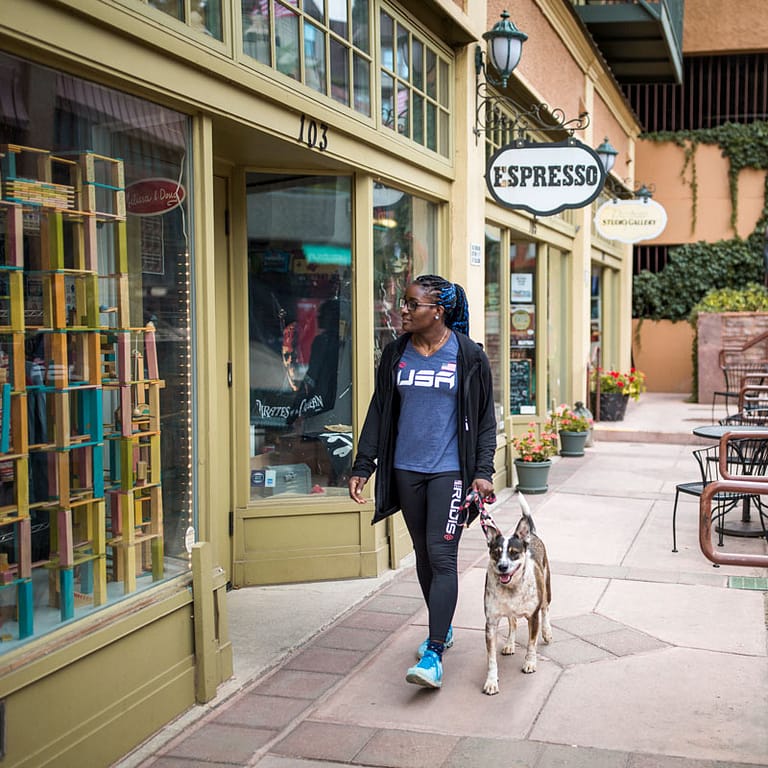 Manitou Springs was one of the first tourism destinations this side of the Mississippi, and it hasn't lost an ounce of the magic that drew visitors way back when. This quaint little town is tucked amongst the foothills of Pikes Peak and gets its name from the multiple mineral springs throughout town.  The springs are all cold drinking springs, each with a unique mineral compound and have long been believed to have health-sustaining benefits.   
Manitou has a personality all its own.  You can feel it the moment you pass through the Manitou arch.  The people are friendlier, the architecture is fantastic in a quirky mountain way, even the side walks and street lights have an artistic flare. And as for the actual art, everywhere you look, there's art on the street, art in the store fronts, you're even likely to find folks painting on the street corner, or musicians jamming on the sidewalk. Take your time and smile a little more — it's the Manitou way.
When we say it's like exploring a western movie set, we mean that quite literally.  Ghost Town has played to host to many famous western actors and played the back drop in several old westerns.  Enjoy sauntering the same old wooden planks as your silver-screened heroes, listening the tinkling of the player piano or the tinkering of the blacksmith.  Take aim at the shootin' gallery or spend some time window shopping at the general store.
Ghost Town is great for your history buffs and kids alike.  Have your kiddos ever marveled at the novelty of a rotary phone, or asked you about that weird giant keyboard with the ribbons attached?  If so, then this place is going to blow their minds!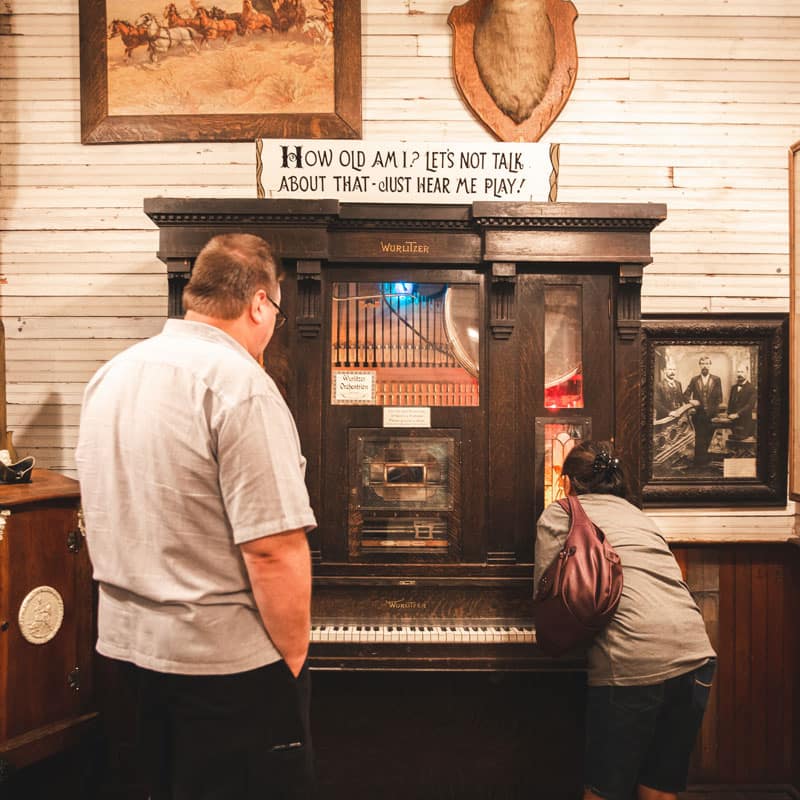 Mollie Kathleen Gold Mine
In its early days, Cripple Creek had a number of strong, independent women who made their own way during the early days of Cripple Creek. Mollie Kathleen Gortner was one such woman. She moved with her husband and daughter to Cripple Creek where they joined her son who was already working as a surveyor. One day Mollie was out searching for a herd of elk she'd heard were in the area. As she climbed up Poverty Gulch, so named by an equally infamous but less successful prospector, she stopped a moment to catch her breath and noticed the rocks as her feet seemed to be winking at her. She had discovered a seem of pure gold laced in quartz. Mollie headed back to town as casually as she could muster and became the first woman in camp to discover and strike a claim in her own name. Today, you can visit Mollie's mine and travel 1,000 feet down into the earth. The guides will show you the progression of mining tools and equipment and you'll get to see firsthand that seem of glittering rock that first caught Mollie's eye nearly 130 years ago.
Great places to take a break, grab a bite, or extend your day.
We've got some huge, world-class museums, and we've got little kitschy places you won't find anywhere else!
May Natural History Museum
This is possibly the most unique museum you've ever encountered. Collected at the turn of the last century, this is the largest private collection of insects in the world! Peruse over 7,000 of the brightest, biggest and most interesting specimens of John May's many dedicated years. Because of the sheer age of the collection, there are many species here no longer found in the wild, but the great care with which they've been preserved is beyond reproach. They are as vibrant and spectacular as the day they were collected. Now if you enjoy the creepy crawlies, there are spiders, giant centipedes, and some of the biggest beetles you've ever imagined. If creepies are not your jam, there are also hundreds of brilliant butterflies and even some of those big beetles would fall into the category of natural art. Is it possible there's a perfect bug for everyone? If so, they can all be found at the May Natural History Museum.
Space Foundation Discovery Center
Find your inspiration at the Space Foundation Discovery Center. Peruse actual artifacts from space missions, marvel at examples of the everyday products that were made possible by space technology, watch storms blow across your favorite planet on the Science on a Sphere™, or try your hand at driving a Mars rover in their Mars simulation room. Whether the Space Foundation encourages to work a little harder at your STEM courses, or lights your passion for innovation and invention, you'll leave the Discovery Center with wider eyes than when you entered, and a light shining on your future dreams.
Great places to take a break, grab a bite, or extend your day.
Western Museum of Mining and Industry
The last museum on our hit parade is the Western Museum of Mining and Industry. In case you hadn't noticed yet, mining has been a very big part of our history here in the Pikes Peak region. It was critical to financing the establishment of our town but the shiny mined minerals tend to get all the press. A lot is known about the gold taken from our mountain-scapes, but we don't really talk about the rocks found in day to day items and even our food! You can learn all about the different minerals we mine to create household products at the Western Museum of Mining and Industry. You can even experience the awesomeness of some of the machines used to extract those minerals.
ProRodeo Hall of Fame
Here in Colorado Springs, we celebrate our western heritage all the time. Most locals have "dress jeans," we know all the words to Rawhide, and we have a favorite event at the Pikes Peak or Bust Rodeo. Once a year, our local cowboys drive a herd of cattle through the middle of downtown (seriously) and everyone turns out to "yip yip yip" them through town. But nowhere is the spirit of the American Cowboy and our western heritage more celebrated than at the ProRodeo Hall of Fame. For more than 40 years, the accomplishments, costumes, and tack of our most famous cattle wranglers have been documented and displayed at ProRodeo Hall of Fame. Cowpokes and the occasional trusty steed are inducted annually from all over the country. In these hallowed halls, you can enjoy the history of this most American sport, and revel at the accomplishments of these fine men and women through the years. Be sure to stop by for a visit with their livestock, celebrated as some of the most accomplished athletes in the sport. After all, a cowboy is nothing without his horse!
More attractions like this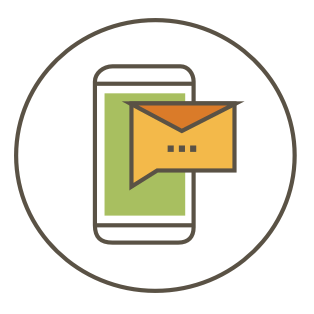 Share this itinerary with others
More ways to enjoy your days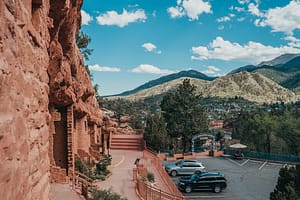 This itinerary will take you all of our historic districts and the best museums in our region. You'll get a taste for everything from architecture to mining, with more than our fair share of 'characters' along the way.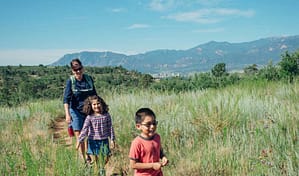 A 5-day Colorado Springs activity itinerary for new visitors and old friends that will help you shake off the winter blues and enjoy spring in all its glory.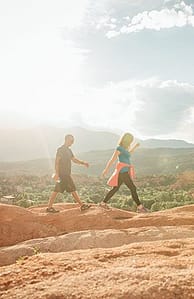 We're not trying to brag (yes we are), but this city is the absolute best place to be when Mother Nature dons her spring apparel — hello, we've even got "spring" in our name!