PikeRide / Scooter Adventure
EXPLORE WITHOUT THE DISTRACTIONS OF DRIVING
Good Morning Colorado Springs!
Start off with breakfast and a cruise around downtown Colorado Springs.
An Afternoon in OCC and the Garden
Spend your afternoon shopping in Old Colorado City and exploring the garden.
An Evening in Manitou Springs
Like its sister town OCC, Manitou Springs is full of cool places to shop and eat.
There are plenty of bike hubs to choose from on the West Side, but we'll get you started in one of the fastest-growing areas in the city, South Tejon. You'll find a rack of bikes on West Moreno Avenue and Cascade Avenue just west of Tejon Street. Scooters are usually left along Cimarron Street and Costilla Street, but they may be a bit scattered on weekend mornings.
Good Morning Colorado Springs!
Begin your day with a bite to eat and a cruise around downtown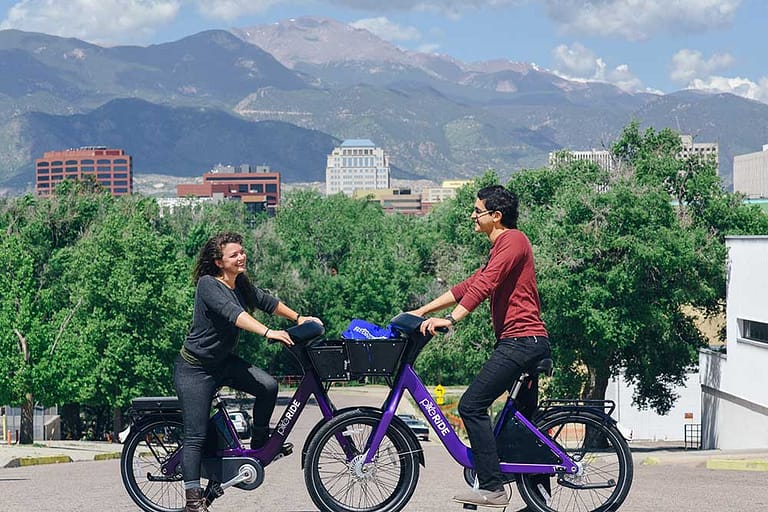 Once you've found a bike, you should start with a hearty breakfast! There are several places to choose from in the area, but a visitor favorite is the Denver Biscuit Company on the corner of Tejon and Moreno. They can get pretty busy, but pro tip, the earlier you're up, the better your chances of getting a table fast. Plus, more time to spend exploring!
Take Moreno Avenue west to Sierra Madre Street and turn right. Head north past Cimarron Street and you'll run right into the museum (not literally). Don't forget to lock your bikes if you have a day pass or end your time!
Check Out the Olympic Museum
After breakfast it's time to claim your ride and get a move on to the first stop on your tour, the United States Olympic and Paralympic Museum. The high-tech and super engaging museum will give you a boost of inspiration for your ride as you learn all about the world's greatest athletes. Check out Hall of Famers, explore interactive exhibits and see real artifacts from Olympians past and present.
Great places to take a break, grab a bite, or extend your day.
An Afternoon in OCC and the Garden
Scoot over to the older side of Colorado Springs
From the United States Olympic Museum, you'll hop on the Midland Trail for the next adventure. Get to the Midland Trail by taking Moreno south toward Cimarron and turning west just before the light. The trail follows the street and then turns off through the south side of America the Beautiful Park. Follow that trail west under I-25 and ride along until you reach Old Colorado City. The Midland Trail will briefly cross the Santa Fe Trail, so be sure you continue west (toward Pikes Peak). If you turn right, you'll have to come up with fun stuff on your own.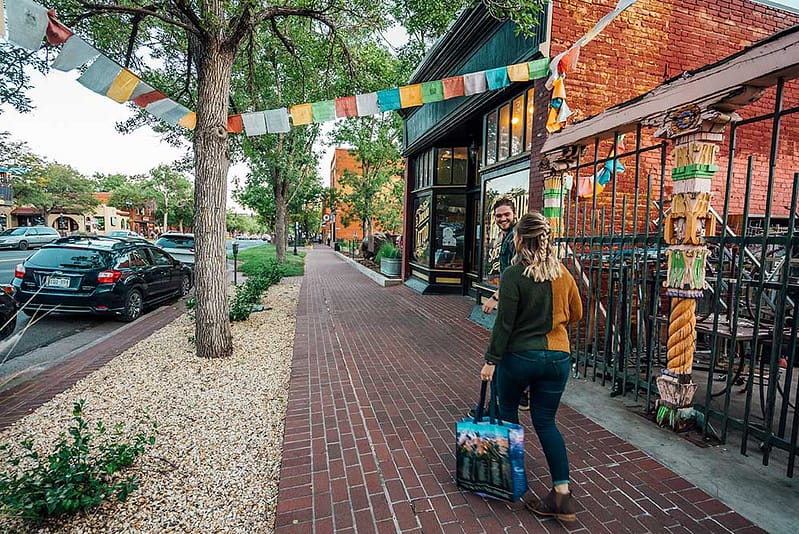 Explore Old Colorado City
We suggest you spend a few hours checking out all the area has to offer. Highlights include Michael Garman Gallery on Colorado Avenue, which features some of the most exquisitely detailed miniatures you will never see. Garman has made an entire living, breathing town of small figures and every detail is a work of art.
Follow the Midland Trail west until you get to Beckers Lane. There are some tricky areas of the trail as it continues to be built out, but rest assured that heading west will eventually get you to Manitou proper if you get lost. Turn right on Beckers and head south until you find the Garden of the Gods Trading Post on your right. We suggest you save that for the ride back. Continue north into the Garden of the Gods.
Please note that scooter shares/e-scooters are not allowed in the Garden. 
Explore the Scenery in Garden of the Gods by Bike
The roads through the Garden have a wide bike lane to protect you from traffic but still allow you to explore at your leisure. You're more than welcome to stop, lock up your bike and hike on some of the smaller trails, too. Don't forget to stop and help lift up Balanced Rock. Nobody should go home from Colorado without a picture of them "holding up" that famous landmark. It would be like going to Tuscany and not snapping a picture of you pushing over the Leaning Tower of Pisa.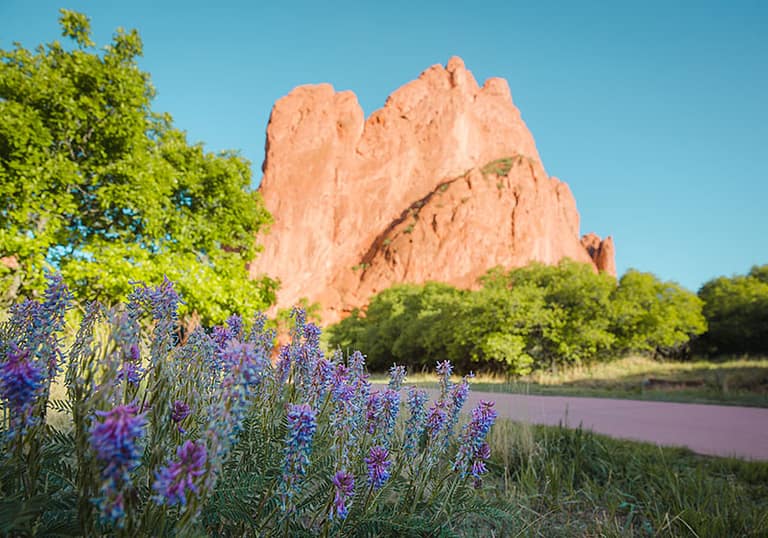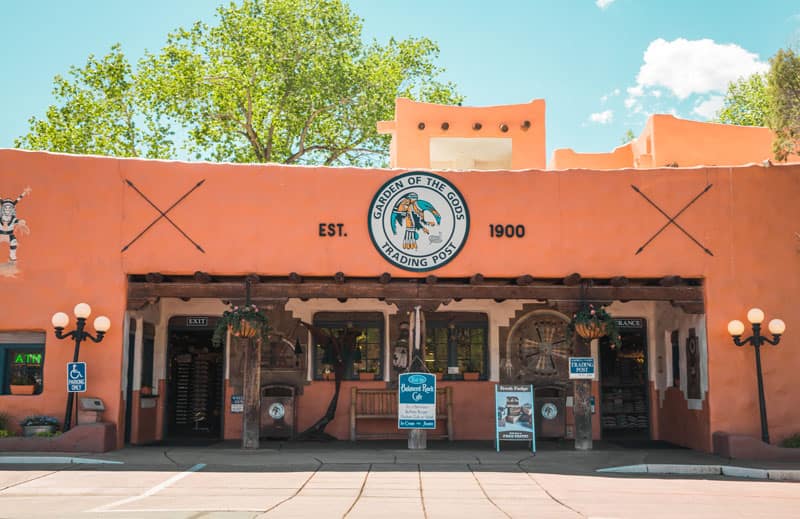 Pop into the Garden of the Gods Trading Post
When you've had your fill circle back around and lock your bike up for a visit to the Garden of the Gods Trading Post. This historic shopping site has been a part of Manitou Springs for almost 100 years. It has thousands and thousands of items in store including Indigenous art, Colorado-themed items, jewelry, toys, clothing and fudge. Oh yes, delicious fudge. You'll be thankful that your bike has a basket by the time you leave the trading post. 
Great places to take a break, grab a bite, or extend your day.
An Evening in Manitou Springs
Finish the day off with a stroll around this quirky mountain town
Double back on Beckers and pick up the Midland Trail where you left it.
Like its sister town OCC, Manitou Springs is full of cool places to shop and eat. There are also several galleries with local art. There's an Olde Time photo shop for hilarious and memorable family shots and several places to stop for candy or ice cream. Park your bike and take yourself on a mineral springs tour. Not only will you get a taste of the healing waters that have drawn thousands of people to the region since the 1800s, you'll get a tour of the town itself as you hunt. Along your mineral springs tour, you'll pass the giant arcade with penny games, Skee-Ball, kiddie rides and more modern video games. 
Head west down Manitou Avenue until you reach the first roundabout. Take the second exit and bike up the hill until you see the castle on your right.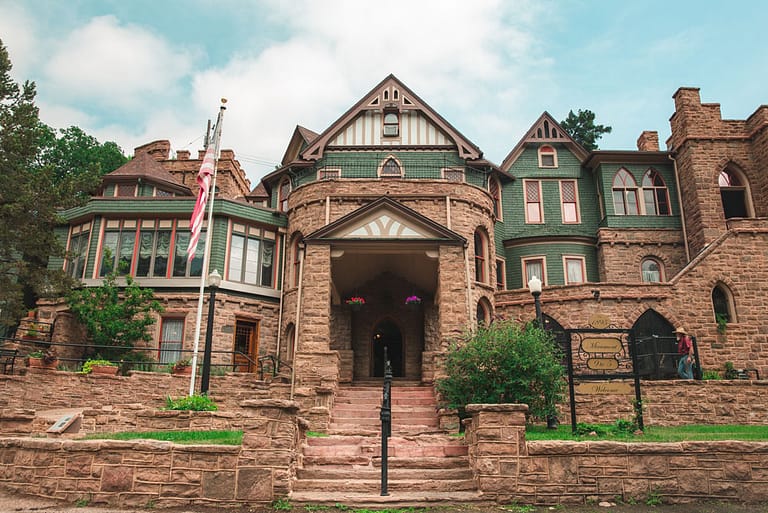 Go Back in Time at Miramont Castle
Bike up the hill towards the Cog Railway and make a right to check out the historic Miramont Castle. The castle offers daily tours to explore its gardens, its many-sided rooms and enough Victorian frippery to make a Bridgerton swoon. (If you happen to be in the area around lunchtime, they have daily teas in the Queen's Parlour.)
Continue up the hill towards the Cog Railway and you will run right into the Iron Springs Chateau.
Catch a Show at the Iron Springs Chateau
The Iron Springs Chateau features authentic melodrama productions that change throughout the year. Iron Springs is more of an evening event, but your bike and scooter have a great headlight for rides after dark. The melodramas are hilarious and include audience engagement. 
Be sure to make reservations ahead of time.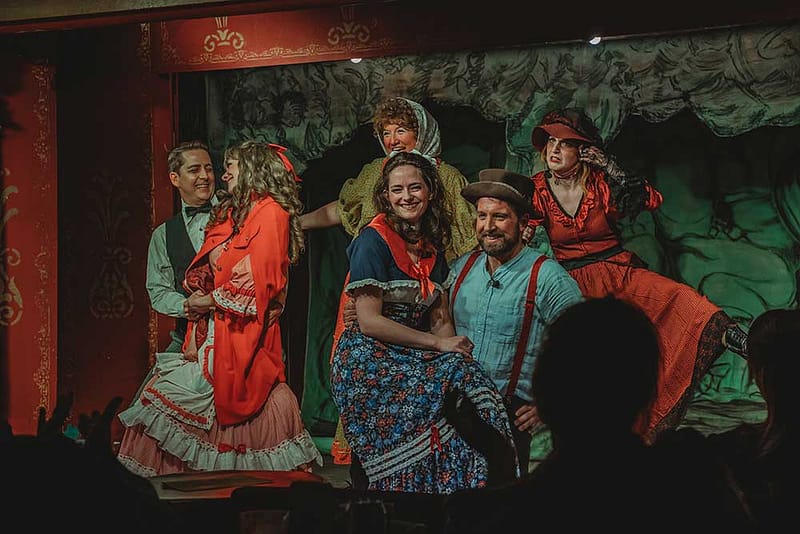 Great places to take a break, grab a bite, or extend your day.
More ways to enjoy your days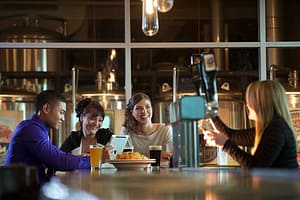 Breweries are kind of a big deal here in Colorado. In this itinerary, we're taking you on a tour of all the local favorites.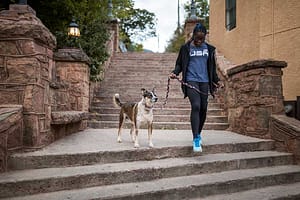 No need to find a pet sitter for your vacation to Colorado Springs, we've got tons of pet-friendly attractions for you both to enjoy!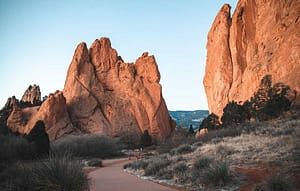 2 days in Colorado Springs! Get a taste for all that's shaking in our neck of the woods, you might just get inspired to come back.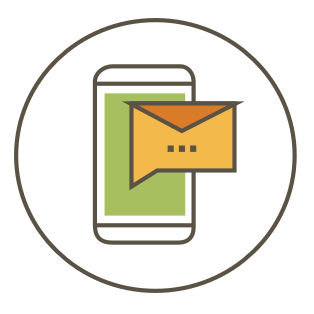 Share this itinerary with others