4 DAYS OF EXPLORING IN THE WINTER
Manitou Springs, the heart of chill
Manitou has a vibe we can't put into words.  You'll just have to come experience it for yourself.
Enjoy one of most awe-inspiring natural attractions in the country.
Royal Gorge, Short for Royally Gorgeous
You've seen our wonderfully tall mountains, now check out our gorges!
You can't miss one of the top parks in the country.
Nestled in at the base of Pikes Peak
Start your chill vacation in the heart of Colorado's coolest vibe: Manitou Springs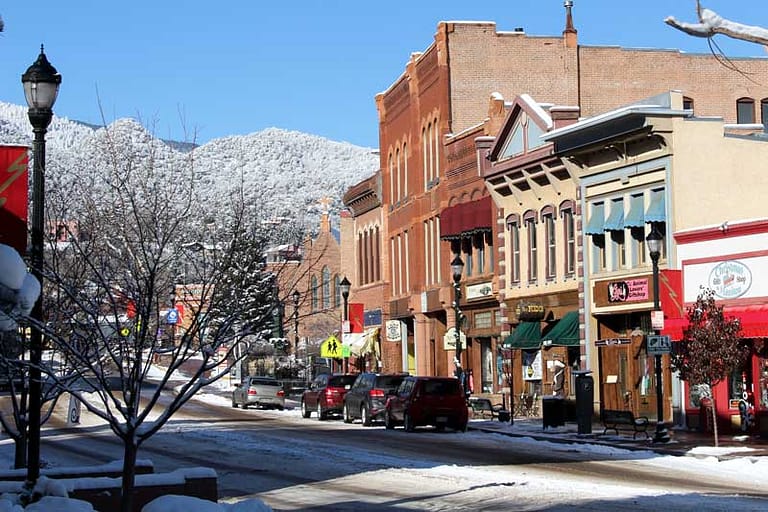 Historic Manitou Springs​
We joke that Manitou functions on a slightly slower time table than the rest of the region — we call it Manitou Time.  Where Colorado Springs may all seem like it's in a great big hurry, the attitude is generally less rushed in this lovely little town. That doesn't mean the citizens of this little berg are lazy, far from it!  These folks run up the Manitou Incline before the rest of us have even had our morning coffee, but that just happens to be how they start their day, and there's no urgency, just enjoyment.  Calm friendliness is just as contagious as stress and anxiety, so if you're looking for a place to get away from the grind, Manitou Time may be just what the doctor ordered. 
Garden of the Gods Trading Post
Located on the Southwest edge of the world famous Garden of the Gods, the Trading Post has so many different facets, it literally has something for everyone in your group to enjoy. You'll find everything from coffee mugs and t-shirts, to handmade jewelry and locally made art — and a huge selection of it all. There's also a ton of cool local history, and cafe and coffee shop complete with a beautiful patio to soak up some Colorado sunshine. This place is a local hidden gem with so much to offer!
Enjoy adventure with altitude (and sweets)
Drive Pikes Peak - America's Mountain
Even in the winter, you can enjoy the panorama of Colorado's gorgeous countryside from 14,115 feet. The highway itself is its own special treat, with frequent spots to pull over and enjoy a hike (wear a hat, the wind can be pretty cold). Many animals will still be visible this time of year, which makes for great photo opportunities. At the summit, you can finally binge on delicious donuts while surveying breathtaking views.
With all the excitement of Royal Gorge, we think it's time to chill out with a relaxing afternoon of shopping and sightseeing. Old Colorado City has tons of cool, locally owned shops selling unique gifts and great eats. Take a trip through Magic Town while you're there and enjoy the finely detailed miniatures of artist Michael Garmin. You can pick up a sculpture of your own in the gift shop.
Royal Gorge, Short for Royally Gorgeous
Unparalleled views and fun activities await!
Royal Gorge Bridge & Park
The Royal Gorge is an epic suspension bridge with dizzying views of a thousand-foot drop into the Arkansas River. Bring your big memory card, because you'll want to capture every bit of the scenery with your camera. When the weather is reasonable, there are multiple exhilarating rides open, too! The Sky Coaster will fly you out over the canyon in a breathtaking free-fall. Or, keep it tame and drift in style in the much calmer gondolas. Kids will love the Tommy Knocker Playland, so there's something for every age and stage of adventurer.
A day in and near Garden of the Gods
Explore via horse and later, spend the afternoon in a cave
The friendly horses of Academy Riding Stables never let a little chilly weather make them sad. They add an extra layer of adorable fluff to their coats! That means they're ready to ride all year long, winter included (safe conditions, of course). Bundle up in warm gear and set off on an unforgettable tour led by some of the best guides around. It's one of the most enjoyable ways to explore the much-loved Garden of the Gods.
Cave of the Winds Mountain Park
For indoor fun that's still technically outdoors, take a tour of Cave of the Winds. Learn the history of this geologic marvel on a half-mile regular tour or the more adventurous lantern tour (limited days for lantern tours). When you're done with caverns, you can take a breathtaking plunge into Williams Canyon on the Terror-Dactyl. You'll fly at a whopping 100 miles per hour and the free fall will keep your heart pumping long after you've been hauled back to safety.
Share this itinerary with others
More ways to enjoy your days
This itinerary will take you all of our historic districts and the best museums in our region. You'll get a taste for everything from architecture to mining, with more than our fair share of 'characters' along the way.
A 5-day Colorado Springs activity itinerary for new visitors and old friends that will help you shake off the winter blues and enjoy spring in all its glory.
We're not trying to brag (yes we are), but this city is the absolute best place to be when Mother Nature dons her spring apparel — hello, we've even got "spring" in our name!