Start Big -- the Biggest!​
Usually we save Pikes Peak for a third or fourth day, but if you're looking for epic outdoors, nothing is grander!
History in Them Thar Hills
You never know what you'll find in the hills of Colorado.  From amazing ancient history to an amazing soaring adventure.
Just a little Southwest of Colorado Springs lies Canon City, also known as River Country, where the spectacular white water cuts a gorge you have to see to believe.
Start the day at one of the top zoos in the nation, and the only mountain zoo.  Then enjoy a leisurely horseback ride through the red sandstone or a train ride through quaking aspen.
Both of today's attractions are owned by the legendary Forbes Five-Star resort, The Broadmoor, so you know they're in a class all their own!
Usually we save Pikes Peak for a third or fourth day, but if you're looking for epic outdoors, nothing is grander!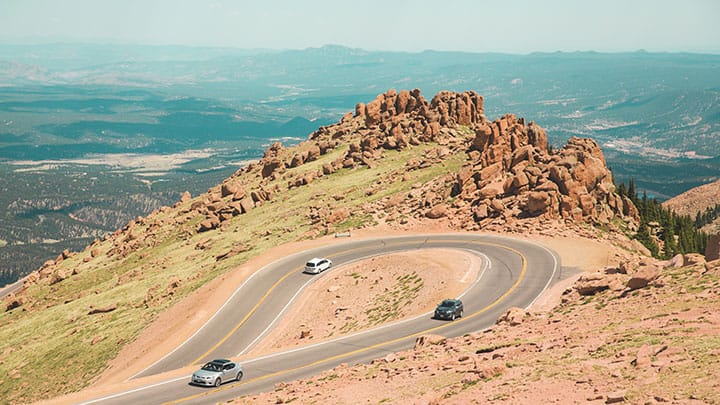 Option 1. Pikes Peak -- America's Mountain
There are many different ways to experience Pikes Peak, but the most popular is by far is driving yourself up the Pikes Peak Highway.  There are a couple of great things about driving yourself.  You get to take the mountain at your own pace.  If you want to stop at every pull out to snap photos, cruise straight to the top, that's up to you. 
Option 2. Pikes Peak Tour by Gray Line
The trip up Pikes Peak is a must when you're traveling to the Pikes Peak region, but the best way for you to go is very personal.  For some, the drive can be a little scary, so you may be spending all your time with your eyes glued to the road and missing all the glorious scenery slipping by.  Let the experts at Pikes Peak Tour by Gray Line handle all the curvy mountain roads, while you kick back and watch for wildlife.
The Gray Line tour starts in downtown Colorado Springs, and their super-friendly guides will share history and anecdotes with you all along the way.  What's more, they've taken the windows out of their shuttles for 2020 to increase the ventilation and safety, which has made the tour even more amazing than ever before.  What's a trip up into the mountain air, if you can't smell the mountain air!?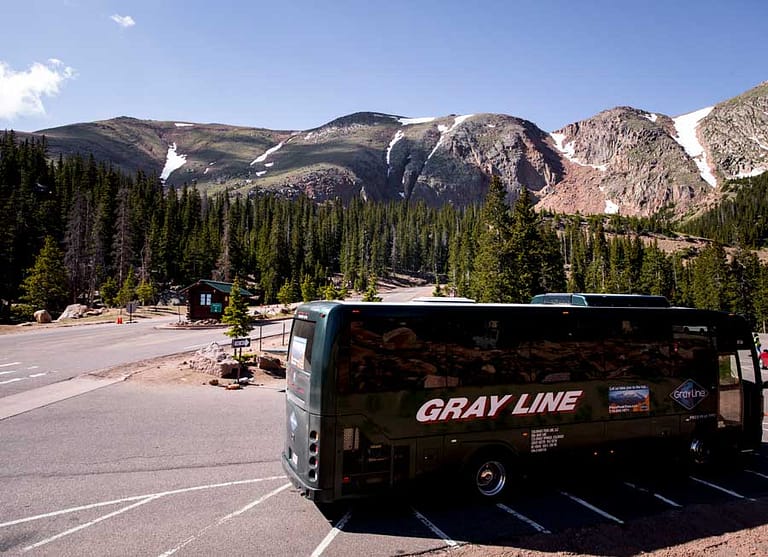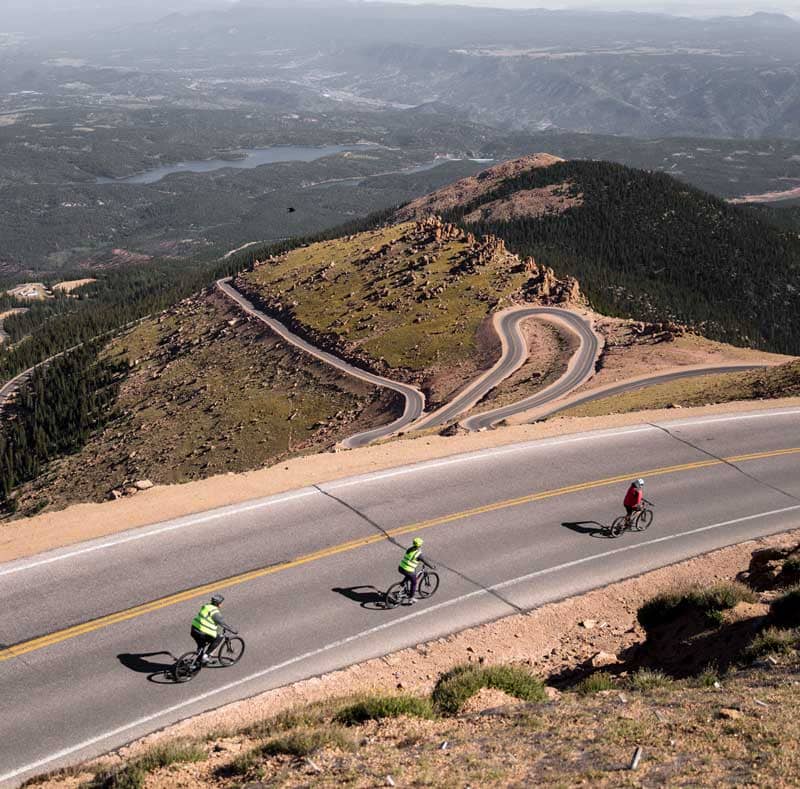 Option 3. Challenge Unlimited - Pikes Peak by Bike
We've established that there are many different ways to enjoy Pikes Peak, and frankly, you owe it to yourself to experience the Peak in some way while you're here.  This option is best of you really want to see what it feels like to FLY down the mountain. Challenge Unlimited will shuttle you to the summit, along the way you can enjoy a relaxing ride and casually take in the sites.  Up top, they'll give you a chance to enjoy the view for a bit, before they outfit you with some extra layers and hand you a mountain bike.  They bring all the gear including helmets, water and snacks.  You just have to hop on the bike and sail!
The experienced guides will stop periodically in case you need to refill your water, or toss a jacket in the van.  They'll let you know what to expect from the next section of highway, and check to make sure you're comfortable with your bike.  After you've enjoyed enough of that cool mountain air through your hair, it'll be time to stop for lunch and recap the awesome experience with your fellow riders.  After all, it'll be a trip none of you will soon forget!
Great places to take a break, grab a bite, or extend your day.
North Pole - Santa's Workshop
This whimsical Christmas-themed amusement park is ideal for the littles in your crew, but I dare any of the "grownups" not to giggle with delight as they take in the sites of this park.  Created by a Disney park designer in the 1950's based on a little girl's description of a dream she had about Santa's Village, the park emits charm and childish delight around every corner.
The park sits just outside the entrance to Pikes Peak, so a stop here is truly a must of you have kiddos in the car.  They enjoy a train ride, a trip down the peppermint slide, zip lining with the reindeer or even get a chance to meet the big guy himself.  You can relive this childhood joy as you experience the park through their eyes (and you're welcome on all those rides too!) Be sure you stick to the four main food groups while you're there: candy, candy canes, candy corns and syrup.  If elf-fare is not your jam, there's also burgers and hotdogs.  Or you can bring in a picnic if you prefer.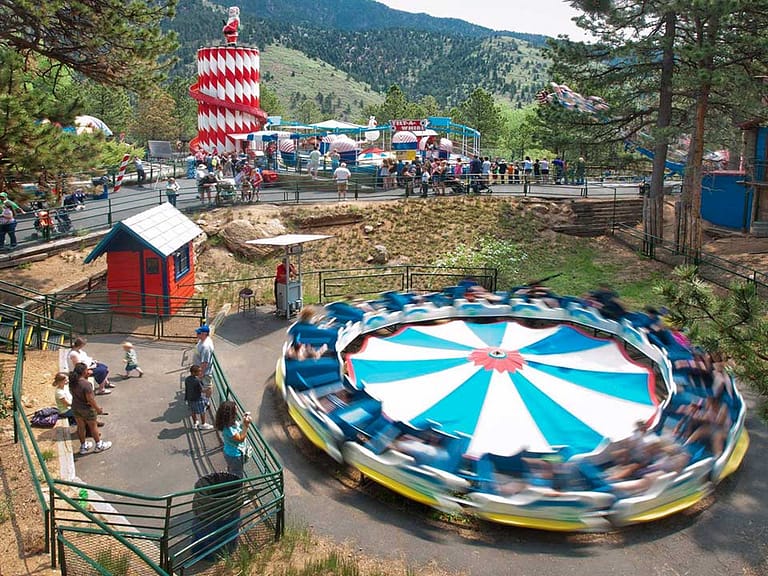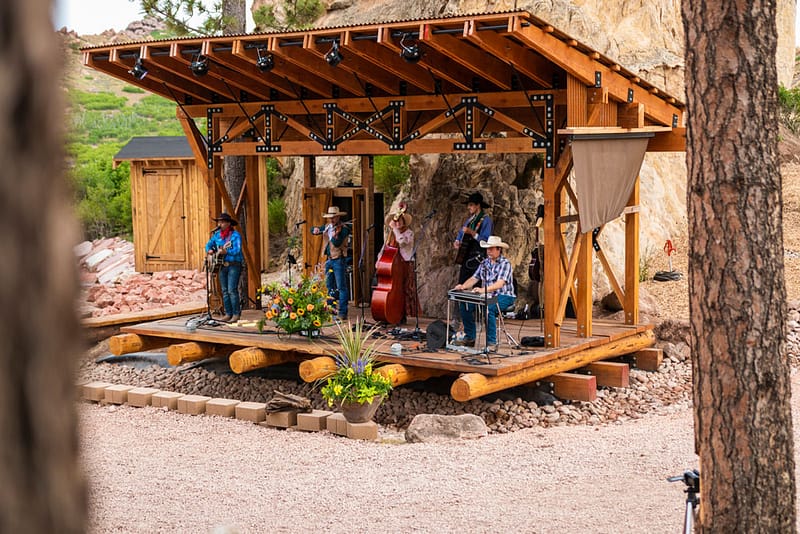 Flying W Ranch Chuckwagon
Colorado Springs has become a big world-renowned city, but we were once a small ranching community where "dress jeans" and life on the range were commonplace.  That heritage is celebrated with cattle drives through the center of town, street festivals that harken back to our days as a territory, and our annual Pikes Peak or Bust rodeo just to name a few.  Flying W Ranch is our favorite way to celebrate that legacy.
The Flying W Ranch was started by Russ and Marian Wolfe in 1953 as a way to share their western heritage with visitors. Folks were able to visit the ranch, meet the animals and interact with the wranglers. Around supper time, Marian would serve a traditional chuckwagon feast, complete with smoked brisket, baked beans, chunky applesauce, baked potato and biscuits.  Followed by "boot sock coffee" and old-fashioned spice cake and western stage show performed by the Flying W Wranglers. You can experience the beauty of Colorado Springs anywhere, but Flying W Ranch is the best place to experience our spirit
History in Them Thar Hills
Our area has a rich past, and there are many hikes and places to enjoy our history as well. Even our educational opportunities tend to make their way outdoors!
There aren't many places in the world that will let you get this hands on with 700 year old history.  Originally moved to the hills above Manitou Springs around the turn of the last century, the Manitou Cliff Dwellings are an awesome example of Ancient Puebloan architecture.  However, because they were moved back in the days before we knew better, the dwellings are not an archeologically protected site, which means you can get close and personal without any rangers yelling at you!
Use all of your senses and your imagination, to transport yourself back in time as you feel the cool stones and imagine the cedar smoke that would have emanated from the kivas.  You can try your hand at grinding corn and climb traditional pueblo ladders.  Then learn more about the people that would have lived in these dwellings and see examples of their crafts in the two onsite museums.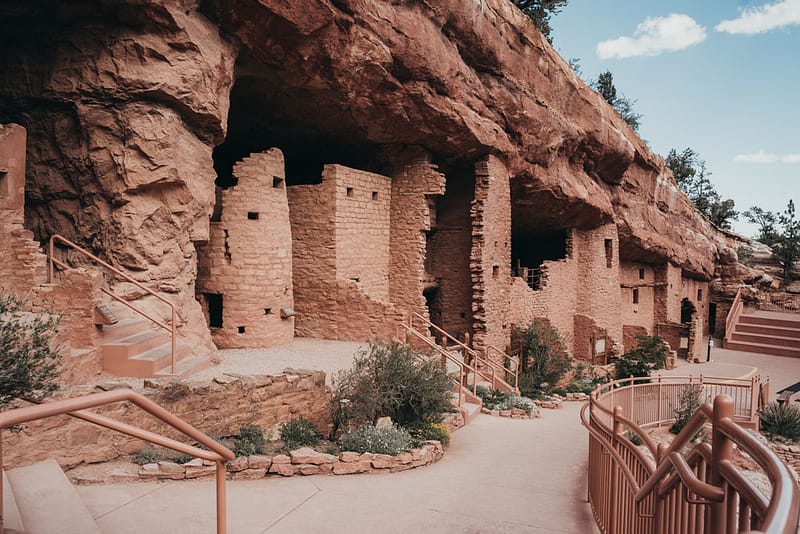 Balanced Rock Cafe
Burgers, cold beer and delicious wraps can be found at the Balanced Rock Café at the Garden of the Gods Trading Post.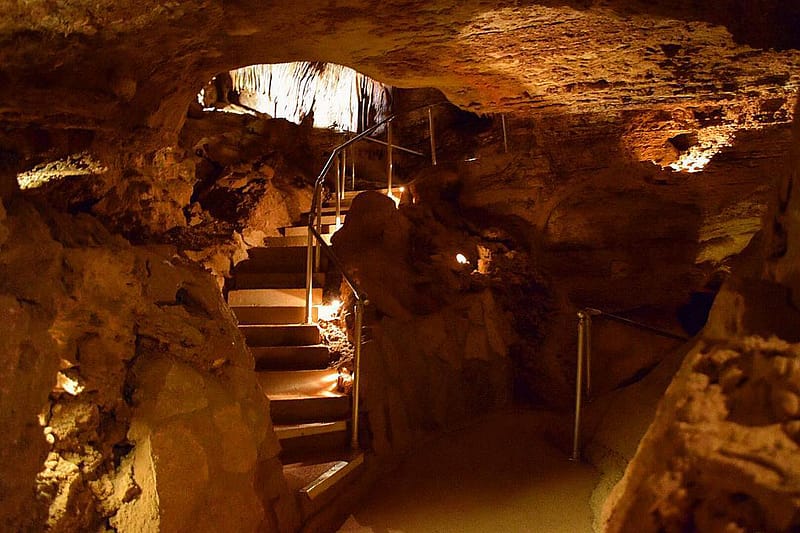 Cave of the Winds Mountain Park
There's so much to do at Cave of the Winds Mountain Park, you might want to plan for some extra time here.  The cave itself was originally discovered way back in 1881.  And although the cave would really constitute an indoor attraction, they have as much if not more going on above ground.  In fact, there's so much happening on the surface, we recommend you slather on the sun screen and get yourself one of their package passes.  From simple climbing walls and ropes courses, to rides called things like the Terror-dactyl and Bat-a-pult, there's plenty to keep you playing all day long.
Of course we highly recommend taking a tour underground too.  True to its name, the cave is very well ventilated and tours are limited in size, following all current health precautions.  You can't visit without winding over a mile into the hillside.  Trust me.
Adventures Out West has been our premier outdoor outfitter since the 70's, and it's been owned by one family that whole time!  Of course the company has passed to a new generation, which has kept them growing and evolving.  They own all the adventures and they're with you every step of the way, which means the only hard part about playing with Adventures Out West, is figuring out which of their awesome activities are best for you.  Fortunately, they have a great team that can help you with that too!
You can choose from hot air balloons, Jeep tours through any number of our amazing natural landscapes, Segway tours through Garden of the Gods (pictured), mountain bike tours down Pikes Peak, guide led hikes and last but certainly not least, zip lines through the foothills of Manitou Springs.  There's so much to do with this one attraction alone, you might want to consider an extra day or two here, just so you don't miss out on anything!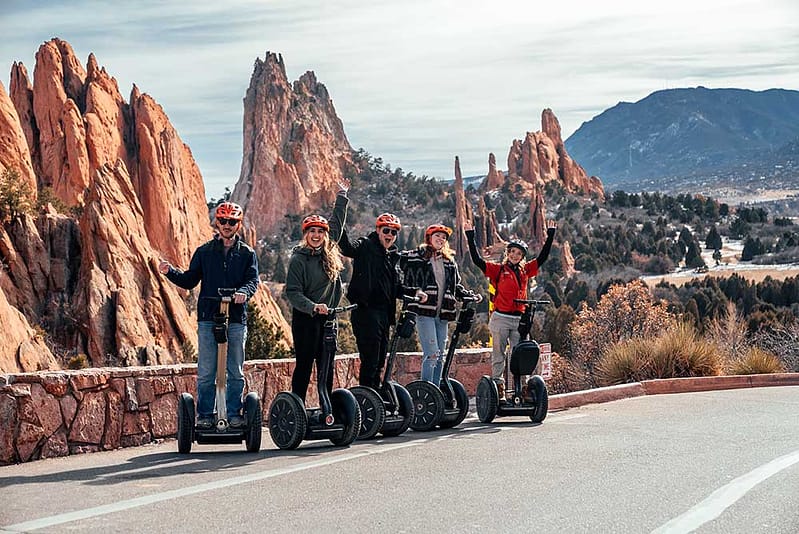 Canon City, the town southwest of Colorado Springs otherwise known as river country, creates the perfect backdrop for some epic scenes starring YOU!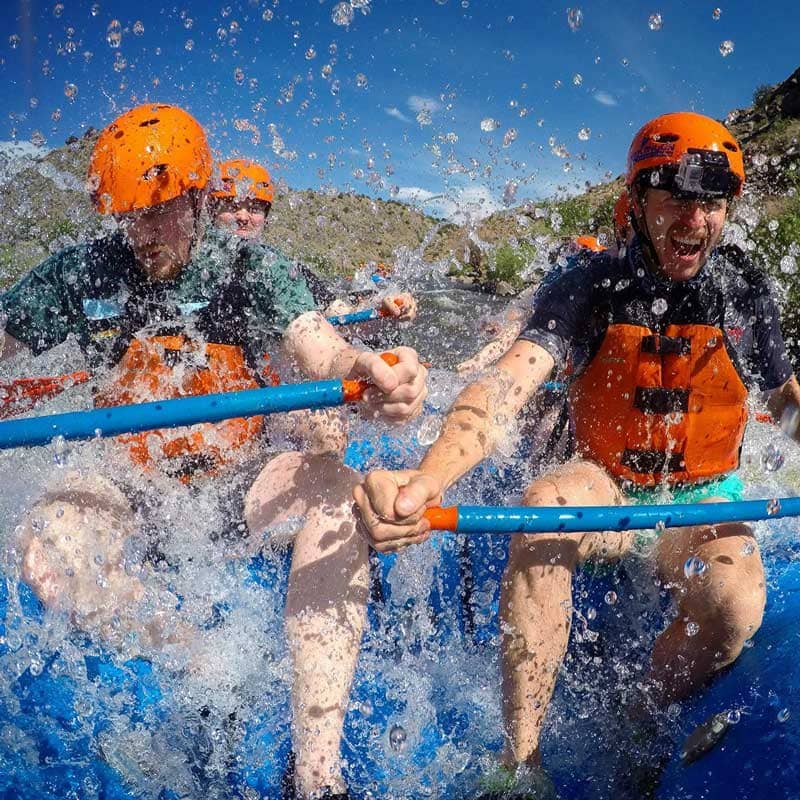 Echo Canyon River Expeditions
If you've been stuck inside too much this year, a day on the Arkansas river may be just what your soul needs right now.  For over 40 years, Echo has been the premier outfitter in river fun.  From gentle family floats perfect for the 4 and over crowd, to level 4 and 5 rapids (depending on water levels) there's no better choice than Echo Canyon.  Their guides have more training and more experience than any other outfitter on the river.
With half-day, full-day and even overnight excursions, you can raft until your heart's content.  And if that's not enough, they also have a killer restaurant, the 8-Mile Bar and Grill, and lodging onsite.  With both luxury glamping tents and "cabins" (cabins that are nicer than my house!) you might just want to make this place home base for a day or two. They like to say "your vibe attracts your tribe" and if this is your vibe, it's likely you'll make a few new friends while you're there.
Royal Gorge Bridge & Park
There are places in Colorado where Mother Nature is seriously just showing off.  The Royal Gorge is at the very top of that list. It's absolutely breathtaking.
Then in the 1920's some crazy guy decided to build a bridge across this magnificent gorge some 955 feet from the canyon floor. This amazing feat held the record as the highest bridge in the world until 2001, now only the highest bridge in the country (thanks a lot China.) Now it's really cool to stand on the countries tallest bridge for its own sake, but that bridge happens to give you the perfect vantage point of the gorge.
There are also a number of other man-made ways to enjoy the gorge. There's a zip line across the gorge, a sky coaster that swings you out over the edge, a gondola that will take you across and a via ferrata you can climb along the canyon walls. Royal Gorge Bridge and Park has so much going on, they say they'll give your soul some elbow room.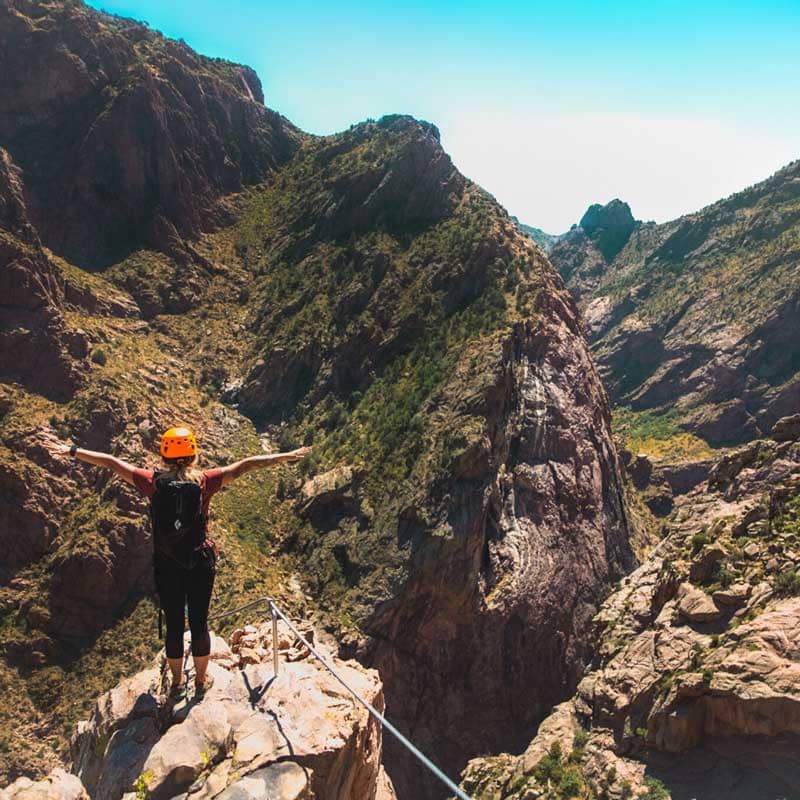 8 Mile Bar & Grill
8 Mile Bar and Grill is a great place to grab a burger or salad, a Colorado crafted brew, and share your river stories with the other patrons. The huge garage doors will give you all the clean rocky mountain air with plenty of shade. The food is great, but that view of the Sangre de Cristo mountains is better.
Dinner with a View
There's no reason not to dine gorge-side when you're in river country. Royal Gorge Bridge has two great restaurants, the Cafe 1230 is near the front entrance and offers pizza, burgers and salads. On the farside of the gorge, enjoy some of the best barbeque in the west at the Bridge View BBQ
All of that great wide open space we enjoy in Colorado Springs, lends itself to the perfect habitat for lots of local wildlife.
Cheyenne Mountain Zoo is one of the top rated zoos in the country, and once you've visited, you'll wonder how many different categories of "great zoo" they rank in.  Is it for an unusually large number of baby animals? Could be, they are well known for their breeding program.  Is it for the number of endangered species they house? Again, they have a great in-captivity breeding program and conservation is their #1 priority. Is it for the natural habitats they've created for their more than 750 animals?  Is it for the sheer number of species? Is for the amount of money they raise for conservation funds annually? Or could it simply be for spectacular views from one of the only mountain zoos in the world?  The answer to all of those questions is YES!  Cheyenne Mountain Zoo is the complete package!
The Zoo also has a number of great places to eat or grab snacks.  Be sure you get tickets for the skyride so you can really soak in that great view.  And don't miss the antique carousel.  With lots of opportunities for hands-on experiences, the whole family will enjoy this legacy attraction!
Pizza with a View
When lunch rolls around, you probably won't be ready to leave the zoo yet. That's okay, they have lots of options. We like the place literally called "Pizza with a View". The pies are great and the restaurant perches on the side of the mountain with a view that goes on forever.
Garden of the Gods is one of the top parks in the nation and must-see when in Colorado Springs. There are many great ways to enjoy the park, but we recommend a guided tour by horseback. It will help you get a little deeper into the park and the guides will point out well known rock formations along the way.
After all, this is how both the first settlers to our region and the native tribes would have visited the park ages ago. The Garden has been a sacred space to the local tribes for hundreds and hundreds of years. Give yourself the chance to connect with this place and see what makes it so special. There's no better way to unplug than enjoying  towering red sandstone rock formations framed by the "bluest ever sky".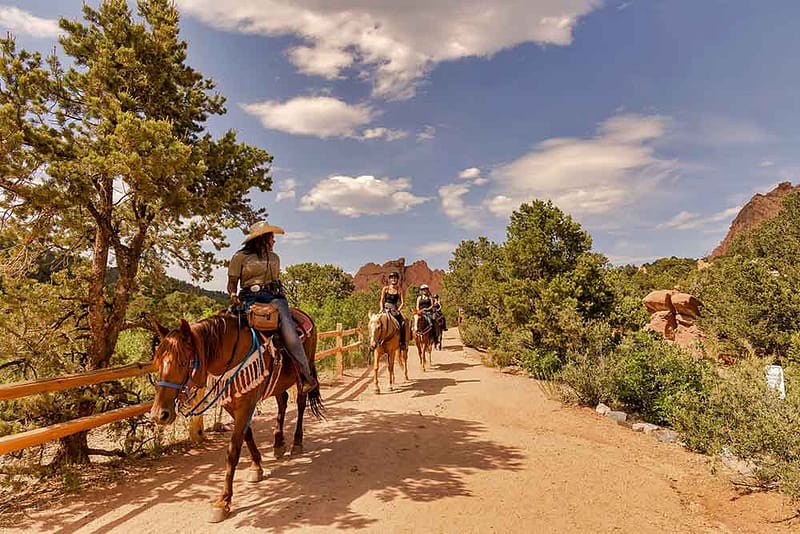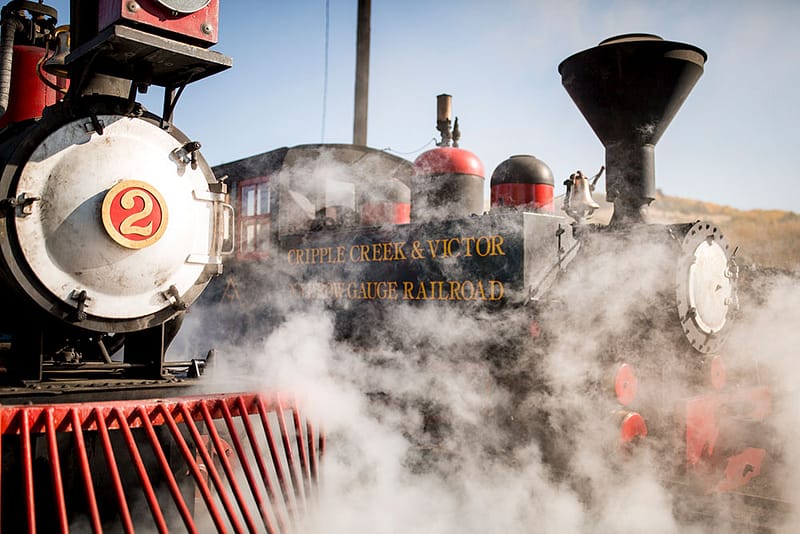 Cripple Creek & Victor Narrow Gauge Railroad
Taking a trip back into the hills of Cripple Creek feels a bit like a trip back in time.  The chug of the steam engine coupled with quaking of the aspen trees will sooth your nerves and spark your imagination.  Listen to the engineer's  anecdotes about the passing mines and countryside, and imagine what those hills looked like in the hay day of the great gold rush.  After all, this is still one of the richest gold claims in the world, and where there's this much gold, there's a slew of interesting characters and stories that follow!
The trains are all open air, and you'll have plenty of elbow room from your neighbors.  Masks and social distancing will be required for the remainder of 2020.  
Today's attractions are both owned and operated by the legendary Broadmoor Hotel, one of only two Forbes Five Star hotels in the state.
The folks at Broadmoor Outfitters make your outdoor fun so easy and worry free, the only hard part will be deciding which of their awesome activities is right for you and your crew.  You can start with their OG offering, the Falconry Experience.  Known as the sport of kinds, the art of falconry dates back hundreds and hundreds of years.  Maybe something modern is more your speed, then check out the Soaring Adventures zip line tours.  They have three different zip line courses ranging from beginner to advanced, all stretch over the picturesque Cheyenne Canyon.
Broadmoor Outfitters also offers a wide range of other outdoor activities like guided rock climbing, mountain biking, hiking, and stand up paddle boarding.  These are all great for folks who want to try their hand at these activities, but need a little guidance with equipment or trails.  They'll customize the activity to suit your fitness and comfort level, making each experience with Broadmoor Outfitters truly unique.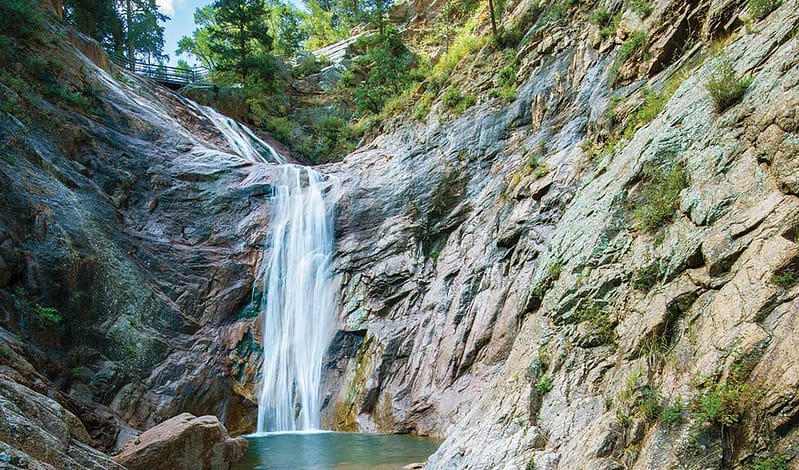 The path leading to the Broadmoor Seven Falls has been called "The Grandest Mile of Scenery" for as long as anyone can remember.  Now we have many grand miles and plenty of scenery in Colorado, but this one has remained the un-refuted champ for over a century.  As you meander through the towering rock faces with names like the Pillars of Hercules, listening to the gentle babble of the runoff from the falls, you will start to have a sense of why it earned that moniker.  However, it's not until you round that final bend in the trail and the falls come into view that you really understand.  The falls start their descent nearly 200 feet above the floor of the canyon, crashing, pooling and crashing again down the end of this box canyon.  Do yourself a favor, pull up a chair at the bottom of the falls and just soak it all in a minute.   Do you remember when we said Mother Nature shows off here?  THIS is what we mean.
More ways to enjoy your days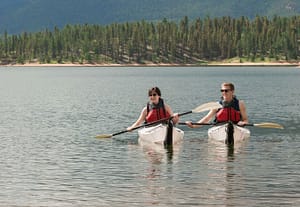 You both lead busy lives, take some time to enjoy each other and remember what it is you're working so hard for.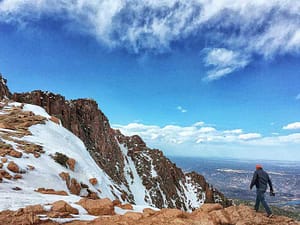 Summer is beautiful in Colorado, but winter can be downright magical. This itinerary takes you to all the best natural landmarks we have to offer in the Pikes Peak Wonders Region!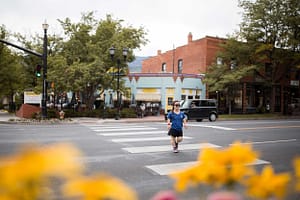 We're not trying to brag (yes we are), but this city is the absolute best place to be when Mother Nature dons her spring apparel — hello, we've even got "spring" in our name!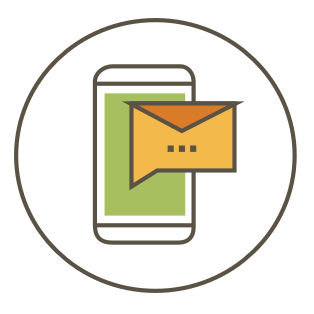 Share this itinerary with others