5 DAYS OF ROCKY MOUNTAIN FUN
Start in the Cheyenne Mountain area
Start your vacation with a mountainside view of the entire city and a walk through the Grandest Mile of Scenery in Colorado. 
Garden of the Gods and Manitou Springs​
Head west for Day 2 and enjoy the world famous Garden of the Gods Park and Manitou Springs.
Pikes Peak and some local history
Today's the day to conquer America's favorite mountain — Pikes Peak, plus a couple of nice chill ways to enjoy the afternoon.
Hidden gems in Manitou Springs
The best way to get a feel for a place to enjoy the local haunts. Check out these awesome hidden gems to dig a little deeper.
Recess in the morning, fun learning in the afternoon
Start with one of AOW's awesome adventures, then slow it down and take in a couple of super cool museums.
The Cheyenne Mountain area
We are headed to the southwest side of the city where exotic and inspiring wonders await!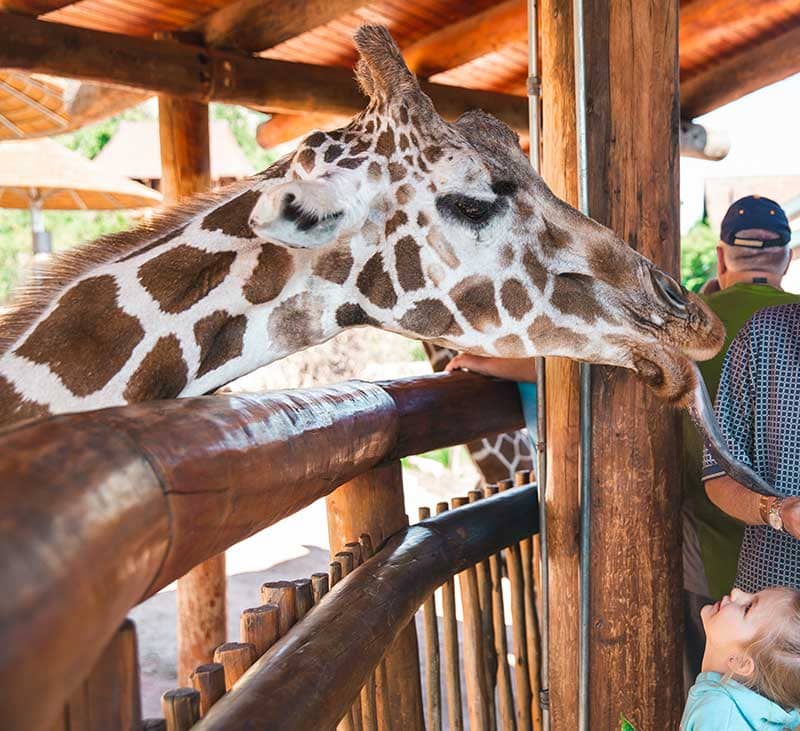 North America's only mountainside zoo is a top spot for everyone who comes to Colorado Springs and one of the first places all the locals like to take visitors. That's why we sent you early — the parking lot fills up fast on warm days (don't fear, there's a shuttle if you need it. All zoos are pretty cool, but Cheyenne Mountain Zoo works extra hard to provide the best habitats for the animals in their care and the most memorable experiences for their visitors. What do they consider memorable? How about feeding an enormous giraffe a lettuce leaf? Or meeting a beautiful peacock? Petting a wallaby? Feeding a budgie? Those are all pretty darn excellent and we're just getting started! The zoo is broken up into different areas of the world, each filled with animals. Informative plaques educate you on the species and its habitats and there are keeper talks all day long to learn even more. Hands-on is also a big theme at the zoo, with lots of places to climb, explore and play. The Big Backyard and the Loft introduce you to all sorts of neat animals, some that you're even allowed to touch, like snakes, lizards or other small creatures. There are also two really fun rides to enjoy. The Sky Ride takes you to the top of the zoo and lets you chill out in a yurt while surveying the city. The old-school carousel lets you zip around on marvelous ponies at a nice snappy pace, too.
Right next to the zoo lies a different kind of mountainside wonder, an epic waterfall cascading through a magnificent box canyon known as the Pillars of Hercules. Seven Falls is one of the most famous waterfalls in Colorado and we suspect it's because the attraction is so accessible to everyone. Rather than hiking for miles or navigating long lines waiting for a parking spot to then … hike for miles, you can reach the base of Seven Falls super easily. That's because the attraction takes visitors up to Seven Falls in a tram. The tram even has a wheelchair lift so everyone who wants to visit can have a chance to check out the falls. Two hiking trails can be found once you get there and both are fairly easy jaunts that let you explore the area and see the falls from different angles. If you're not able to navigate stairs for any reason, don't worry. Head over to the Eagle's Nest, where an elevator will take you up for premium viewing and selfie snaps. The Eagle's Nest is also home to the Rock Hound, so if you're into geology, crystals and rock collecting, you've found your own personal heaven. There are lots of stairs, which means you'll get some exercise and be rocking a killer booty on the descent.
Please note that Seven Falls opens March 18th for the season.
Garden of the Gods & Manitou Springs​
You'll notice we mentioned a variety of ways to enjoy Garden of the Gods, but we saved one of the coolest for your Day Two itinerary: a horseback ride with Academy Riding Stables. Academy provides all the pretty horses your heart could want, each trained to be a valuable, trusted partner for their rider. Led by friendly, knowledgeable guides, you and your fellow cowboys-for-the-day will get to see the Garden of the Gods on horseback, which is guaranteed to be one of the best Colorado memories you'll ever make. Academy Riding Stables is careful to pair you up with a horse that meets your ability, so even true beginners can feel comfortable riding for the first time. While you're roaming, you'll get a chance to learn about the flora and fauna of the Garden, check out the formations and see some not-so-traveled paths. Being on horseback also lets you meet more of the local wildlife, since you're a bit incognito on your horse. 
Enjoy one of the best patios in town
Burgers, cold beer and delicious wraps can be found at the Balanced Rock Café at the Garden of the Gods Trading Post.
Garden of the Gods Trading Post
Post-lunch, it's time to shop and lucky for you, the Garden of the Gods Trading Post just happens to be one of the best places for Colorado merch and beautiful art in the entire state. Yes, the state. The Trading Post has greeted visitors to the Garden for decades, growing from its humble roots as a small store to the 25,000 square foot shoppers paradise it is today. They've packed every bit of that footage with 90,000 different items ranging from fine art, jewelry and pottery to I Love Colorado t-shirts, silly toys and collectible souvenirs. The art collection we just mentioned? It's curated by collectors with a discerning eye for talent. We'd be remiss if we didn't also recommend the fresh-made fudge. It's perfect for late-night cravings. 
Head just a tiny bit further west to Historic Manitou Springs.  This quirky little town is home to eight healing mineral springs — the cold drinking kind, not the hot soaking kind — which make for an unusual scavenger hunt through town. Each one has a very different flavor because of their individual mineral makeup, and each has a unique fountain created by local artists. Speaking of local artists, Manitou Springs has long been a haven for the artistically inclined as evidenced by so many store fronts, street art and we're pretty sure, more hand-painted cars per capita than any other city in Colorado.  Our favorite and local legend is Charles Rockey.  Now in his late 80's, it's not uncommon to find him around town with and easel and paintbrush, creating another dreamscape of Manitou, replete with fairies and a general aura of magic.  Without any further description of the man himself, we guarantee you'll know him when you see him.  Manitou is also home to an antique penny arcade.  The wooden skeeball and horse races are our favorites.  It's all of these and a little something extra that we can't quite put our finger on that makes Manitou so very special.  It's something you'll just have to experience first hand.
Pikes Peak and some local history
Day 3 launches with a journey up to the one of the most famous mountains in the world
Pikes Peak Tour by Gray Line
There are many ways to scale a mountain, but our favorite is the one where someone else does all the work. The Pikes Peak Tour by Gray Line is the only way to truly relax and enjoy the ride to the top. From the comfort of large, soft seats, you'll be driven up the Pikes Peak Highway in a climate-controlled coach or bus that picks you up in downtown Colorado Springs. Gray Line takes you up the pass, through the gate and then your adventure begins! Giant windows provide sweeping views of the Colorado scenery, including adorable animals, wildflowers and different life zones. The guides are known for their humorous, friendly banter, not to mention their vast knowledge of the Pikes Peak region and the mountain itself. The tour makes several stops that allow you time to stretch your legs, take photos and explore, too; no need to worry that you'll be stuck forever once you board. At the top, you're given ample free time to take in the sights from the summit, visit the gift shop and gorge on the mountain's world-famous hot and fresh donuts, mixed, proofed and fried using a special recipe designed for high altitude. Once you've made your way back to the bus, you'll be driven back to your car in Colorado Springs accompanied by more fun facts from your Gray Line guide. No navigating the switchbacks and tight turns, no worries about your brakes on the way down, just a smooth, easy ride that allows you to truly enjoy the journey.
Colorado has a wild past, in case you haven't noticed. We were part of the Gold Rush era and we were founded by pioneers who came here by horse or by foot to set up homes without any of the modern conveniences that make life so much easier today. At the Wild West Ghost Town Museum, you can see these relics of our Wild West days up-close and personal, including actual structures from actual ghost towns here in Colorado. Tromp along wooden sidewalks of old and peer into the past. The museum has thousands of artifacts on display, cleverly housed in buildings to give visitors a glimpse of how they were used. On top of all that, there's a shooting gallery, an antique nickelodeon and even a gift shop where you can stock up on sundries like jam and candy (yes, it's a necessity).
When you're all done perusing the past, hop right across Highway 24 and pay a visit to Old Colorado City. This charming town is another relic of Colorado's past, but with modern conveniences like first-rate shopping at locally owned boutiques, lots of historic architecture and a thriving group of local artists whose work can be found in several galleries. Among the cool old architecture and great boutiques are some of our town's best local restaurants.  Winners of many local "Best Of" votes are the best pizza, the best barbeque, the best Greek, the best breakfast, the best bloody mary . . . you get the picture.  Go hungry.  There are also great places to stop for locally made chocolates, ice cream, or a great cup of joe.
Hidden gems in Manitou Springs
Notable attractions that don't always get the love they deserve
Manitou Springs Cliff Dwellings​
Opening in the early 1900s, the Manitou Cliff Dwellings have provided visitors with a link to the history and culture of the indigenous peoples who lived in the southwest corner of present-day Colorado. The Cliff Dwellings are more than 700 years old, created from Anasazi ruins from the southwest corner of Colorado in McElmo Canyon. Shipped by train and carefully reconstructed to resemble the buildings of old, ancient history awaits with a very cool feature: You can explore them! When the dwellings were restored over 100 years ago, the preservation team used modern concrete mortar to secure them. The results are the structures you'll find today and they are so sturdy and well-maintained that all visitors can walk through them without a worry. Once you've seen every nook and cranny of the dwellings, you can move on to the museum, where real artifacts (these ones can't be touched) from the past are on display. Learn about the pottery, weapons, tools and other facets of the native peoples through interactive exhibits and finish up in the gift shop, where you'll find an assortment of Native-made art and jewelry, plus more resources for continuing to learn once you've left.
A castle in the Wild West is definitely an odd sight to see — anywhere but Manitou Springs. In this town, it just seems to fit! This sweeping ode to architecture features nine different styles, geometric awesomeness like a 16-sided room, beautiful gardens, room after room of antique furniture and gorgeous Victorian décor. Your tour is self-guided, so you can take your time wandering and checking out what really interests you. A visit to the Queen's Parlour Tea Room for a light snack is certainly in order, if only to gawk at the lace tablecloths, delicate china and other Victorian touches that will certainly make you feel like royalty. The tea is delightful and the treats will hit the spot without spoiling your appetite for dinner. 
Recess in the morning, fun learning in the afternoon
Lots of adventure, with a couple options to choose from
It's difficult to choose a single option when it comes to Adventures Out West. This local outfitter offers hot air balloon rides, Segway tours, zipline tours, Jeep tours, guided hikes and even a Jeep n' raft combo. But we have begrudgingly selected our two more favorite favorite things: ziplining and Jeeping. We'll start with ziplining, which sends you all over the foothills of Manitou Springs, sometimes as high as 650 feet. Adventures Out West is particularly awesome because their ziplines run from cliffsides, not platforms, and you get to enjoy some mini hikes in between. A bit of Tarzan, a bit of Jane, if you will. The guides are fantastic and highly trained and the courses offer water throughout the zip, which we all know is critical in Colorado. Our other choice, a Jeep tour, will get you up in the highlands with a trusted driver who will take you along the Short Line Railroad. Adventures Out West prides itself on the safest guides around, as well as the most entertaining. That means you can sit back, laugh and enjoy the ride and the pristine Colorado countryside all at the same time. The tours last about four hours, freeing you up for more activities.
Space Foundation Discovery Center
Otherworldly cake should definitely be followed by a trip to the stars. We're all out of spaceships on our end and we suspect you are, too. The Space Foundation stands ready to save the day in an earthly way. Interactive space exhibits, astronaut artifacts, hands-on science activities and other fascinating activities can give you the universe exploration you crave for a tidy admission that's significantly lower than the millions of dollars it takes to get to space. The Science on a Sphere attraction is super cool, projecting 3-D lessons on all things space.
Western Museum of Mining and Industry
Our final destination is a fitting one as it takes you back to Colorado history. The Western Museum of Mining and Industry tells the tale of the other types of rocks and minerals that are in abundance in Colorado. You'll learn the history of mining on a much larger scale through exhibits and films. You can also trek through their gigantic yard filled with mining machinery. The museum also has that tried and true favorite every kid adores, more gold panning. No one can get enough of the stuff, which is kind of how we ended up with a gold rush, is it not? Sift through the silt in the sluice and maybe find your dream (or the dream of an old 1800s miner) come true.
Share this itinerary with others
More ways to enjoy your days
If your idea of vacation is getting out, trying new things, and making yourself feel truly alive — then this is the itinerary for you!
This itinerary will take you all of our historic districts and the best museums in our region. You'll get a taste for everything from architecture to mining, with more than our fair share of 'characters' along the way.
We're not trying to brag (yes we are), but this city is the absolute best place to be when Mother Nature dons her spring apparel — hello, we've even got "spring" in our name!