3 DIFFERENT FALL DAY OPTIONS
Farmers Market & Window Shopping
Farmer's Market and wandering the tree-lined streets full of locally owned shops and galleries.
All the Colors of Garden of the Gods
We're known for color-changing aspen, but that's just the tip of the iceberg.  Check out Garden of the Gods for the whole pallet.
If the aspen are a must, this is THE best drive for aspen in the state of Colorado!
Explore Colorado Springs like a local
Farmer's Markets and tree-lined streets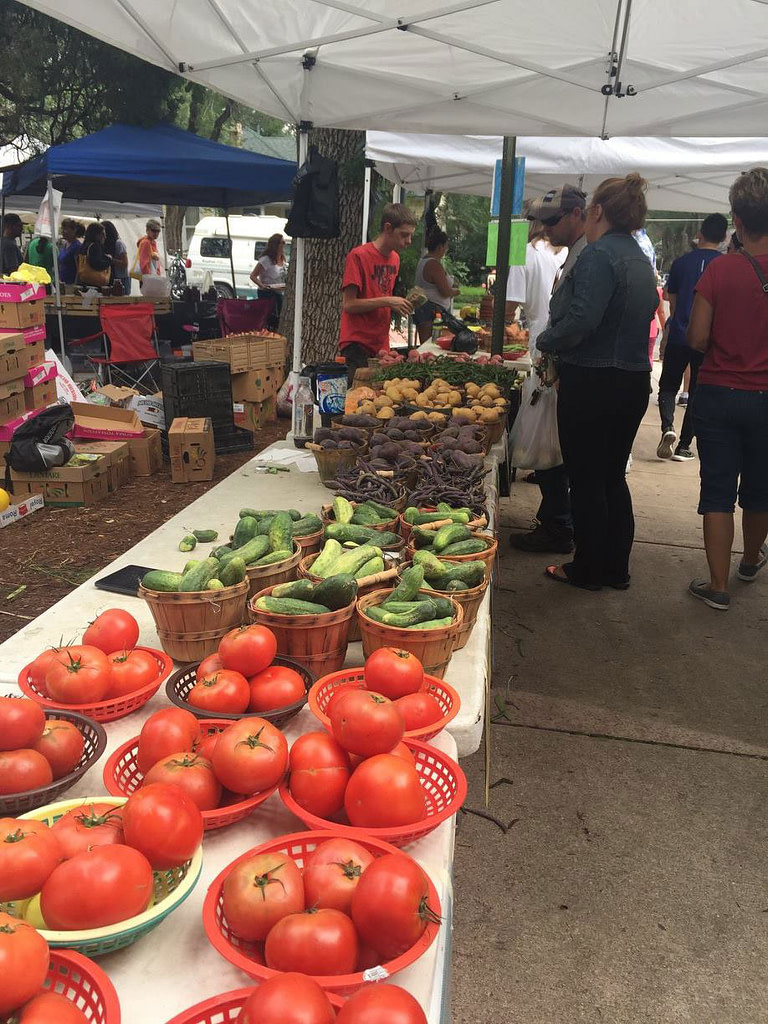 Old Colorado City's Farmers Market
Now in it's 20th year and winner of many local Best of awards, the Farmer's Market in Old Colorado City is a great way to spend a Saturday morning from June to October. Spend some time cruising the stalls in Bancroft Park in search of fresh local produce, gourds for your fall decorating, local honey, kettle corn, gourmet pasta, raw chocolate, or barrel-aged maple syrup.
Shopping not your thing? Kick back on a park bench with a cup of coffee and people watch while listening to the wind stir the leaves overhead.
Locally owned galleries, shops and restaurants line the streets of Old Colorado City, which means that not only will you find unusual, locally crafted items,
it's often the owner behind the counter. Even if you're going for more of a window shopping experience, you're bound to be greeted by a few standing in the doorways, catching a few minutes of that beautiful fall sunshine. Whether you're looking for a local artist's vision of aspen trees, or the perfect chunky scarf, we guarantee you'll enjoy the hunt.
All the Colors of Garden of the Gods​
We're known for color-changing aspen
Fall for Garden of the Gods Trading Post
Garden of the Gods Trading Post is so much more than a gift shop. It's quite possibly the mother of all gift shops when it comes to selection. With 25,000 square feet and over 90,000 items, you won't believe the cool stuff you're going to find: hoodies, scarves, a great fall hat, fall-scented candles, and so much more. Beyond a vast selection of t-shirts and Colorado coffee cups, lies a spectacular art gallery with local artists and Native American crafts. The really amazing part of the shop, resonates in the original sections of the building and the historic museum documenting it's 90+ years. It's difficult to put into words, but sit a spell on the patio of their Balanced Rock Cafe and just breathe it in. You'll come away with a grander sense of aaaahh if not awe.
Take a spin through the Garden
Be sure to grab a free map of the Garden of the Gods while you're at the Trading Post. There are many ways to enjoy the Garden of the Gods, but seeing it should definitely be a must during the fall. The Gambel's Oak, Cottonwood, Mountain Mahogany, Sumac and even many of the grasses will paint the Garden in a vast array of yellows, oranges and reds. Enjoy the colors by foot on a number of hiking trails from easy to moderate, or kick back in the comfort of your car. For the truly daring, book a ride at Academy Riding Stables enjoy by horseback!
Stroll the streets of Manitou Springs
They say your vibe attracts your tribe, and Manitou Springs definitely has a vibe all it's own. Tucked in at the base of Pikes Peak and surrounded by foothills, Manitou is awash in fall colors this time of year. Shop for fall trinkets, hunt down all 8 mineral springs, roll a few skeeballs or find one of their great patios for a well-earned, locally-crafted beer. Things move a little differently here, so you're always right on time.
THE best drive for aspen in the state of Colorado!
Golden Aspens in Cripple Creek
The drive from Colorado Springs to Cripple Creek is easily one of the prettiest in Colorado. There are a lot of beautiful color changing trees in Colorado, but the Aspens steal the show, and the highway to Cripple Creek is lined with them. Stop at the Heritage Center perched high over this old mining town and delve into some of the area's history. The museum is always free and has one of the best views in town.
Golden Aspens in Cripple Creek
Nothing could be more Colorado than a ride on a narrow gauge railroad amongst the fall Aspen. This is an iconic way to see the leaves and might leave you speechless, but your Instagram feed is going to be AWE-mazing!
Share this itinerary with others
More ways to enjoy your days
This itinerary will take you all of our historic districts and the best museums in our region. You'll get a taste for everything from architecture to mining, with more than our fair share of 'characters' along the way.
A 5-day Colorado Springs activity itinerary for new visitors and old friends that will help you shake off the winter blues and enjoy spring in all its glory.
We're not trying to brag (yes we are), but this city is the absolute best place to be when Mother Nature dons her spring apparel — hello, we've even got "spring" in our name!