Pikes Peak 3 Ways
Do you think Colorado is only for the most extreme outdoor enthusiasts? While there is ample terrain to sate the thirstiest of adrenaline seekers, there's also a place for folks who prefer a tamer experience. The Pikes Peak region is for every visitor, whether you're on the lookout for an immersive luxury adventure or longing to sleep under the stars. Get inspired by these unique itineraries, customized to enhance your experience, whether it's served up on a silver platter or a paper plate.
Posh Pikes Peak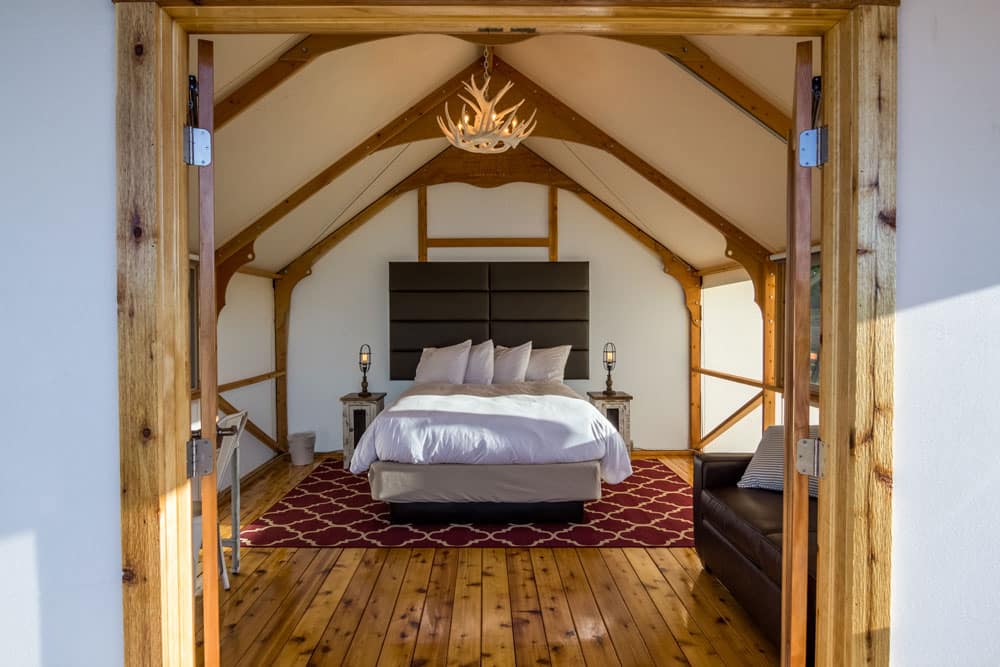 You can't get more glamorous with your outdoor experience than glamping. Glam is literally in the name. You'll get all the joy of camping in the great outdoors without sacrificing the amenities that make the indoors appealing. Echo Canyon's luxury tents have real beds and WiFi, not to mention electrical outlets, heated floors and a personal swamp cooler. The walls are still the trusty canvas or traditional tents, and you won't find a television, but there's no mistaking these accommodations for rustic. Echo Canyon's campground is a great central hub for exploring Southern Colorado, including the nearby Royal Gorge. Echo Canyon also offers white water rafting for adventurers who like a little adrenaline with the finer things in life. Your glampsite is also under an hour from Colorado Springs along some very scenic roads that pass through Florence (antiques) and Penrose (fresh fruits and veggies at local farms).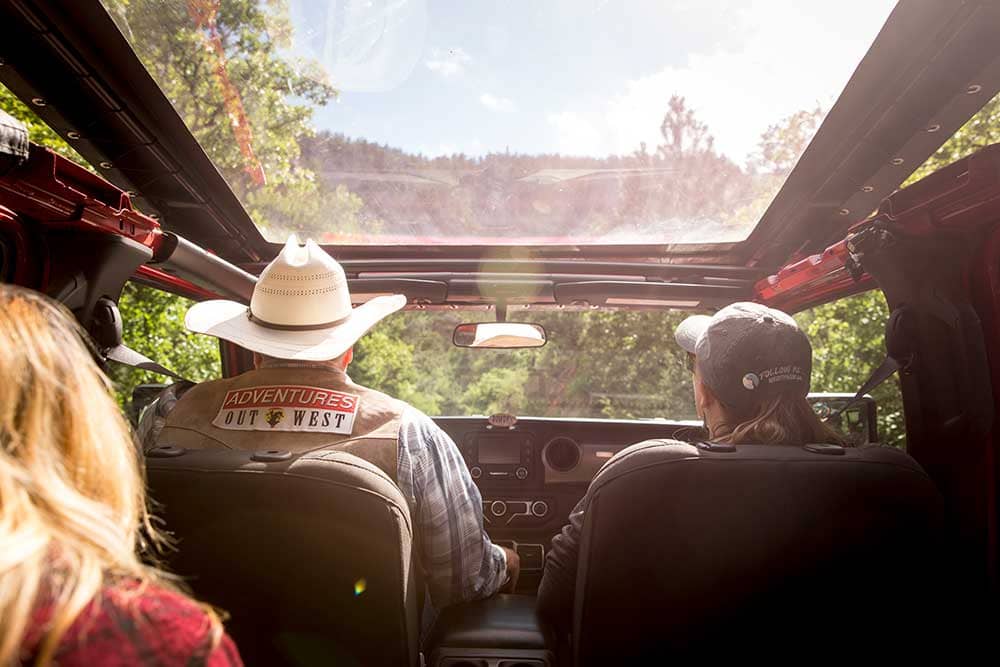 In Colorado Springs, you can team up with Adventures Out West for a Jeep excursion in some of the top destinations in the Pikes Peak region. Your Jeep tour will be conducted by AOW's safe and knowledgeable drivers while you enjoy the views from the customized, open-air vehicle. Adventures Out West has several tours that range from easy drives in Garden of the Gods to more challenging terrain in the foothills and beyond. You can even pair a tour with the Echo Canyon white water rafting excursion and take the back way to the Arkansas. We highly recommend the Pikes Peak Highway drive. Those tight turns and absent guard rails make it hard for the driver to enjoy the scenery. With AOW at the wheel, you can look (or look away in the case of the drop-off) without a care.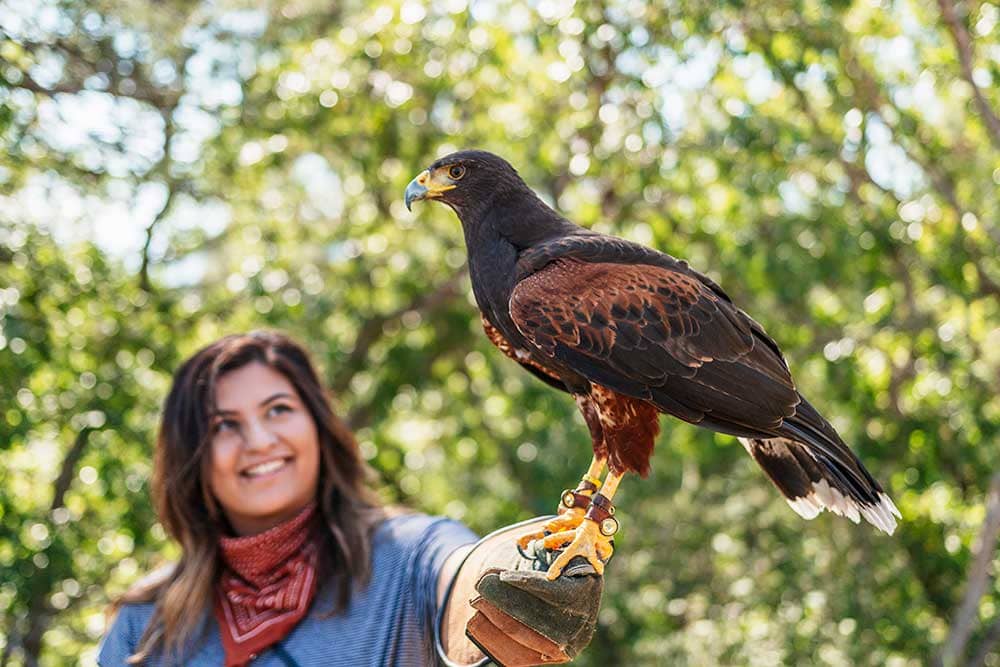 You can also check out the Broadmoor Outfitters for even more upscale offerings. For example, there's an option to try your hand (quite literally) at the sport of falconry. There are two phases to the experience, with the final phase leading to the chance to release and call back a bird of prey. The outfitter also has activities like scavenger hunts, tomahawk throwing, hikes and biking trips. You don't have to be a guest to try any of the offerings (which is great, since you're glamping).
For dinner, go upscale in Manitou Springs at the Briarhurst Manor. The location is a gorgeous historic estate located past Old Colorado City as you drive to Manitou. Their expansive wine list will give you excellent options for sipping on your preferred vino while the menu entices you with delectable options like elk tenderloin with grilled shrimp and butter basted king salmon. Feel free to walk it off in Manitou or Old Colorado City before heading home to your pillow top mattress and toasty campfire.
Ruggedly Rockies
If you prefer the more rugged side of the Rockies, we've got an excellent set of recommendations for you as well. Let's start with some options for accommodations. If you want a quintessential outdoor experience, you can camp out old school in a tent in several of the state and national parks in the Pikes Peak region. If you'd like to be close to Colorado Springs, you can check out Thunder Ridge above the Rampart Reservation Area, Meadow Ridge (also along the reservoir) or the privately owned Golden Eagle Campground. Most of these sites also offer RV camping onsite or at other sites nearby, if you road-tripped your way to Colorado. We know not everyone digs being close to the city, so you can also venture out west and camp out in Mueller State Park, the Crags near Divide, Eleven Mile Canyon or Eleven Mile State Park. Check out individual campground pages to learn about amenities like camp toilets or water stations. It's safe to say that any campsite will provide you with views, hiking trails and lots of memories.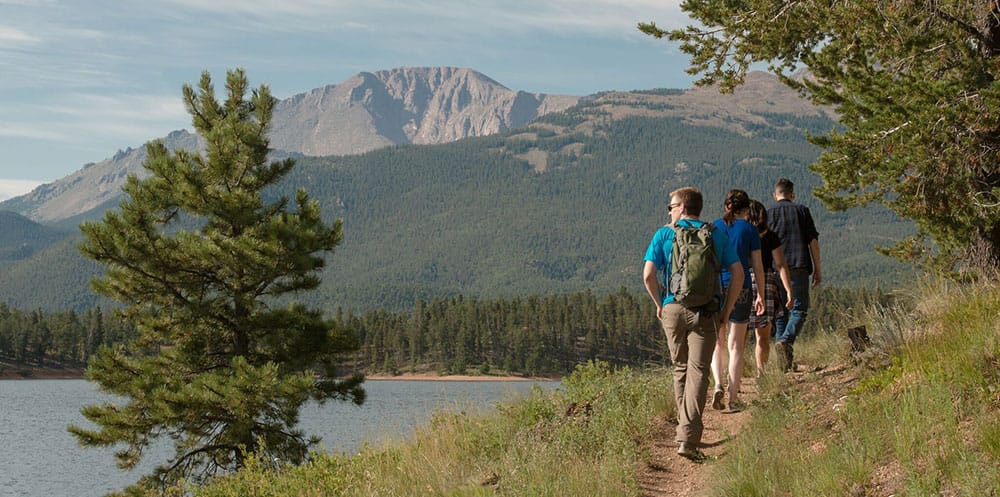 As for activities, you have a lot of stuff to choose from. We've called out two adrenalized options that appeal to different outdoor enthusiasts. We'll start in advanced mode, with a hike up Pikes Peak via Barr Trail. Please keep in mind this hike is for experienced hikers with the ability to manage the altitude and equipped with the proper footwear and enough water to stay hydrated. The hike will test your mettle, with lots of steep legs and a few points that require some scrabbling to proceed. If you like, you can break up your trip over two days and camp out at Barr Camp, conveniently located about halfway up the mountain. At the top, munch on some hot donuts and take a LOT of selfies in front of the sign declaring an altitude of 14,115 feet. You did that. You conquered a fourteener. For more tips on climbing Pikes Peak, check this out.
Don't want to counter a mountain? How about a river? Our other recommendation is to travel to Echo Canyon River Expeditions for a day on the water. With trips geared toward multiple experience levels, you'll be able to raft the Arkansas with your crew or make a whole new crew with your fellow rafters. The guides at Echo Canyon are so much fun to hang with, while still managing to keep everyone safe and navigate the rapids. It really is a memorable adventure you'll think about every time someone says "Colorado" in conversation.
After a strenuous climb of 13-26 miles, you're going to need to refuel those aching muscles with some protein! We suggest you pay a visit to Old Colorado City for a hearty helping of meat and carbs at Front Range Barbeque. The friendly restaurant serves up all sorts of smoked meats, like ribs, brisket and sausage, as well as all the sides you expect when you order up a batch of barbeque. We're talking mashed potatoes, mac and cheese, beans and slaw. For dessert, munch on apple crunch, pecan pie and key lime pie and then wash it down with a root beer float. We wouldn't want to leave out our vegetarian and vegan friends. For a wide array of vegetarian and vegan options, we recommend Adam's Mountain Café in Manitou Springs or Monse's Pupuseria in Old Colorado City. Both offer plentiful and diverse vegetarian options.
Classically Colorado
You can go extra rugged or extra bougie, but sometimes the best place to be is in the balance between the two. This last set of recommendations offers a classic Colorado experience that won't require a platinum card or a working knowledge of land navigation. We'll start out with places to stay that won't break your budget but still offer comfortable, lovely rooms and great amenities. The Days Inn, Holiday Inn Express and Magnuson Grand are all located in or near Manitou Springs. Staying in these hotels will put you close to Garden of the Gods (more on that shortly), Pikes Peak, multiple hiking trails and Highway 24. If you're traveling by RV, you can book a site in most state and national parks. The aforementioned Golden Eagle Campground has great amenities and just so happens to be next to the famous Bug Museum and 45 minutes from the Royal Gorge.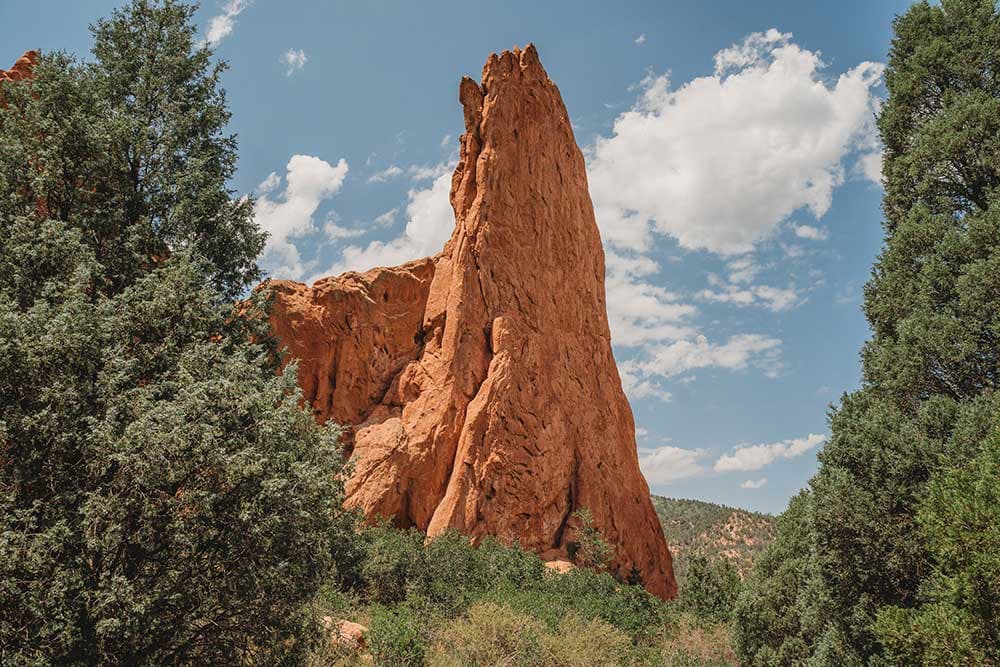 Sticking to the westside will also put you in the heart of some of the most loved activities in Southern Colorado. We'll start with the one that's on everyone's bucket list, a visit to the world-famous Garden of the Gods. The award-winning park is free and open to the public seven days a week. In addition to driving around and gawking at the beauty of the red formations, you can also hike along multiple trails and even explore certain formations in designated areas. Garden of the Gods also has a bike lane if you want to explore on two wheels and is home to Academy Riding Stable, where you can meet a new horse friend and then ride them through the park. No trip to the Garden of the Gods is complete without a visit to the Garden of the Gods Trading Post. You can gather up pounds of fudge, shop local and indigenous art or cool off with a scoop of ice cream or a cold beer. If you have kids, it is totally worth buying a bag of dirt for panning in the water out back. They will be thrilled.
When you're done in the park, you and your group can rally and find one of the many PikeRide hubs located all over the far west side of Colorado Springs. These amazing e-assist bikes make it a cinch to climb the many hills that fill the city. Explore the city, visit one of the many local breweries or pay a visit to Downtown Colorado Springs and check out the United States Olympic Museum or the local outdoor art. The Midland Trail will take you from Downtown Colorado Springs, through Old Colorado City and into Manitou, while the Pikes Peak Greenway/Santa Fe Trail will take you around America the Beautiful Park and north until the service area ends.
Since you're already on your bike, you can easily ride to a local restaurant for lunch or dinner. For breweries that serve excellent food, visit either Manitou Brewing Company or Cerberus Brewing Company. Both have signature brews, great wings and hefty burgers in addition to unique chef specials. Cerberus offers beer slushies on weekends in the summer and allows dogs on the patio. Manitou Brewing has delicious tacos, great fries and a homey outdoor patio. In Manitou proper, Border Burger Bar has a huge list of creative burgers to choose from. Townhouse Sports Grill has more favorites, like French dips and taco salad. Over in Old Colorado City, both Mother Muff's and Thunder and Buttons have bar apps, tasty entrees and rather unbelievable drink specials. Neither will break your budget, but the food will taste like it should.
Choose Your Own Adventure
There's no wrong way to have fun in the Pikes Peak region. Whether you're on the hunt for maximum luxury, looking for that unforgettable outdoor experience or fall somewhere comfortably in between, the Rockies are here for you.