Activities & tips in Colorado Springs and the Pikes Peak Region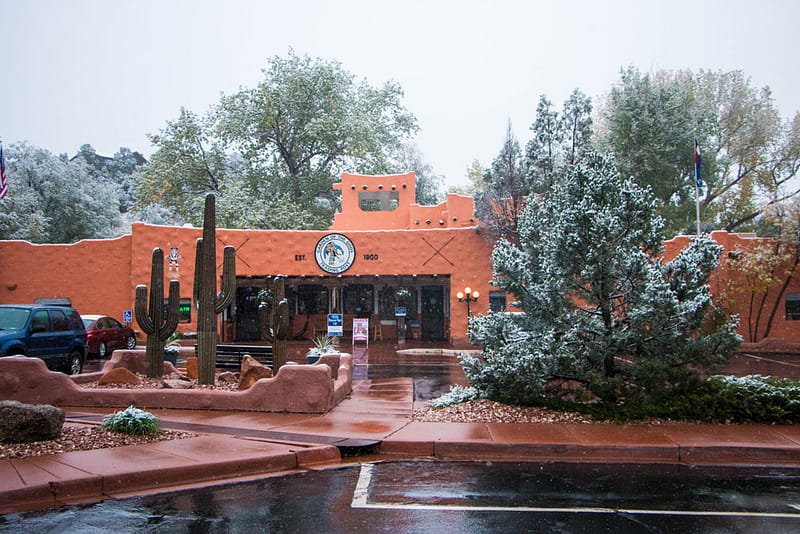 Winter wonderland in Colorado Springs
What do you think of when you think of winter in Colorado? Everyone skiing and buried in feet of snow? That's certainly true for parts of Colorado, after all, we have more than 20 cities over 9,000 feet in elevation. But we'll let you in on one our best kept secrets . . . Colorado Springs and the Pikes Peak region has some of the most beautifully mild weather year around. (We've celebrated many Christmases with the sliding glass door open!) The temperature tends to fluctuate between 28 and 61 degrees fahrenheit, with very little snow till Spring. The beautiful thing about winter weather in Colorado Springs is the lack of humidity. When it's cold here, it's not a bone chilling cold and if you can step into a spot of sunshine, of which we get plenty, you might forget it's winter altogether!
We have a saying here in Colorado, there's no such thing as bad weather, only unsuitable clothing. (Okay, we stole that saying fair and square from author Alfred Wainwright, but it's absolutely true!) It can get chilly here during the winter months, but we also get lots of amazing respites and as long as you dress in layers, you'll be able to enjoy the Pikes Peak region year around!
We like to think of ourselves as your personal travel agent: minus the extra cost or funny headsets. Choose from one of our pre-built itineraries for guaranteed fun.
Winter-friendly attractions
Giddy-up through Garden of the Gods on trusty steeds led by the coolest cowboys and cowgirls in the new Wild West.
Tips for winter adventure
There are no 'bad' seasons in Colorado.  Each one is uniquely beautiful in its own way, enjoying bright blue skies and mild days.  Let us help find the perfect time of year for you!
We're sharing all the places you can meet Mr. Claus, share your gift list & let him know whether you've been naughty or nice (don't lie, the dude knows all).
In the span of a week, it can go from 70 to -14, from sunshine to blizzard, and everything in between. Learn how to dress for winter in Colorado!
Not sure what to pack for your trip to Colorado Springs? Check out this local advice by season and month to keep you playing like a native!
Our favorites, plus a few beloved hills recommended by other sledding enthusiasts to help you have an excellent day sledding in Colorado Springs.